The BMI Holiday Countdown: John Lennon, "Happy Xmas (War Is Over)"
Hall-decking, bell-jingling, holiday hysteria is upon us, and joining the party is so much more fun than grinching out on the sidelines. So count us in. Here at BMI, we're sharing eight of our favorite holiday songs – check back every Tuesday and Thursday on bmi.com until December 22, the week before Christmas.

This is it! John Lennon caps off the countdown.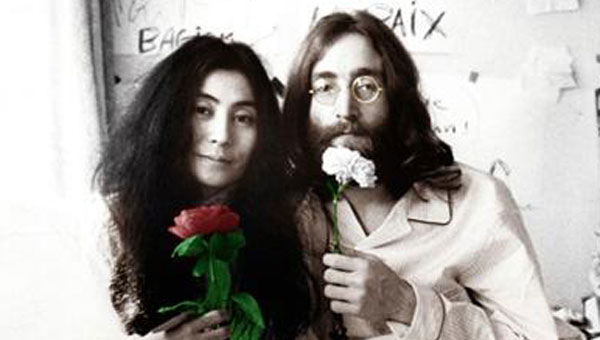 John Lennon, "Happy Xmas (War Is Over)"


The BMI holiday countdown concludes with John Lennon's delicate, defiant "Happy Xmas (War Is Over)."
Released in December 1971, as Vietnam's kaleidoscope of violence refracted the horrors of war around the world, the song delivers a softly sung and deeply moving message of hope, peace and humanity.
Over an acoustic guitar's swaying and softly strummed suspended chords, Lennon addresses us directly, with compassion and candor.
"So this is Christmas, and what have you done? / Another year over and a new one just begun."
Both timeless and timely, the song builds as Lennon is joined by the Harlem Community Choir, beautifully singing the slogan that Lennon and Yoko Ono had  posted on billboards in 11 cities around the world in late 1969.
It is a haunting and powerful contrast.
Lennon's soft, legendary voice sings the sweet, simple, "A very merry Christmas and a happy New Year / Let's hope it's a good one / Without any fear," while behind him the chorus sways joyfully in its mantra, declaring peace in the face of raging war.
The chorus repeats, joined by producer Phil Spector's wall of sound strings. The choir sings, "War is over," over and over. "War is over / If you want it / War is over / Now." Again and again, and then the song ends—perfectly, with laughter.
Check out previous entries in the BMI Holiday Countdown:

James Brown, "Santa Claus Go Straight to the Ghetto"
Buck Owens, "Santa Looked A Lot Like Daddy"
Darlene Love, "Christmas (Baby Please Come Home)"
Mariah Carey, "All I Want for Christmas is You"
Clarence Carter, "Back Door Santa"
Run-D.M.C., "Christmas in Hollis"
The Vince Guaraldi Trio, "Christmas Time is Here"