The BMI Holiday Countdown: Darlene Love, "Christmas (Baby Please Come Home)"
Hall-decking, bell-jingling, holiday hysteria is upon us, and joining the party is so much more fun than grinching out on the sidelines. So count us in. Here at BMI, we're sharing eight of our favorite holiday songs – check back every Tuesday and Thursday on bmi.com until December 22, the week before Christmas.

Darlene Love, Jeff Barry, Ellie Greenwich and Phil Spector keep the countdown going.


Darlene Love, "Christmas (Baby Please Come Home)"
Written by Jeff Barry, Ellie Greenwich and Phil Spector


In the early 1960s, Brooklyn natives Jeff Barry and Ellie Greenwich were barely in their early twenties when they started writing songs for American teenagers. The two started hanging around the Brill Building independently of one another, learning from and writing songs with rock-and-roll founding fathers Mike Leiber and Jerry Stoller and others.
When Barry and Greenwich married in 1962, they soon began writing only with each other, making the exception for visionary producer Phil Spector. Together, Barry, Greenwich and Spector created a new vein of rock-and-roll that mixed jazz, doo-wop and rhythm and blues. They dreamed up polished girl-group harmonies to back strong women leads such as Ronnie Spector and Darlene Love, whose emotionally raw vocals cracked the sound's deceptively snappy pop veneer.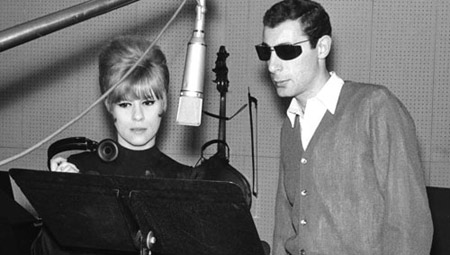 Ellie Greenwich and Jeff Barry work in the studio in 1964. (Photo by Michael Ochs Archives/Getty Images)
Throughout 1963, Barry, Greenwich and Spector climbed charts with the Ronettes' "Be My Baby" and "Baby, I Love You," the Crystals' "Then He Kissed Me" and "Da Doo Ron Ron", Bob B. Soxx and the Blue Jeans' "Not Too Young to Get Married" and more. The songs showcased Spector's signature production technique in which horns, guitars, keyboards and percussion are layered into three-minute pop orchestras so densely interwoven that individual players are like indistinguishable but indispensable bricks in a wall. Spector's "Wall of Sound" influenced countless artists who were themselves pioneers, from the Beatles – who called on him to salvage their all-but-abandoned "Get Back" recording sessions, the result of which became Let It Be – to the Beach Boys, Bruce Springsteen and the Ramones.
Darlene Love's version of the Barry-Greenwich-Spector-penned "Christmas (Baby Please Come Home)" debuted as one of thirteen tracks on A Christmas Gift for You from Philles Records. The album marked the end of an era. Released November 23, 1963, A Christmas Gift for You from Philles Records hit shelves the day President John F. Kennedy was gunned down in Dallas.
A nation in mourning didn't rush out to buy holiday records. Conventional wisdom sentenced A Christmas Gift for You to obscurity, but instead, it became a classic, re-issued almost a decade later as A Christmas Gift for You from Phil Spector. In addition to topping seasonal best-of and top-seller lists, the album consistently lands in the top tier of critical countdowns, like Rolling Stone's 500 Greatest Albums of All Time, in which it claimed the impressive no. 142 slot.
Now 73 years old, Darlene Love has performed "Christmas (Baby Please Come Home)" on David Letterman's last episode before Christmas every year since 1986, except once. She'll do it again this year on Friday, December 23.
Check out previous entries in the BMI Holiday Countdown:

James Brown, "Santa Claus Go Straight to the Ghetto"
Buck Owens, "Santa Looked A Lot Like Daddy"