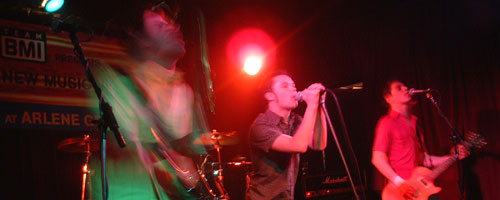 Los Angeles
Acoustic Lounge
An acoustic evening featuring four singer/songwriters "in-the-round," Acoustic Lounge offers intimate snapshots of promising up-and-comers. Attended by members of the Southern California songwriter community and industry decision-makers alike, the free showcase is held the first Monday of every month from 7 to 8 p.m. Venue subject to change. For venue details and showcase lineup, please visit the BMI Calendar
Nashville
8 Off 8th
A monthly showcase held at the iconic Cannery Row in Nashville, the 8 off 8th concerts highlight eight burgeoning acts at each performance. With a rotation of genre, BMI partners with publishers, record labels, booking agencies and others to ensure it's one of the best places to find up-and-coming country, rock, pop, and R&B songwriters in Music City.
BMI Buzz
Each month at Belcourt Taps, BMI Buzz features three up-and-coming country songwriters who are ripe for a publishing deal. As the name implies, the showcase generates excitement for the performers who are hand-picked by BMI's creative team.
East Side Sounds
Held at one of Nashville's newest venues, the Basement East, Eastside Sounds is always a packed house with performances by soul, rock and pop songwriter/artists. By partnering with radio station ALT 975, BMI is able to offer unique opportunities for both fans and performers, including on-air interviews and other exclusive programs. The New Respects, The Worn Flints, Kendall Morgan and Jonny P are all Eastside Sounds veterans.
New York
Acoustic Lounge
An acoustic evening featuring two to three singer/songwriters "in-the-round," Acoustic Lounge offers intimate snapshots of promising up-and-comers. Attended by members of the New York songwriting community and industry decision-makers alike, the free showcase is held the last week of every month from 8 to 9 p.m. at Rockwood Music Hall – Stage 1 (196 Allen St. New York, NY 10002).
And more…
BMI plays a significant part in the development of up-and-coming songwriters by offering unique educational, creative and promotional opportunities that help advance music careers. BMI stages at festivals like Lollapalooza, SXSW, Bonnaroo Music & Arts Festival, the Key West Songwriters Festival, Austin City Limits, and more, have become popular attractions for concert-goers and industry decision-makers to hear new music from burgeoning songwriters who are poised to become hitmakers. Past performers on the BMI stage include Lady Gaga, Halsey, Maren Morris, Anderson .Paak, Macklemore and Ryan Lewis, Imagine Dragons, The Lumineers, and many others.