2010 Award Season Belongs to BMI Songwriters & Composers
BMI songwriters dominated the 53rd Annual Grammy Awards, winning almost two-thirds of the awards that were handed out across all genres and categories. The Grammy wins cap an incredible year in which BMI songwriters and composers were the most celebrated creative voices in awards presentations and on the charts. When BMI opened its doors in 1939, the depth and diversity quickly amassed in the company's repertoire redefined industry expectations, and it wasn't long before the company's catalog of industry-changing variety was parlayed into industry-dominating acclaim. Over 70 years later, the 2011 Grammy Awards celebrated the supremacy of BMI creators: With five wins, including Record and Song of the Year, crossover trio Lady Antebellum led the BMI charge. Lady Gaga capped off her culture-driving year with three big wins, as did neo-soulster John Legend, while Eminem, the Black Keys, and BeBe & CeCe Winans all took home two trophies.
"The prevalence of BMI songwriters and composers recognized at premier industry awards ceremonies points to the BMI catalog's quintessential strength: quality," says Mike O'Neil, BMI Senior Vice President, Repertoire & Licensing. "BMI's family of creators has built a repertoire in which artistry fuels commercial viability, and legends are celebrated and rediscovered alongside brand new voices."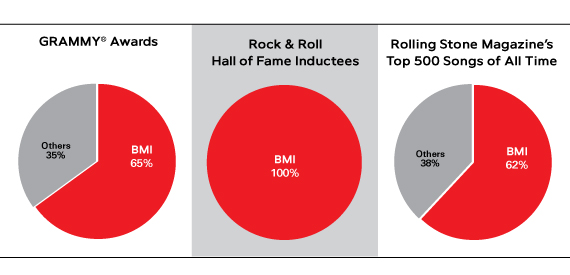 In formats ranging from jazz, country, film and television music, urban, and blues, to pop, rock 'n' roll, and Latin, BMI's brightest took home more of the industry's highest honors than members of any other performing right organization.
BMI pioneers swept 100% of the 2010 slate of Rock and Roll Hall of Fame inductees: ABBA, Genesis, Jimmy Cliff, The Hollies and The Stooges officially entered rock's hallowed hall on March 15. The pop culture pulse was also driven by BMI songwriters over the past year: More than 70% of MTV Music Awards went to BMI trendsetters in rock-, urban-, and pop-rooted spheres. Rolling Stone compiled a tongue-wagging list of the top 500 songs of all-time, and BMI songwriters made up more than 60% of the magazine's multi-genre roll call.
BMI's country music family dominated the past year. Almost 70% of the Academy of Country Music Awards went home with BMI trendsetters in April; in June, 80% of the CMT Music Awards went to BMI singer/songwriters; and BMI's new school of honky tonkers walked away with 65% of the year's Country Music Association Awards in November. Young and fiercely talented, Carrie Underwood, Taylor Swift, and Miranda Lambert all stood up to be counted in distinct ways, often relying on their own songwriting savvy. Lady Antebellum crossed over and climbed higher, and the Zac Brown Band proved road dogs' live chops can translate well to country charts. Mainstays Keith Urban, Toby Keith, Tim McGraw, Faith Hill, Martina McBride, and more also took home trophies and nominations.

Pictured are The Black Eyed Peas, Lady Antebellum, and Zac Brown Band
BMI blues-slingers continued to cultivate and innovate one of America's most cherished art forms. 85% of 2010 Blues Music Hall of Fame inductees are BMI journeymen: Lonnie Brooks, Charlie Musselwhite, Gus Cannon and Cannon's Jug Stompers, and Amos Milburn. In May, more than 90% of the prestigious Blues Music Awards honored members of the BMI family. Legends B.B. King, Buddy Guy, Irma Thomas, Joe Louis Walker, Charlie Musselwhite, and others remained relevant and prolific, as younger voices including the Derek Trucks Band, Shemekia Copeland, Janiva Magness, and many more emerged to accept honors alongside their heroes.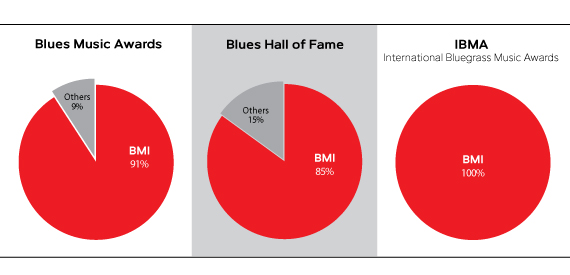 BMI's Latin sounds continued to surge. In November, almost 60% of the Latin Grammys went to the format's BMI vanguard, comprising living legends like Juan Luis Guerra and prodigious newcomers including Alex Cuba and Chino y Nacho. The Regional Mexican genre also maintained its dominance, propelled by Banda Los Recoditos, Los Tigres Del Norte, Los Tucanes De Tijuana, Intocable, La Original Banda El Limon, Pepe Aguilar, and more, as well as songwriters Espinoza Paz, Horacio Palencia, and others.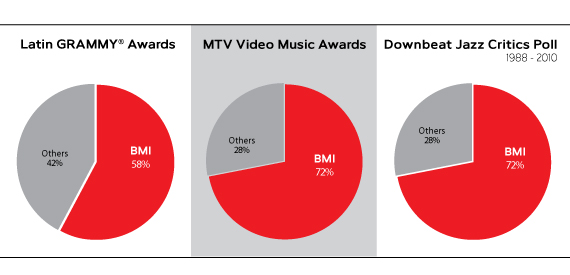 Jazz remains a haven for ingenuity and virtuosity, and over the past year, BMI heavyweights dominated the genre's prestigious Jazz Journalist Association Awards. Almost 80% of the JJA Awards celebrated BMI jazz composers, including Kurt Elling, Joe Lovano, Roberta Gambarini, and newcomer Darcy James Argue. BMI film and television composers also soared. 80% of Golden Globe nominations were bestowed on BMI composers, while T-Bone Burnett and Ryan Bingham's "The Weary Kind," the theme from Crazy Heart, ensnared listeners, and went on to win the Oscar for Best Original Song.
As urban becomes increasingly mainstream, BMI's robust hip-hop, rap, and r&b stars are thriving. 67% of BET Awards went home with BMI urban songwriters, producers, and performers in 2010, while Kanye West, Jamie Foxx, T-Pain, Eminem, B.o.B, Nicki Minaj, and others garnered widespread acclaim.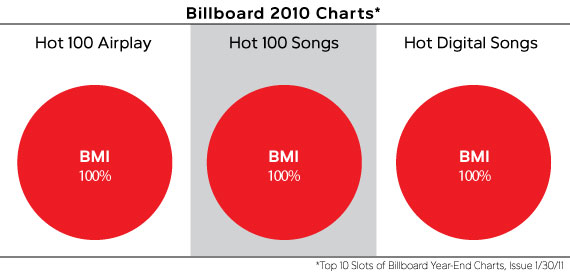 The 2010 Billboard year-end charts also underscore the overwhelming dominance of BMI's songwriters. Compiled each December and included in a special January issue, the charts reflect the past year's best performing songs. BMI songwriters wrote or co-wrote 100% of the songs that made up the top ten slots of the Hot 100 Songs, Hot 100 Airplay, and Hot Digital Songs.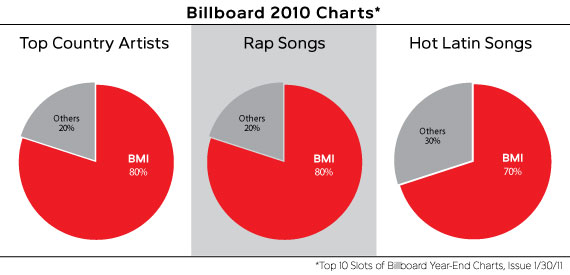 The Top 10 positions in the year end charts for the Rhythmic Songs, and Regional Mexican Songs went 100% to BMI writers, along with 90% of the top ten slots in the Top Billboard 200 Artists-Duo/Group, Top New Country Artists, and Top Country Album Artists year-end charts; and 80% of the top ten slots in the Top Artists, Hot Country Songs, Mainstream Top 40 Songs, and Adult Contemporary Songs year-end charts as well.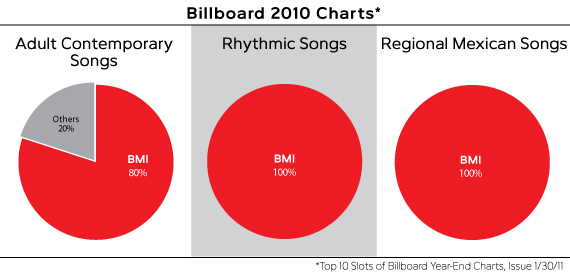 "Quite a few of this year's industry awards went to young voices, many of whom joined BMI's family of songwriters during the past 12 months," says Phil Graham, BMI Senior Vice President, Writer/Publisher Relations. "B.o.B, Jason Derulo, The Band Perry, Chino y Nacho, Nicki Minaj, La Roux, and so many more chose BMI in 2010.
"It's that balance of the familiar and the uncharted that ensures the BMI catalog's long-term success," Graham continues. "The wins speak to the quality of today's creators and of BMI's staff, who champion the creative community in a uniquely supportive role. Serving both the new crop and our established stars is more than exciting. It's the core of BMI's mission."