5 Tips for Songwriting Success in Today's Music Industry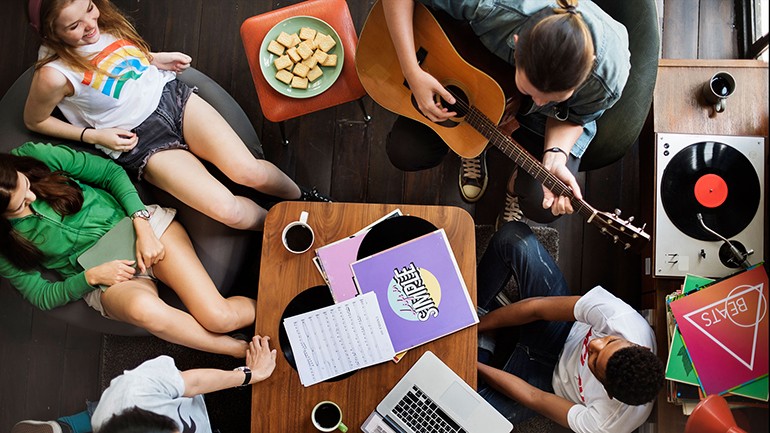 I taught my first songwriting class at Los Angeles' Pierce College in 1991. Back then, if my car radio were tuned to a pop station, it was likely I would hear chart-topping artists such as Michael Jackson, Wilson Phillips, Janet Jackson, Michael Bolton, Poison, and Roxette. During that same era, if I switched the channel to a country format, there was a good chance I would hear Dolly Parton, Travis Tritt, Lorrie Morgan, Tanya Tucker, or Brooks & Dunn. Rap and Hip-Hop music had made an impact but were not yet the dominant force they would become. The R&B/Hip Hop Charts was mostly comprised of melodic songs by artists such as Luther Vandross, Boyz II Men, Vanessa Williams, Jodeci, Michael Jackson, alongside rap artists such as MC Hammer and A Tribe Called Quest that occupied a smaller percentage of those charts.
In the years since I started teaching, the musical landscape has evolved. Similarly, the business side of the music business has gone through significant shifts, including the change from physical distribution to digital downloads, and now, streaming. Today's listeners have the option of hearing the music of their choice on their phones, computers, and through their car stereos. Technological advances made it easy for songwriters and singers to record music of their own on their laptops and make it available on the Internet.
To keep up with the ever-changing music and business of making music, some of my advice to songwriters and recording artists has changed, as well. Here are five pieces of advice to help you navigate the latest version of the music business.
Align With an Effective Publisher
For non-performing songwriters (writers whose goal is to have their songs recorded by artists other than themselves), it has always been important to work with a skilled publisher. I can only think of a handful of non-performing songwriters who have forged ahead and maintained a successful career without the support of a music publisher, and it has now become more important than ever.
In addition to the administrative functions, such as issuing licenses and collecting and distributing mechanical royalties, ideally, publishers develop their writers' skills and have the necessary relationships, not only to get their writers' songs into the hands of the decision-makers, but to get writers hooked up to collaborate with recording artists, producers, and other successful, well-connected writers. With so many artists participating in the process of writing their own material, it has become more important than ever to have an advocate who can set up those collaborations, and in many cases that is a music publisher. Publishers typically have access to film and TV music supervisors and may be able to procure assignments for their writers. Additionally, well-connected publishers can secure a coveted spot for their writers in the song camps that are becoming more prevalent as ways for artists and record labels to ensure they will have the hit songs that are crucial to artists' careers.
At the song camps to which I'm referring, top writers convene with the intent of creating hit songs for a specific artist's project. In many cases, record label executives provide the writers with descriptions of the kinds of songs they are seeking and offer guidance during the song creation process. Under the best of circumstances, the artist participates in the writing and recording.
Camps have been organized to create hits for artists such as Carrie Underwood, Rihanna, Keith Urban, and many more, as well as for winners of various television competitions throughout the world. Many K-Pop and J-Pop hits have resulted from writing camps. These events are not to be confused with song camps where songwriters pay to learn their craft by studying with professional writers.
For these, and many more reasons, I advise non-performing songwriters to set their sights on an exclusive song publishing deal (often referred to as a staff-writing deal). When a writer is signed to one of these deals his or her publisher has a vested interest in their success. The best way to get an exclusive publishing deal is to write the kinds of songs that are irresistible to publishers—songs that go beyond being perfectly crafted; songs that push the creative envelope and include unique, fresh elements that will compel artists to choose these songs over ones they could co-write, and those that are pitched by consistent hit-makers.
Think Rhythms
As a songwriting instructor and coach, I identify the tools and techniques that contribute to successful songs. One of the trends I've noticed is the increased prevalence of catchy, hooky rhythms in vocal melodies—the melodies sung by the singer.
When I took my first trips to Nashville in the mid-80s, demo session musicians sometimes joked, asking, "Which melody do y'all want for this one? Number three, or number five?" The implication was that country songs tended to be lyric-driven, focusing on details, pictures, and stories, with melodies taking a back seat to the words. A listen to today's country hits reveals that the influence of pop and hip-hop sensibilities has led to country songs that are exceptionally melodic—and many of those melodies are built on syncopated rhythms that would sound at home on pop and hip-hop radio stations.
Similarly, the soaring choruses that were heard in so many pop and R&B hits have been replaced by catchy, hooky rhythms in the vocal melodies.
For strong examples of hit songs that rely on fresh, hooky rhythms listen to Ava Max's international breakthrough hit "Sweet But Psycho" (written by Will Lobban-Bean, Andreas Kaukeland, Amanda Koci, Madison Love and Henry Walter) and Ariana Grande's #1 single "7 Rings" (written by Michael Foster, Kimberly Krysiuk, Taylor Parks, Thomas Brown, Ariana Grande, Charles Anderson, Oscar Hammerstein II, Richard Rodgers, Victoria McCants, Njomza Vitia).
To hear some country songs that include distinctive melodies and intricate rhythms, listen to "Miss Me More" (written by David Hodges, Brett McLaughlin and Kelsea Ballerini/recorded by Kelsea Ballerini) and Dan and Shay's "Speechless" (written by Dan Smyers and Shay Mooney Shay with and recorded by Dan + Shay).
Write Songs That Include Choruses
In my early teaching days, many successful songs used an AABA or AABABA song form (also referred to as VVBV and VVBVBV). I used to tell my students that a substantial percentage of songs that were considered classics were built using this structure, which typically had the song's title as the first—or last—line of every verse. Songs that were created with these structures included no choruses. A strong example of this song form is GRAMMY-nominated "Save the Best for Last" (written by Wendy Waldman, Jon Lind, Phil Galdston, and recorded by Vanessa Williams), which topped Billboard's Soul and Adult Contemporary charts and spent five weeks at #1 on Billboard's Hot 100 chart.
Additional examples of massive hits that used this structure include Bryan Adams' "(Everything I Do) I Do It for You" (recorded by Bryan Adams, written by Adams/Michael Kamen/Mutt Lange) and "Saving All My Love for You" (written by Gerry Goffin and Michael Masser, recorded by Whitney Houston).
Over the past fifteen years, songs written with AABA and AABABA songs have fallen out of vogue. At one of my recent Nashville workshops, a very successful guest publisher was asked how he felt about songs that did not include a chorus. He responded that he was able to think of only one recent example of a successful song that used this structure.
My advice to my students is to write the songs and structures they are moved to write. But those who have an eye on the commercial market need to be aware that successful songs that do not include choruses may be a very tough pitch.
Aim to Write Hit Singles
This might sound obvious. Of course, we all want hit singles—songs selected from an album to be promoted to radio, and in many cases accompanied by a video. Successful singles have always earned more money than their album cut counterparts because it was the singles that garnered radio airplay, generating significant performance royalty income for writers and publishers. Album cuts rarely receive substantial airplay. Singles, being familiar to listeners, are also more likely to be licensed for use on television shows, commercials, and in movies.
So, while writing a hit has always been the goal, it has become more important than ever. A significant percentage of songwriters' income is now earned from streaming, and it is an album's hit singles that are streamed the most. For example, Ed Sheeran's "How Would You Feel," off his album ÷ (Divide), garnered an enviable 92 million views on YouTube. But this pales in comparison to the more than 4 billion views amassed by Sheeran's hit single, "Shape of You."
My advice to songwriters who are seeking maximum financial rewards, is to use their best efforts to write the kinds of songs that will rise above the competition and have the best shot of being hit singles.
Pursue TV and Film Placements
I advise songwriters, publishers, and recording artists who control the rights to their songs and recordings to place their demos and independently released recordings in television shows and movies. There are more premium and basic cable TV channels airing television shows and movies than ever—and almost all of these shows include music 24/7. So there have never been more opportunities for songwriters and publishers to generate synchronization licensing fees and performance royalties. Whether music is performed live on a TV show; is featured as the focus of a scene; includes a vocal—or is instrumental; is in the background; or is included in a commercial, in most instances, performance royalties are generated.
Much of the background music heard in TV and films is composed and performed by independent songwriters and artists, so I urge my students to take advantage of these opportunities to generate income from their work. It can also be an excellent way for artists to expose their work to a large audience.
Be sure you have secured all necessary permissions and paid any applicable fees to musicians and vocalists prior to pitching your material for synchronization.
For additional information on this topic, read "10 Things You Need to Know About Placing Music on TV and in Films."
There are no rules in songwriting, but if there were, I would advise my students to learn those rules—then dare to break them. While popular musical styles and modes of distribution change, some things remain the same. Listeners continue to crave music that speaks to them; songs they can sing along with; and songs with lyrics that address issues that matter to them. Artists still need songs that resonate with their audiences; songs that are fresh and original; songs that will propel their careers.
My best advice is to create music with melodies and lyrics that will compel artists, publishers, record label executives – and listeners – to choose your songs over the competition. Then take care of business – and be grateful for the gift of music that you've been given.
---
Jason Blume is the author of 6 Steps to Songwriting Success, This Business of Songwriting, and Inside Songwriting (Billboard Books). His songs are on Grammy-nominated albums and have sold more than 50,000,000 copies. He has been a guest lecturer at the Liverpool Institute for Performing Arts (co-founded by Sir Paul McCartney) and at the Berklee School of Music. For information about his workshops, additional articles, instructional audio downloads, and more, visit www.jasonblume.com.