Meet the BMI Composers Who Have Had a Breakout Year
It's been a fantastic year for Broadcast Music, Inc. composers. Just look at Mychael Danna, who is on a 2013 award-winning streak, having just celebrated his most recent win at the Creative Arts Emmys.
He's not alone. In fact, there are so many talented BMI composers working in film and television these days, it's hard to keep track. Four in particular have scored their breakout films this year: Ludwig Goransson (Fruitvale Station), Joe Kraemer (Jack Reacher), Ryan Amon (Elysium) and Raney Shockne (The To-Do List). Let's get to know them a little better before they get so big they won't have time for interviews.
Ludwig Goransson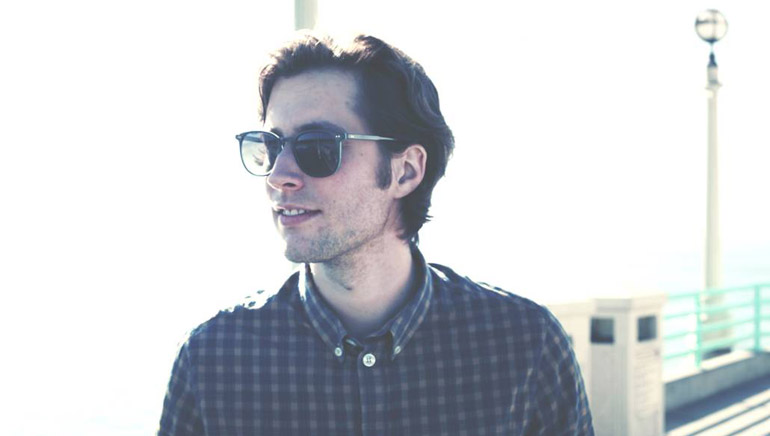 One could already call 29-year-old Swedish transplant Ludwig Goransson a seasoned television composer and music producer. After all, he is the talent behind the music for hit television shows like the bubbly New Girl, cult-worthy Community and the short-lived but beloved Happy Endings, and he has also produced for hip-hop sensations Childish Gambino and Chance the Rapper, as well as the rock band HAIM. And while Goransson has indeed sharpened his skills in the comedic and the upbeat, this year he got to prove he can do more than just that. As co-composer on We're the Millers and lead composer on the Sundance hit Fruitvale Station, he not only confirmed he can manage a feature but that dramatic scores were very much a part of his skill set.
Fruitvale Station is not just any feature film. It confronts us directly with the ever-present racial tensions in the United States brought to the surface by the recent Trayvon Martin case. The director, Ryan Coogler, is a friend of Goransson's – they both went to the University of Southern California and he was one of the first people Goransson met when he moved from Sweden. After scoring Coogler's three short films, Coogler trusted Goransson to take on the score for Fruitvale Station.
Goransson read the script for the film long before they even started shooting, which he says is not something he usually does. After the film was shot, Coogler worked closely with him to shape the music, sharing influences that ranged from hip-hop to indie dream-pop, and opting for mostly a guitar-based score. The hard part, Goransson says, was adding music to a film that didn't necessarily need any. "[Fruitvale Station] was just so realistic – the acting and the way it was shot – so the hard part is to add something to it that is not realistic, like the music," he says. Coogler sat with Goransson at the keyboards and dissected every scene with him to come up with what was needed.
As a co-composer on We're the Millers the experience was different, Goransson explains, and rewarding in its own way. He reunited with Teddy Shapiro (Blades of Glory, The Devil Wears Prada, Dinner for Schmucks) who was an early mentor for Goransson when he first arrived to Los Angeles. The film – a rowdy road-trip comedy starring Jennifer Aniston and Jason Sudeikis – required "a really cool and contemporary score," Goransson says, citing Beck and the Black Keys as influences. "Every time I work with Teddy Shapiro I learn and discover new stuff," he adds, "especially in terms of being simple yet tasteful and well crafted. Most of the time less is always better."
By the end of the year, Goransson will have added a third feature film to his composer credits, an upcoming music documentary about a young fan who gets to travel the world with indie band Mumford and Sons. And as if that weren't enough to make him the hippest composer in game, by the end of 2013 he'll also see the release of the much-anticipated follow-up to Childish Gambino's Camp.
Joe Kraemer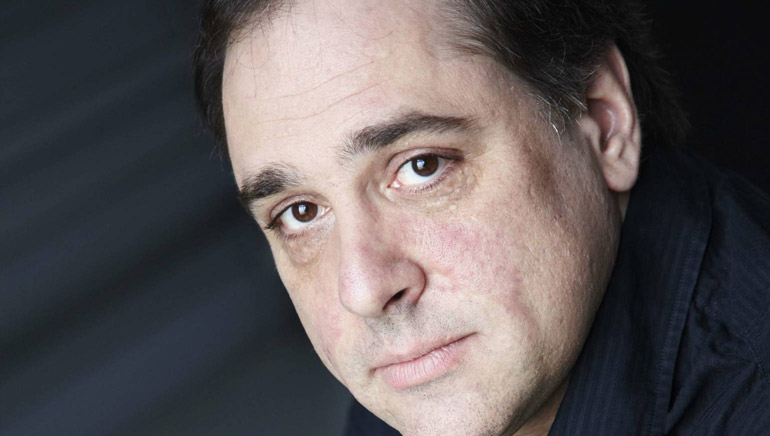 As composer on Jack Reacher, the recent Tom Cruise-led thriller about an ex-Army Major investigating the crimes of a government sniper, BMI composer Joe Kraemer got his first taste of what it was like to work with a top-of-the-line orchestra. With a significant number of independent films and television shows under his belt, Kraemer cherished the opportunity to work alongside Christopher McQuarrie again, a friend for more than 25 years with whom he worked on The Way of the Gun in 2000. With the resources and the budget at hand, Kraemer got the opportunity to hire a 90-person orchestra and record at Sony Studios with Bruce Botnik, the acclaimed audio engineer who recorded the scores for E.T. the Extra-Terrestrial, Indiana Jones and the Temple of Doom, as well as virtually every score Jerry Goldsmith did from 1980 onward. The industry's best musicians were recruited for the symphonic orchestra palette Kraemer used in the Jack Reacher score. In other words, he got to play ball with the majors.
The Jack Reacher score is an homage to the '70s, he says, in its orchestration, sound and composition, and in its use of themes for characters and situations. Kraemer cites John Williams as an obvious influence but emphasizes how the work of composers and filmmakers of the 1970s shaped his sound: Jerry Goldsmith, Elmer Bernstein, David Shire and Jerry Fielding all served as inspiration for the score. "It's just a very stark approach to scoring. It's not overly sentimental and it's got a restraint to it that both Chris [McQuarrie] and I both really admire," Kraemer explains.
Because the title character was a former army major, Kraemer included hints of military marches and drew from French horns reminiscent of military brass for the character's theme, as well as for Cash, the character played by Robert Duvall, who was also in the military. The unique creative challenge of working with McQuarrie, he reveals, was building the score without a temp one, which directors sometimes give to composers as guidance. It was intimidating at first, but, ultimately, because of their long professional relationship "it wasn't difficult to line up my instincts with McQuarrie's wishes," says Kraemer.
For Jack Reacher, Kraemer drew from a tendency that was common in the 1970s – developing an identifiable theme that the audience can easily recognize but a composer can play around with. "I feel the composer is teaching the audience a second language for the film," he explains. "And that has been a tradition in film composing since Max Steiner and [Eric Wolfgang] Korngold, but it is not always the approach that composers and directors choose today and thematic development is not always right for the movie."
Kraemer is optimistic about the opportunities that will follow Jack Reacher. Immediately after that project, he completed the score for Dawn Patrol, an independent film still in post-production starring Rita Wilson and Jeff Fahey, which will most likely make the festival rounds in 2014.
Ryan Amon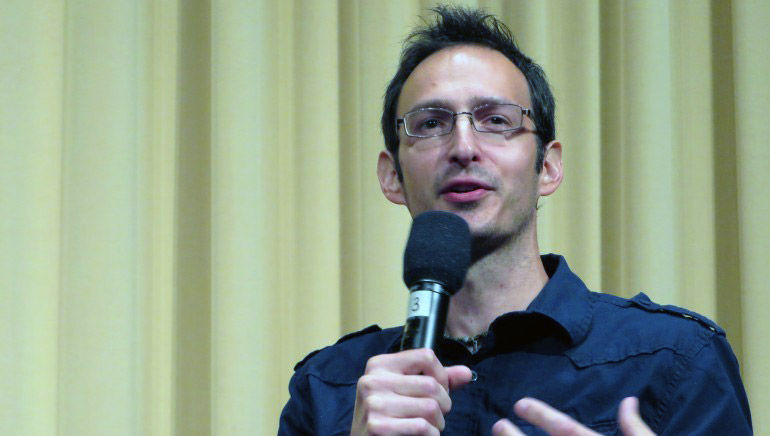 The story of how Elysium director Neill Blomkamp chose Ryan Amon to score his film has been making the rounds ever since the summer blockbuster hit theaters. Blomkamp, the acclaimed South African who directed District 9, found Amon's earlier work on YouTube, sent him an email, and soon after Amon found himself in Abbey Road Studios in London directing the score of the film.
Before this exchange, Amon had spent most of his career honing his skills as a composer by writing scores for film trailers. He was spending some time in Bolivia working remotely when he was invited to join the project. Approaching the Elysium score was not difficult because Blomkamp asked Amon to come up with a score without first seeing the film, an uncommon practice in feature film scoring but a regular occurrence when scoring trailers. "I actually felt very comfortable and that didn't throw me at all," Amon says. "What was tricky was having such a huge blank canvas and not knowing where to start."
Even if he only had a one-paragraph rundown of the film and the words "light" and "dark" as prompts, what Amon knew was that the Elysium score should not be completely traditional in its instrumentation. Set in the year 2154 among devastation, overpopulation, a vigilante state and a wealthier class living in a distant space station, the music had to fit the tone of the film. Amon brought in an orchestra made up of approximately 65 string players, 15 brass players, female vocals and a piano to represent humanity in the film. But to represent the uniqueness of the catastrophic environment Blomkamp had created, Amon brought in some other, very particular sounds, such as mosquitos, chattering monkeys, baboons and scraping violins. Although it was important not to include sounds that were identifiable by region for a film in which borders and nationalities had pretty much disappeared, he thought the unique sound of Tuvan and Mongolian throat singers would fit the texture of the film well and make the film score stand out.
Amon cites a deep spiritual interest in nature and finds inspiration in biblical stories. One of his favorite soundtracks, he says, is Ennio Morricone's The Mission for its characteristic heavenly choir.
As projects take shape post-Elysium, Amon says he looks forward to scoring a drama along the lines of Cinderella Man and The Last of the Mohicans, two of his favorite films as a viewer.
Raney Shockne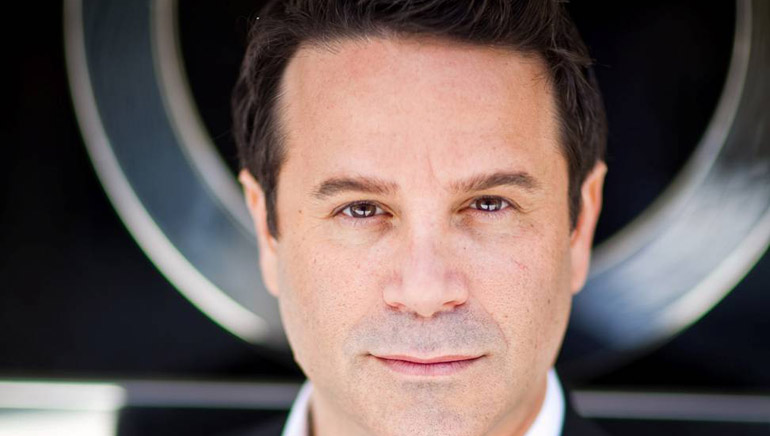 Raney Shockne is a songwriter at heart. He grew up in a family of musicians (The Beach Boys' Brian Wilson is his cousin) and was penning his first lyrics when he was 6 years old. He then went on to join a punk band, a progressive rock band, and a piano and string project in his formative years, all projects fueled by his unabashed love for all styles of music. As his film-scoring career took off, he took note of the need for songwriters on certain projects. "When I'd be hired to do a score I would overhear a director saying, 'We need to find a band to do the punk song for the star's onscreen performance.' Then one day I just said, 'I can do that,'" Shockne explains. "When they heard my music, they started asking, 'What else can you do?'"
Now Shockne calls himself a hybrid composer, consistently reliable for both his songwriting abilities and his scores. He caught the eye of filmmaker Maggie Carey, a devout music fan much like himself, when he was scoring a documentary for which Carey was the editor. After signing him up to score her Funny or Die short comedy series, she brought Shockne on to score The To-Do List, the 1992-specific coming-of-age comedy starring Aubrey Plaza that premiered this summer. Shockne speaks enthusiastically of the level of detail that went into scoring what was essentially a 1990s period piece. "Maggie wanted all of my instrumentation to be of the year – literally down to the exact drum machines that were used, and no synthesizers could be used that were after that date," he explains. "It was an incredible challenge and it was super fun."
Shockne not only developed a score with a small ensemble, but because the character of Andy Samberg was an Eddie Vedder-type, he got the opportunity to write an original song for the film – "Quarantine," which channels the best of early '90s Seattle grunge. In Samberg he found a chameleon who could expertly switch into playing the character who performs the song. As composer and songwriter on a film where the characters perform his creations, he found himself supervising the band that was on set, doing real-time music edits, making sure they were lip-synching correctly and overseeing how they were playing their instruments. Learning to produce actors as singers was one of the most rewarding experiences of doing the film, he says.
The intention for The To-Do List was to develop a theme that was memorable because of how fun it is. "I wanted it almost to be a throwback to movies that were part of me growing up, which were the best comedies," Shockne explains. "Caddyshack, Meatballs – those early kind of campy movies. I wanted it to have a really good whimsical whistle or flute and a little bit of sentimentality to it. So we worked very hard to make it a classic comedy score with those earlier influences in mind."
In his current project – 55 more episodes of the Charlie Sheen-led Anger Management, which he's scored since the beginning – he'll continue to deliver as a hybrid composer, leading a jazz ensemble for the score and creating original songs.