Holly Gleason Celebrates Chart-Topping 'Better as a Memory'
BMI hosted an assembly of Music Row's elite Monday, November 24 for a celebration of one already esteemed writer's triumphant transformation into song writer. Holly Gleason co-penned Kenny Chesney's no. 1 hit "Better as a Memory" under the pseudonym Lady Goodman, prompting industry-wide speculation as to the true identity of the composer. Co-written by Travis Hill under his alias, Scooter Carusoe, and produced by Buddy Cannon, the tune was also voted one of NSAI's "Ten Songs I Wish I'd Written," which provided the ideal coming out party for Gleason: As she stepped onstage to accept the trophy that evening, excited cheers echoed throughout the venue. Gleason's intimate party at BMI drew proud friends and peers, including Chesney himself, who joined in the happy task of thrusting behind-the-scenes guru Holly Gleason into a well-deserved spotlight.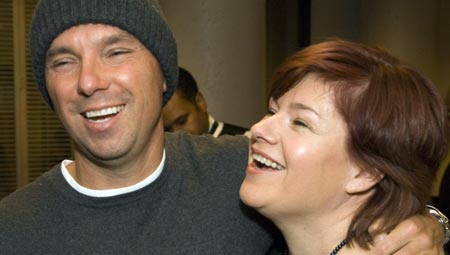 Kenny Chesney (left) and Holly Gleason (right) crack each other up at Gleason's celebration.
"It's funny how when no one knows who you are, you get to hear the stories of what songs meant to people – and it's amazing how much alike we all are," says Goodman/Gleason. "I always listened to John Prine and Rodney Crowell and Jackson Browne to feel like someone knew how I felt. Now I can watch people singing along knowing they – especially my dear Kenny Chesney – know exactly how I feel, too."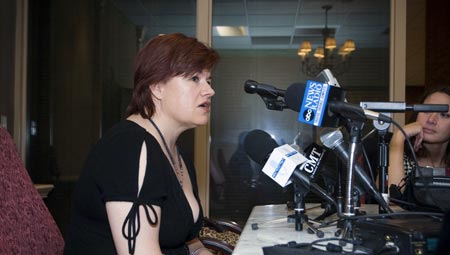 Holly Gleason sits on the other side of the microphone to field questions from reporters.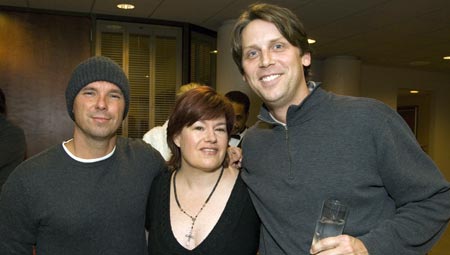 Pictured are (l-r): Kenny Chesney, with BMI songwriter Holly Gleason and co-writer Scooter Carusoe.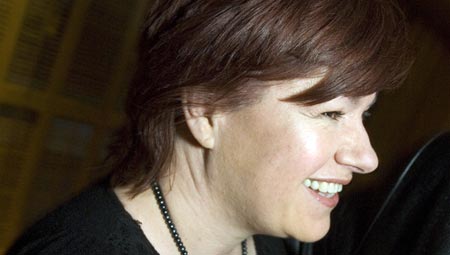 Gleason grins as the party kicks off.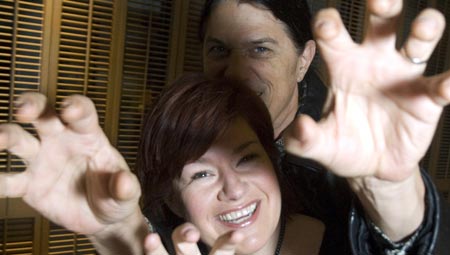 Holly (front) and good friend Dan Baird (back) strike a camera-ready pose.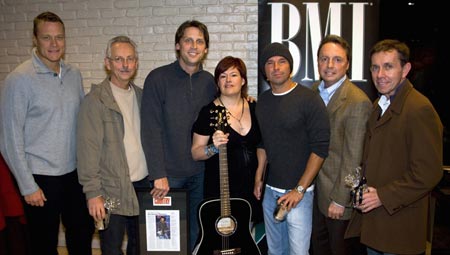 Pictured are (l-r): BNA Records Vice President of Promotion Bryan Frasher; producer Buddy Cannon; co-writers Travis Hill and Holly Gleason; Kenny Chesney; BMI's Jody Williams; and Sony BMG Nashville Chairman Joe Galante.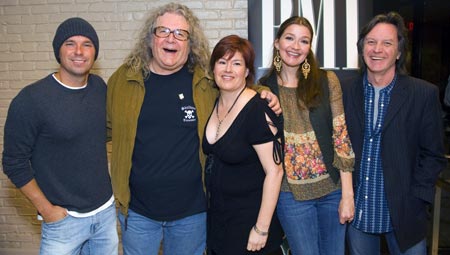 Pictured are (l-r): Kenny Chesney, the Kentucky HeadHunter's Richard Young, Holly Gleason, new Nashville Songwriters Hall of Famer member Matraca Berg, and Nitty Gritty Dirt Band 's Jeff Hanna.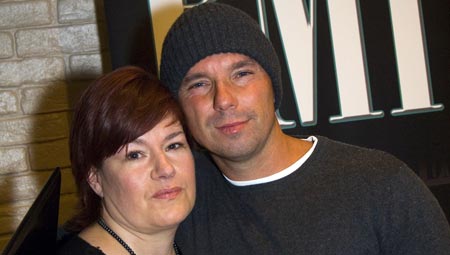 Pictured are Holly Gleason (left) and Kenny Chesney (right). Photos by Eric England