Tuners, Multi-Track & Guitar Pedal Apps: Going Mobile
Can a phone beat your old tuning fork or pitch pipe at its own game? Can it be a recording studio in your hand? App Store offerings make some amazing claims…
As Apple's App Store enters its third year, an increasing number of mobile devices can be used to navigate the digital current of apps. Subsequently, there has never been a better time for the itinerant musician with a smart phone. That's a mind-bending thought when you consider that the possibility of an artist looking to a single device — let alone his or her phone — as a tool to compose and learn, or mix and record music is, in itself, unprecedented.
But given the multitude of apps designed to fulfill each of these functions, isolating which one is best-suited to your particular needs isn't always as simple as choosing a 4-star user-rating over a 3.5. In this survey of musician-friendly apps, I am relying on iPhone/iPod as a platform. As for the tools themselves, I'll look at a selection of tuners, multi-tracks, and guitar pedals.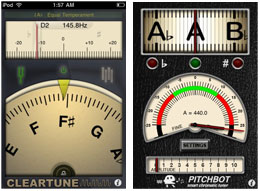 The erratic Pitchbot (right) pales in comparison to Cleartune (left).
Tuners
PitchBot ($1.99) and Cleartune ($3.99) use needle-meter displays of your pitch accuracy and offer adjustable frequencies to which you can tune. The needle is a bit jumpy with Pitchbot, where, in addition to displaying a smooth gauge, Cleartune is more thorough overall, allowing changes to "temperament," "notation" and "needle damping."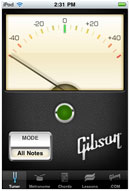 The tuner bundled within Gibson L&M.
For chromatic accuracy that has the added bonus of being free, Gibson L&M, AmpliTube (free) and iShred LIVE bundle comparably smooth tuners with other features. All three apps contain a metronome that can be set to 2, 3 or 4 beats per measure as well, plus a variety of extras (see Guitar Pedals). In short, if your tuning needs are advanced — to the point that "needle damping" is essential to your practice — Cleartune is worth its price tag. However, most users will undoubtedly be pleased with the basic-yet-efficient tuners offered in free apps from Gibson, iShred, and AmpliTube.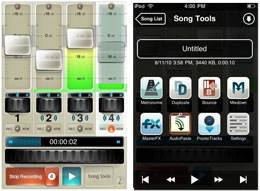 FourTrack's recorder (left) and editing features (right).
Multi-Tracks
Looking to record through your mobile device? Of those available, FourTrack feels the most comprehensive. It provides thorough "help/about" sections within its editing options, auto-save capabilities, a scroll-wheel for finding the point in your recording you wish to edit, as well as switch-activated "record" buttons that prevent re-recording by an accidental tap.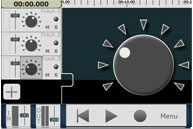 The tactile MultiTrack DAW, after the knob (highlighted on the left) has been tapped.
However, if you prefer density, MultiTrack DAW ($9.99) starts with eight tracks instead of four, and can upgrade to 24 total ($15.99 extra). MultiTrack's interface, reminiscent of GarageBand, is rather accessible: A tap brings its switches and dials into a larger display for easy adjustment in the main window. Plus, the app's users are particularly fond of the input from MultiTrack's developers on the corresponding online forum.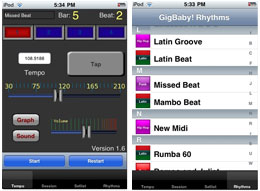 GigBaby! and its numerous, pre-programmed beats (right).
More rudimentary in both its visuals and the sonics of its many pre-programmed rhythm loops, GigBaby! packs a decent punch for just $.99. If you're aiming for basic functionality and are already familiar with Four Track technology, GigBaby! is an attractive alternative to the pricier apps.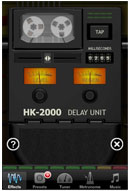 The Delay pedal in iShred.
Guitar Pedals
AmpliTube and iShred both offer a mini-amplifier and stomp-box pedal effects. For (electric) guitarists who frequently find themselves practicing through headphones, such pedal apps are ideal. The lack of latency is superb on either AmpliTube or iShred. Both present a slick interface and intuitive control, require an adaptor to connect your guitar to your mobile device (Read a comparison of the two leading adaptors.), are capable of assigning customized presets to touch pads for seamless transitions from one guitar effect to the next, and allow you to create loops over which to play. With iShred, these loops can be deftly constructed out of tracks in your device's iTunes library, while AmpliTube requires a wifi exchange of the file onto the device before the same feature can be employed.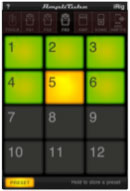 Amplitube's preset pads: for quick transitions between effects.
AmpliTube allows easier adjustment to its effects: If the knobs prove too tiny, click the knob you want to adjust and toggle the meter on the right. AmpliTube also contains a wider range of downloadable effects ($2.99 or $4.99 vs. iShred's $.99 or $1.99 rates). Fortunately, both apps can be downloaded for free and tested before committing to further investment. During test runs, be sure to weigh the merits of both the range and quality of effects.
Ultimately, the abundance of functions within a single app calls for investigation and hands-on tinkering. Outlets including pcmag.com, macworld.com, and appcomments.com are each exceedingly helpful resources for digging deeper.
We know there's a lot out there for the inquisitive songwriter, composer and/or musician to explore, and this initial snapshot of apps is a precursor of what's to come. Check back with for future surveys of composing and learning apps worthy of closer looks.