New Performers Announced for Better Angels Music Key West Songwriters Festival
Presented by BMI, Perennial Favorite Slated for April 27-May 1
The Better Angels Music Key West Songwriters Festival, presented by BMI, is exploding, surpassing even the biggest dreams of its founders and longtime supporters. The 2011 lineup is unprecedentedly deeper: genre-hopping singer/songwriters Raul Malo, Marshall Chapman, and Robert Earl Keen; serial country chart-toppers Lori McKenna, Bobby Pinson, Liz Rose, Hugh Prestwood, Bob DiPiero, The World Famous Headliners (Al Anderson, Shawn Camp, and Pat McLaughlin), Keith Stegall, Jamey Johnson, Randy Houser, Jerrod Niemann, and Dallas Davidson; and rock-pedigreed singer/songwriters Better Than Ezra's Kevin Griffin, Bo Bice, Collective Soul's Ed Roland, and Patrice Pike.
More than 100 top-tier songwriters will perform April 27 through May 1. The festival's exponential growth mirrors the artistic boom currently driving Nashville's creative community, whose intimate in-the-round songwriter showcases also provided the inspiration for the Key West Songwriters Festival itself. From current country hitmakers to pop and roots music trendsetters, everyone is invited to songwriting's favorite way to kick off summer.
The festival, now celebrating its 16th year of bringing many of music's most renowned writers together in one picturesque spot, will benefit the Wounded Warrior project, an organization that provides aid for injured service members. Anchor sponsor BMI will continue its widespread support of the fest, leading Key West's annual transformation into a music mecca.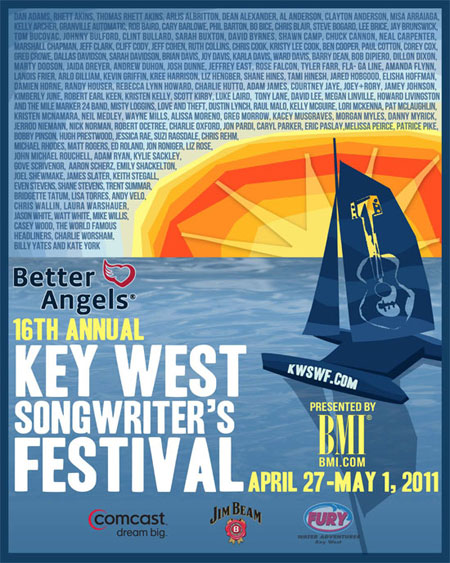 The super-sized lineup also includes:
Steve Bogard, Chuck Cannon, Lee Brice, Luke Laird, David Lee, Even Stevens, Rhett Akins, Joey + Rory, Courtney Jaye, Kate York, Kylie Sackley, Sarah Buxton, Marty Dodson, James Slater, Suzi Ragsdale, Dan Adams, Thomas Rhett Akins, Arlis Albritton, Dean Alexander, Clayton Anderson, Misa Arraiaga, Kelly Archer, Granville Automatic, Rob Baird, Cary Barlowe, Phil Barton, Chris Blair, Jay Brunswick, Tom Bucovac, Johnny Bulford, Clint Bullard, David Byrnes, Neal Carpenter, Jeff Clark, Cliff Cody, Jeff Cohen, Ruth Collins, Chris Cook, Kristy Lee Cook, Ben Cooper, Paul Cotton, Corey Cox, Greg Crowe, Brian Davis, Joy Davis, Karla Davis, and Ward Davis; 
Barry Dean, Tony Lane, Dillon Dixon, Jaida Dreyer, Josh Dunne, Jeffery East, Tyler Farr, Florida-Georgia Line, Amanda Flynn, Landis Frier, Arlo Gilliam, Kree Harrison, Shane Hines, Tami Hinesh, Jared Hobgood, Elisha Hoffman, Damien Horne, Rebecca Lynn Howard, Charlie Hutto, Adam James, Doug Johnson, imberly June, Megan Linville, Love and Theft, Dustin Lynch, Kelly McGuire, Kristen McNamara, Neil Medley, Wayne Mills, Alissa Moreno, Greg Morrow, Kacey Musgraves, and Morgan Myles;
Danny Myrick, Nick Norman, Robert Ocetree, Charlie Oxford, Jon Pardi, Caryl Parker, Eric Paslay, Melissa Peirce, Jessica Rae, Chris Rehm, Michael Rhodes, Matt Rogers, Jon Roniger, Adam Ryan, Gove Scrivenor, Aaron Scherz, Emily Shackelton, Joel Shewmake, Lucie Silvas, Caitlyn Smith, Tailgate South, Tony Stampley, Shane Stevens, Trent Summar, Bridgette Tatum, Lisa Torres, Andy Velo, Chris Wallin, Laura Warshauer, Jason White, Watt White, Mike Willis, Casey Wood, Charlie Worsham, and Billy Yates.
Full band concerts will bookend the 2011 festival. Howard Livingston and the Mile Marker 24 Band kick things off with a free concert on the Sunset Pier at the Ocean Key Resort on Wednesday, April 27, 6-8 p.m. Robert Earl Keen and his band will perform under the stars and on the waterfront at the Conch Republic Seafood Company in the Key West Historic Seaport on Saturday, April 30; tickets are $15 in advance, $20 at the door and can be purchased at keystix.com. Nashville troubadour Jerrod Niemann and the Hung Jury, whose "Lover Lover" topped charts in 2010, will open for Keen. Even more shows are scheduled at Key West venues conveniently located throughout the island, including the San Carlos Theatre, and the Tropic Cinema.
Specific lineups, venue and additional ticket information will be announced soon.
For a complete list of sponsoring hotels, local businesses and participating songwriters, please visit keywestsongwritersfestival.com and keywestinfo.com.
About the Key West Songwriters Festival
Celebrating its 16th year, The Key West Songwriters Festival is the largest festival of its kind in the world. Since 1997, BMI has been a key sponsor of the festival and has helped it grow into both a tourist attraction and favorite of island locals. The festival revolves around five days and nights of more than 30 free shows, staged at an array of the island's most popular drinking holes and hot spots, where live music bliss introduces crowds to the faces, voices and stories behind the songs. Diverse lineups featuring more than 100 top songwriters deliver rare, "Key West-only" moments: Informal adaptations of Nashville's signature in-the-round acoustic showcases dominate much of the schedule, while an event-capping street concert adds an enticing Mardi Gras fillip to the mix. keywestsongwritersfestival.com