Nassau Hosts Nashville Songwriter Invasion Led by BMI
BMI co-sponsored the 5th Annual Nassau Songwriters Festival in the Bahamas' namesake December 5 and 6. Staged at local hotspot the Green Parrot, a cross-section of Nashville's songwriting veterans and buzz-generating new voices performed. Lineups featured Booker T. & the MG's Steve Cropper (Otis Redding's "Sittin' on the Dock of the Bay"); Bobby Pinson (Sugarland's "All I Want to Do"); Natalie Hemby (Lee Ann Womack's "Bees"); Chuck Cannon (Toby Keith's "How Do You Like Me Now"); Dallas Davidson (Trace Adkins' "Honky Tonk Badonkadonk"); Keith Stegall (Alan Jackson's "Don't Rock the Jukebox"); James Slater (Martina McBride's "In My Daughter's Eyes"); Kylie Sackley (LeAnn Rimes' "Nothing 'Bout Love Makes Sense"); Marty Dodson (Kenny Chesney's "Everybody Wants to Go to Heaven"); up-and-coming singer-songwriter Angel Cropper; and musician Terry Manning, who manages Nassau's legendary Compass Point Studios, where landmark albums including AC/DC's Back in Black were recorded.
In addition to BMI, sponsors of the Nassau Songwriters Festival included BGC, The Islands of the Bahamas, American Airlines, Compass Point Beach Resort, Compass Point Studios, Dolphin Encounters, the Green Parrot, JWT Enterprises Water Treatment Equipment, Bahamas Experience Transportation, Travis TV, and Country Music Across America.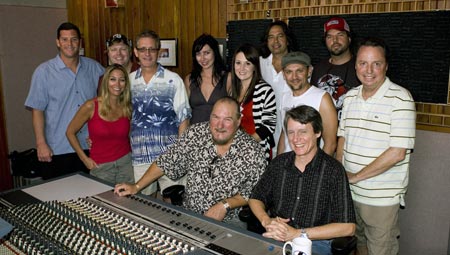 Pictured at Compass Point Studios are (l-r): third row: BMI's Mark Mason, songwriters Bobby Pinson, James Slater, and Dallas Davidson; second row: BMI's Mary Loving, songwriters Keith Stegall, Kylie Sackley, Natalie Hemby, and Marty Dodson, and BMI's Jody Williams; with Steve Cropper and Terry Manning, seated. (Photo by Ross Miller)