Monica Fernandez of Berklee Chosen for peermusic Latin Scholarship
Porfirio Piña, Director of the BMI Foundation's peermusic Latin Scholarship, has announced that Monica Fernandez is the winner of the 11th annual competition for the award. Fernandez, a native of Monterrey, Mexico, and a student at the Berklee College of Music, received a $5,000 grant for her song, "Sepia" at a private award ceremony at the BMI New York City office on July 9, 2014.
"I am filled with gratitude for the financial assistance to fund my college education; this award gives me the confidence to continue studying music and doing what I love by bringing value to my musical ideas," Fernandez said. "I am so thankful to have the support and encouragement from the BMI Foundation which gives a space for Latin music and aspiring composers like me." Fernandez's song, "Sepia," is a love story that speaks to the uncertainty of love. She says that the song is meant to reflect a dream.
The scholarship competition was established in 2003 through the generosity of Ralph Peer II and the peermusic companies and is open to students between the ages of 16 and 24 attending colleges and universities in the United States and Puerto Rico. Piña, who also serves on the BMI Foundation Board of Directors, oversaw the selection and judging process. About the award, Pina said, "It's an honor to serve as the peermusic Latin Scholarship Director; for the past ten years we have seen the winners go on to work on TV, Film, record labels A&R and performing as solo artists or part of a band." Pina went on, "We are proud that the scholarship can help those students that are in need to continue their music education."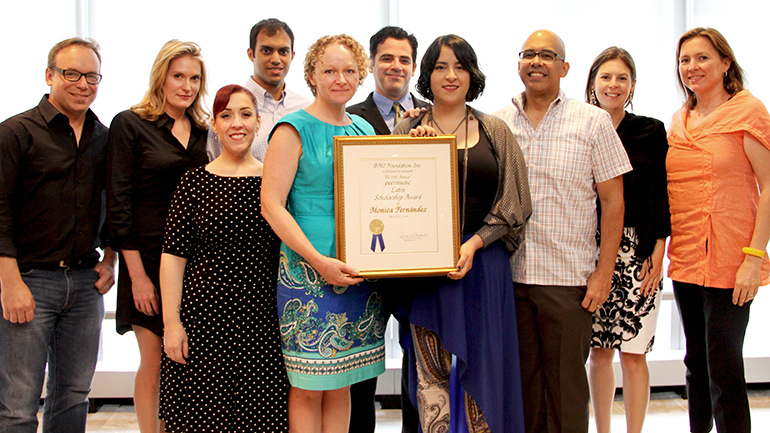 Executive members from the BMI Foundation and peermusic gather to celebrate the 2014 BMI Foundation peermuisc Latin Scholarship winner, Monica Fernandez at a private award ceremony on July 9, 2014. (L-R): From peermusic: Julio Bague, East Coast Creative Director (Miami); Mary Megan Peer, President, Asia Pacific & Strategic Markets; Yvonne Drazan, West Coast Creative Director (Los Angeles); Brett Bakalar, Administrative Manager for the BMI Foundation; Deirdre Chadwick, President of the BMI Foundation; Rich Garza, Vice President of the BMI Foundation; 2014 peermusic Latin Scholarship winner Monica Fernández; Director of the peermusic Latin Scholarship and Senior Vice President of the Board of Directors of the BMI Foundation Porfirio Piña; Carolina Arenas, BMI's Director of Writer-Publisher Relations, Latin Music; Antonella DiSaverio, Secretary of the Board of Directors of the BMI Foundation.