Lowen and Navarro Tribute Album Rallies Stars for Good Cause
A new album, Keep the Light Alive: Celebrating the Music of Lowen & Navarro, offers a stunning trek through the career of one of music's most esteemed songwriting teams, Eric Lowen and Dan Navarro. Featuring contributions from artists including Jackson Browne, Keb' Mo', The Bangles, The Refugees, Five for Fighting's John Ondrasik, the disc places songs including "Weight of the World," "If You Love Me Like That," "We Belong," "Compass Point," and "Keep the Light Alive" into stunning context, magnifying the sheer beauty of their composition.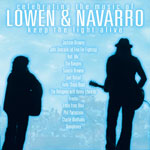 Available at www.keepthelightalive.org and iTunes, the disc is doing more than celebrating the legacy of Lowen and Navarro: All proceeds will go towards aiding individuals living with ALS, also known as Lou Gehrig's disease, as well as research efforts currently working towards a cure. Lowen was diagnosed with the illness almost six years ago.
For more information and to purchase the tribute, please visit www.keepthelightalive.org.