Lineup Announced for BMI Stage at ACL Fest
The Austin City Limits Music Festival is October 8-10 in Austin's Zilker Park, and once again, BMI will join the fest in offering raw proof that roots music is more than alive and well—it's rocking, kicking, and swinging. Tucked in its signature shady corner near the entrance of the festival, the BMI Stage will pull from all over the country and across the pond for a deliciously schizoid twang-punk-soul-folk sonic bender.
The BMI Stage will feature Two Tons of Steel, Ponderosa, the Kicks, the Ettes, Sarah Harmer, Caitlin Rose, Run With Bulls, the Jane Shermans, Dan Black, David Bazan, Ruby Jane Smith, SPEAK, MyNameIsJohnMichael, Henry Clay People, and T Bird and the Breaks.
2010 ACL Festival headliners include Eagles, Phish, Muse, the Strokes, MIA, Flaming Lips, and more. For tickets, a full schedule, maps, hotel suggestions, and more, visit aclfestival.com.
BMI's stage at the Austin City Limits Music Festival exemplifies the organization's continued dedication to fostering auspicious new talent. BMI's layered approach to songwriter development comprises educational, creative and promotional opportunities, including the BMI Lehman Engel Musical Theatre, Jason Blume Songwriters' and Jazz Composers Workshops; 8 off 8th, Pick of the Month and Acoustic Lounge showcase series; and stages and slots at other premier festivals including Lollapalooza, South By Southwest, the French Quarter Festival, Bonnaroo Music & Arts Festival, and the Key West Songwriters Festival.
The BMI Stage Schedule
Friday, October 8
TWO TONS OF STEEL (San Antonio, Texas) / 11:15-11:45 a.m.
Over ten albums, including 2009's Not That Lucky, and a decade of frequent performances, San Antonio's Two Tons of Steel have come to be regarded as "one of the best bands in Texas," to quote famed producer Lloyd Maines, who always makes time on his busy recording schedule for these guys. The band's hybrid of country and rock fits the personality of modern Texas, split between country and city, like a glove, and proposes a powerful alternative to the maudlin schlock of mainstream country. Like Bob Wills & the Texas Playboys, Two Tons energize country by bringing it to the dance floor; like the Reverend Horton Heat, they hit hard and rip a mean guitar solo. In Two Tons country, a hit song has a beat and a bass solo, and you can hear an Elvis Costello cover—and maybe even their so-cool-other-bands-have-covered-it version of the Ramones' "I Wanna Be Sedated"—at the Grand Ole Opry, where they've performed at least eight times.
myspace.com/twotonsofsteel
PONDEROSA (Athens, Georgia) / 12:40-1:20 p.m.
Fresh signees to New West Records, Ponderosa spit, growl and rock with the same exciting energy that the Kings of Leon possessed during their Aha Shake Heartbreak years. Lead guitar/lap steel/banjo player Kris Sampson, vocalist/bassist Jonathan Hall, drummer Darren Dodd, vocalist/guitarist Kalen Nash and vocalist/ keyboardist John Dance, all skilled studio musicians, met at Decatur, Ga.'s Nickel and Dime Studios. The guys decided to band together, and split time between Athens and Atlanta, drawing big crowds in the latter city. William Cane, a writer for Performer Magazine, said the band's "catalog of campfire songs, southern rock anthems and drunken two-step shuffles has won the admiration of listeners—and the envy of musicians—throughout the Southeast Region."
myspace.com/ponderosamusic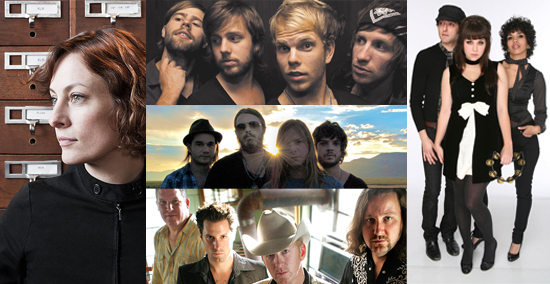 Clockwise from left: Sarah Harmer, The Kicks, The Ettes, and Two Tons of Steel. Center: Ponderosa
THE KICKS (Nashville, Tennessee) / 2:40-3:20 p.m.
Cheap Trick or Aerosmith? T. Rex or Def Leppard? Whatever your hard-rock order, the Kicks can deliver. Like the Dandy Warhols and Brian Jonestown Massacre, this Nashville quartet make throwback rock with melody, muscle and a dash of danger. They handle a well-worn formula with taste and gusto, successfully walking a thin line between fist-pumping anthems and sleazy bar rock. Though still relatively unknown, the Kicks have already crossed the country a couple of times, tantalizing barroom audiences with loud, crunchy music topped with unexpectedly sweet harmonies. The band self-released their first album, The Rise of King Richie, this year. It was produced in part by Vance Powell, who ran the boards on the Raconteurs' Consolers of the Lonely.
myspace.com/thekicks
THE ETTES (Nashville, Tennessee) / 4:40-5:20 p.m.
Like many bands in the recent garage explosion, The Ettes have a commanding live presence and attitude to spare. What makes them stand out from the pack is the stone-dumb, viciously heavy riffs that drive their songs—like the Gossip with the bass turned all the way up. This band owes as much to Blue Cheer as to the Oblivians and the Black Lips. The Ettes were a natural fit for L.A. label Sympathy for the Record Industry; two Ettes albums were among the label's final releases before it fizzled in 2007. Since then, they've become the flagship act for San Francisco's Take Root Records.
myspace.com/theettes
SARAH HARMER (Ontario, Canada) / 6:40-7:20 p.m.
Sarah Harmer is not what you'd call prolific, so when she releases a new album, it's news. But fans have waited even longer than usual for her June 22 release, Oh Little Fire—four years, to be exact. Her last one, the country/bluegrass-leaning I'm a Mountain, earned her a nomination for the 2006 Polaris Music Prize, an award for Canada's album of the year. But Harmer's influences, and her output, range widely. All Music Guide calls her style pop/rock, but she's also got a folky side. Raised in Burlington, Ontario, she was an early fan of Tragically Hip, and when she started playing solo in 1999, opened for Moxy Früvous and the Indigo Girls, among others. Before that, she was a member of the Saddletramps, then formed college-radio favorite Weeping Tile. Friends encouraged her to release an album of pop standards she did as a gift to her dad, which became Songs for Clem. But her breakthrough release was 2000's You Were Here, which produced the hits "Basement Apartment" and "Don't Get Your Back Up."
myspace.com/sarahharmer
Saturday, October 9
CAITLIN ROSE (Nashville, Tennessee) / 11:15-11:45 a.m.
A new generation of Linda Ronstadts may be upon us, if Caitlin Rose has anything to say about it. The 22-year-old Texas native, now living in Nashville, has a folky twang in her sugar-sweet voice, and she's made a name for herself covering classics and writing tunes that fit right beside them. She's already put out a seven-track EP, Dead Flowers, and its follow-up is expected later this year. It comes as no surprise that Rose is a musician; her mother, Liz Rose, co-penned Taylor Swift's hits "Tim McGraw" and "Teardrops On My Guitar," as well as songs for McGraw, Trisha Yearwood and Bonnie Raitt. Daughter Rose falls outside the pop-country realm, however; landing more squarely in Loretta Lynn territory. In a town saturated with country musicians, Rose is carving her own niche.
myspace.com/caitlinrosesongs
RUN WITH BULLS (Nashville, Tennessee) / 12:40-1:20 p.m.
Nashville power trio Run With Bulls look to fellow Nashville-based rockers like Jason & the Scorchers for inspiration, and much like their influences they know how to bring the grit. Brad Sample brings soulful vocals and blazing guitar riffs as bassist Chris James and drummer Phil Turner lay down rhythms that run the gamut from blues to country to rock. It wouldn't be surprising to hear Bends-era Radioheadesque "Break My Heart" or punchy "Shake This" on the radio. In the potential set closer "Follow the Light," Sample sweetly sings out against "a thousand pound bag full of fears."
myspace.com/runwithbulls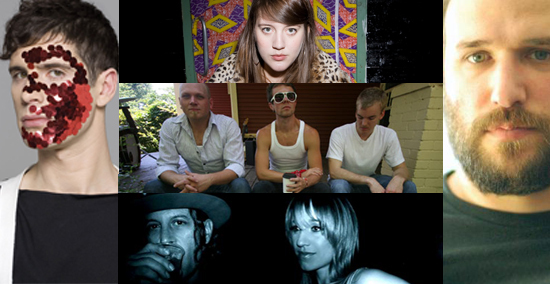 Clockwise from left: Dan Black, Caitlin Rose, David Bazan, and The Jane Shermans. Center: Run With Bulls.
THE JANE SHERMANS (Nashville, Tennessee) / 2:40-3:20 p.m.
Songwriter Angelo Petraglia has an impressive set of rock 'n' roll buddies—he co-wrote and produced the Kings of Leon's debut Youth and Young Manhood. More than a producer with an ear for talent, Petraglia is a musician in his own right, and he joins singer/bassist Eulene Sherman and drummer Joshua Moore for his latest project, the Jane Shermans. Named for the former Rockettes dancer, the band's 2008 self-produced debut album, Popular Music Social Condition, is a record both new wave enthusiasts and hipsters can groove to as Eulene Sherman recalls her personal struggles and vagabond journeys. The gritty vocals and funky bass lines from the powerful frontwoman will make most Kills fans fall in love instantly.
myspace.com/thejaneshermans
DAN BLACK (London / Paris) / 4:40-5:20 p.m.
The former vocalist for alt-rockers the Servant, U.K. "wonky pop" purveyor Dan Black has caught the ears of dance fans with his pop/rock/hip-hop stylings in songs like "Yours," "Alone" and "HYPNTZ," his mashup of lyrics from the Notorious B.I.G.'s "Hypnotize" with samples from Rihanna's "Umbrella" and the soundtrack from the movie, Starman. Claiming influences including Cocteau Twins, '80s Prince, De La Soul and the Smiths, he released his first album,((un)), across the pond last summer, preceded by the single, "Symphonies," which he redid with Kid Cudi for the album's U.S. release.
myspace.com/danblacksound
DAVID BAZAN (Seattle, Washington) / 6:40-7:20 p.m.
It's been a long five years since the former head of the erstwhile Pedro the Lion saw fit to tour this great land with a full band in tow. A solo act since 2006, Bazan engaged in a number of side projects and collaborations (Headphones, Undertow Orchestra) after Pedro's dissolution. It wasn't until September 2009 that Bazan released his first official solo album, Curse Your Branches. It is pure Bazan: edgy, dark, kind of pissed off. Gone is the navel-gazing of Pedro days. Bazan spent the better part of 2009 playing a long string of living room shows, intimate performances for 30-50 people in private homes. Recently, he and his backing band have taken on public venues, as well as more living rooms, in continued support of the album.
myspace.com/davidbazan
Sunday, October 10
RUBY JANE SMITH (Mississippi / Texas) / 11:15-11:45 a.m.
Fifteen-year-old Ruby Jane Smith is one of those scarily talented prodigies who wows audiences from such a young age, there's no choice but to let her run with it. Born in Dallas but reared in Mississippi, she developed a love of bluegrass and started performing before she was 7. She was invited to play the Grand Ole Opry at age 10—the youngest fiddler ever asked to appear on that stage. She moved with her mother to Austin in 2008, three years after winning the Mississippi State Fiddle Championship and a year after earning the Daniel Pearl Memorial Violin Award, presented by the foundation created in the name of the slain Wall Street Journal reporter to promote "harmony for humanity." She's since toured with Willie Nelson and Ray Benson (and performed in his play, A Ride With Bob) and formed her own band, the Ruby Jane Show.
myspace.com/rubyjanesmith
SPEAK (Austin, Texas) / 12:40-1:20 p.m.
Austin's own SPEAK make their ACL debut after coming up shy in 2009's Sound and the Jury contest. The band, formerly known as Jupiter 4, supply synth-heavy sing-alongs with their 2010 debut EP Hear Here on local powerhouse label, Playing In Traffic. During college Troupe Gammage (lead vocals/keys), Nick Hurt (guitar/vocals), Joey Delahoussaye (bass/vocals), and Jake Stewart (drums) built up their chops and dance rock style with strong pop sense abilities. As of May they've all graduated from school and with a Best New Band award on the mantle from this year's Austin Music Awards, the quartet are poised for a breakout performance.
myspace.com/hearspeakhere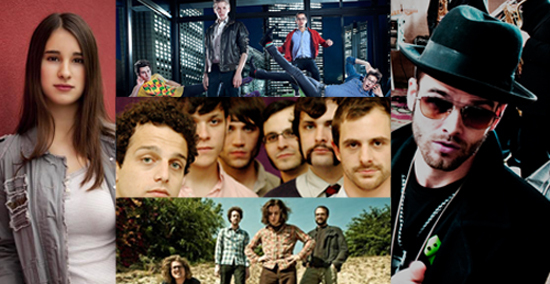 Clockwise from left: Ruby Jane Smith, Speak, T-Bird & the Breaks, & The Henry Clay People. Center: MyNameIsJohnMichael.
MY NAME IS JOHN MICHAEL (New Orleans, Louisiana) / 2:40-3:20 p.m.
The namesake of frontman John Michael Rouchell, the six-piece New Orleans band MyNameIsJohnMichael started with Rouchell's plan to write and record one song every week for the entire year of 2008. Drawing significant influences from Arcade Fire and Broken Social Scene, Rouchell honed his songwriting into one of the better takes on the recent trend of "big sound" indie rock. The best of the bunch were culled for the band's debut album, The People That Come and Go, which dropped in early 2009. Since then, they've been featured on the cover of OffBeat magazine, and "Character Piece" was featured in an ad for Gossip Girl Michelle Trachtenberg's line of jewelry.
myspace.com/mynameisjohnmichael
HENRY CLAY PEOPLE (Glendale, California) / 4:40-5:20 p.m.
At the heart of Henry Clay People are brothers Joey and Andy Siara, who founded the rock band in Glendale, Calif., as more of a casual fling between friends rather than a serious project. Though other band members rotated in and out, the brothers kept on playing, finally realizing that they may be on to something big. The band draws its influences from '70s Neil Young and punk rock, and have released two albums: Blacklist the Kid with the Red Moustache and For Cheap or For Free. Their latest work, Somewhere on the Golden Coast, is set to release later this year.
myspace.com/thehenryclaypeople
T BIRD & THE BREAKS (Austin, Texas) / 6:40-7:20 p.m.
Riding a wave of soul power that's brought the funk back to cities across the nation, Austin's T. Bird & the Breaks are all about inspiring a little dancing in the streets—or anywhere else you feel the groove. The 10-piece band, raised on Aretha and the Godfather of Soul, aren't afraid to pour it on and make you sweat. With a growing catalog of 7-inch vinyl singles, plus one EP and one full-length (2009's Learn About It), this band shows its love for kicking it old-school. T. Bird (nee Tim Crane) actually rode around the country in a train, looking for a city that would be conducive to his musical vision. Like so many others, he discovered Austin was just that place. Since then, he's been building the band—and momentum.
myspace.com/tbirdandthebreaks