Rachel Portman Receives Richard Kirk Award at BMI Film & TV Music Awards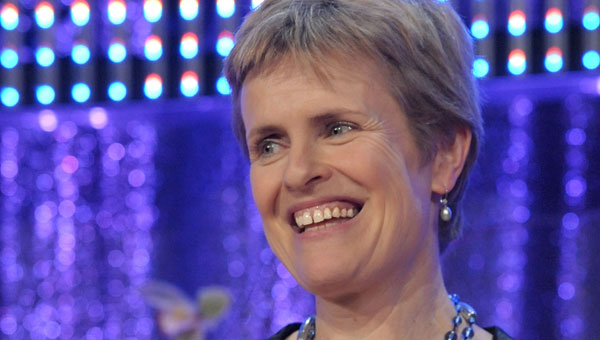 Terence Blanchard Receives Classic Contribution Award at Ceremony May 19 in Los Angeles
BMI staged its annual Film/TV Music Awards tonight at the Beverly Wilshire Hotel in Los Angeles. During the black-tie, invitation-only gala, BMI saluted the composers of music featured in the past year's top-grossing films, top-rated prime-time network television series, and highest-ranking cable network programs. Hosted by BMI President & CEO Del Bryant and Film/TV Relations Vice President Doreen Ringer Ross, the ceremony also featured the presentation of the Richard Kirk Award to acclaimed composer Rachel Portman. Portman made BMI history as she became the first woman composer to receive the honor.
The Richard Kirk Award is bestowed on composers who have made significant contributions to the realm of film and television music. As the 2010 honoree, Rachel Portman joins an elite list that includes David Newman, Thomas Newman, Christopher Young, George S. Clinton, Harry Gregson-Williams, Jerry Goldsmith, Michael Kamen, Mark Mothersbaugh, Danny Elfman, Alan Menken, Mike Post, Lalo Schifrin, John Barry, Charles Fox and John Williams.
Rachel Portman composes music propelled by nuanced elegance and quirky wit. The first woman composer to win an Academy Award, she has created rich scores for films including the Oscar-winning Emma, Nicholas Nickleby, Grammy- and Oscar-nominated Cider House Rules, Oscar- and Golden Globe-nominated Chocolat, Roman Polanski's Oliver Twist, The Legend of Bagger Vance, Hart's War, Marvin's Room, Beloved, The Joy Luck Club, The Manchurian Candidate, Infamous, Lake House, The Duchess, Benny and Joon and the recently finished Never Let Me Go, among others. The Oxford University graduate has also contributed acclaimed original music for top-tier television projects, including HBO's Grey Gardens, Four Days in July, Jim Henson's Storyteller, Ethan Frome and the BAFTA-winning Oranges are not the Only Fruit.
BMI presented the Classic Contribution Award to Grammy-winning musician and composer Terence Blanchard in recognition of his dedicated work and mentorship with the Thelonious Monk Institute of Jazz, which named him Artistic Director in 2000.
BMI also honored Academy Award winners T-Bone Burnett and Ryan Bingham, whose collaboration "The Weary Kind (Theme from Crazy Heart)" garnered the Oscar for Best Original Song.
Multiple-award winners included Danny Elfman, Aaron Zigman, Alexandre Desplat (SACEM), Rolfe Kent, Pete Townshend (PRS), Kenneth Berry, Harry Gregson-Williams, Steve Jablonsky, Blake Neely and Theodore Shapiro.
Below is the complete list of 2010 BMI Latin Awards winners:
RICHARD KIRK AWARD
RACHEL PORTMAN (PRS)

CLASSIC CONTRIBUTION AWARD
TERENCE BLANCHARD

FILM MUSIC AWARDS

17 AGAIN
Rolfe Kent

2012
Harald Kloser
Thomas Wander

ALICE IN WONDERLAND
Danny Elfman

ALVIN AND THE CHIPMUNKS: THE SQUEAKQUEL
David Newman

THE BOOK OF ELI
Atticus Ross

THE BOUNTY HUNTER
George Fenton

A CHRISTMAS CAROL
Alan Silvestri

CLOUDY WITH A CHANCE OF MEATBALLS
Mark Mothersbaugh

COUPLES RETREAT
A.R. Rahman

DIARY OF A WIMPY KID
Theodore Shapiro

DISTRICT 9
Clinton Shorter (SOCAN)

I LOVE YOU, MAN
Theodore Shapiro

JULIE & JULIA
Alexandre Desplat (SACEM)

THE LAST SONG
Aaron Zigman

THE PROPOSAL
Aaron Zigman

THE TAKING OF PELHAM 1 2 3
Harry Gregson-Williams

TERMINATOR SALVATION
Danny Elfman

THE TIME TRAVELER'S WIFE
Mychael Danna

TOOTH FAIRY
George S. Clinton

TRANSFORMERS: REVENGE OF THE FALLEN
Steve Jablonsky

THE TWILIGHT SAGA: NEW MOON
Alexandre Desplat (SACEM)

THE UGLY TRUTH
Aaron Zigman

UP IN THE AIR
Rolfe Kent

WHERE THE WILD THINGS ARE
Karen O.

WHY DID I GET MARRIED TOO?
Aaron Zigman

THE WOLFMAN
Danny Elfman

X-MEN ORIGINS: WOLVERINE
Harry Gregson-Williams

ZOMBIELAND
David Sardy

ACADEMY AWARD WINNERS

"THE WEARY KIND (THEME FROM CRAZY HEART)"
Ryan Bingham
T-Bone Burnett

TELEVISION MUSIC AWARDS

AMAZING RACE
Christopher Franke
Vaughn Johnson
Lee Sanders

AMERICA'S GOT TALENT
Jos Jorgensen
Andy Love

THE BACHELOR
Rob Cairns

THE BIGGEST LOSER
Heather Small (PRS)

BONES
Scott Kirkland

BROTHERS & SISTERS
Blake Neely

CRIMINAL MINDS
Mark Mancina

CSI
Pete Townshend (PRS)

CSI: MIAMI
Pete Townshend (PRS)
Kevin Kiner

CSI: NY
Pete Townshend (PRS)
Bill Brown

DESPERATE HOUSEWIVES
Danny Elfman
Steve Jablonsky

THE GOOD WIFE
David Buckley (PRS)

GREY'S ANATOMY
Carim Clasmann (PRS)
Galia Durant (PRS)

HOUSE
Robert Del Naja (PRS)
Grantley Marshall (PRS)
Andrew Vowles (PRS)

LAW & ORDER: SVU
Mike Post

THE MENTALIST
Blake Neely

NCIS
Brian Kirk

PRIVATE PRACTICE
Tim Bright
Chad Fischer

TWO AND A HALF MEN
Chuck Lorre

UNDERCOVER BOSS
Kenneth Berry

SPANISH-LANGUAGE TELEVISION MUSIC AWARDS

MAS SABE EL DIABLO
Iker Gastaminsa
Juan Carlos Rodriguez

EN NOMBRE DEL AMOR
Xavier Asali De La Mora

CABLE MUSIC AWARDS

CALIFORNICATION
Tree Adams
Tyler Bates

DEXTER
Rolfe Kent
Daniel Licht

THE HILLS
Danielle Brisebois

iCARLY
Michael Corcoran

LARRY KING LIVE
Adabelle Carson
Bryan Hofheins
Gwen Thornton

MAKE IT OR BREAK IT
Michael Suby

MEN OF A CERTAIN AGE
Mike Love
Brian Wilson
Snuffy Walden

THE O'REILLY FACTOR
Phil Garrod
Reed Hays
Scott Schreer

OUT OF THE WILD: ALASKA EXPERIMENT
Mark Phillips
Kenneth Berry
Doug Bossi
John Nooney
Craig Owens

PROJECT RUNWAY
Biff Sanders

ROYAL PAINS
Søren Oakes Christensen (KODA)
Per Mølgaard Jørgensen (KODA)
Allan Fjeldgaard Villadsen (KODA)
Steffen Westmark (KODA)

SAVING GRACE
Keith Ciancia

SUITE LIFE ON DECK
Steve Hampton
Gary Scott

TRUE BLOOD
Jace Everett
Nathan Barr