Emily Wells Performs at BMI's January Pick of the Month Showcase
BMI presented Emily Wells at Hotel Café for the January 16 installment of BMI's Pick of the Month series. Wells performed in support of her debut release, The Symphonies: Dreams Memories & Parties, which consists of 10 songs heavily influenced by classical music and hip-hop production.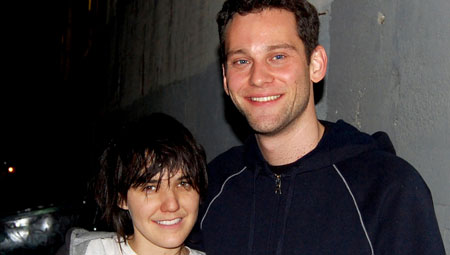 Pictured are Emily Wells (left) with BMI Director, Writer/Publisher Relations Casey Robison (right).
Emily Wells is a Texas-born, multi-dimensional artist whose upbringing included an array of musical influences including singing, the symphony, youth orchestra, church choir, and French horn. At an early age, Emily embraced the violin. However, it wasn't long before she added the banjo, organ, xylophone, guitar, ukulele, metallophone, and glockenspiel to her instrumental repertoire. In addition to her formative jazz, rock and classical undercurrents, undeniable hip-hop influence prompted Emily to incorporate drum machines, looping beats and sampling over her strong vocals. The resulting sounds have garnered support from Los Angeles radio station KCRW's Morning Becomes Eclectic, as well as NPR's All Things Considered. Emily's uniquely modern freshness is manifested in her musical range that prowls between covering Notorious B.I.G.'s hip-hop classic "Juicy" and channeling the sound of a symphony to layering a thick melodic vocal over studio-made infectious beats. www.myspace.com/emilywells
BMI's Pick of the Month is a monthly showcase series focusing on a hand-picked band or artist. The show aims to further introduce auspicious performers to both the music industry and public through a top-quality venue and discounted admission. Past BMI Pick of the Month artists include Macy Gray, Counting Crows and The Feeling.