Country and Pop Collide at 2nd Annual Martha's Vineyard Songwriters Festival
The second annual Martha's Vineyard Songwriters Festival will take over the famous East Coast playground September 24 and 25. Staged at both Mansion House in Vineyard Haven, MA and Union Chapel in Oak Bluffs, MA, the festival will combine pop and country BMI hit-makers in exclusive live music lineups and intimate settings, adopting the overwhelmingly successful approach of the popular Key West Songwriters Festival.
Advance tickets for each show are $25; admission for both nights of performances is also available in advance for $40. To purchase tickets, visit ticketsMV.com.
This year's lineup features an impressive cross-section of magic makers from both the spotlight and behind-the-scenes, including the incomparable Keith Stegall, who as a producer and/or songwriter has over 45 #1 hits to his credit, like Alan Jackson's "Dallas" and "Don't Rock the Jukebox," as well as George Strait's "I Hate Everything." Additional song-slingers who will share their music and the stories behind it include Tom Douglas, who has written 3 #1s in the past year alone (Lady Antebellum's "I Run to You," Tim McGraw's "Southern Voice," and Miranda Lambert's "The House that Built Me"); Thom Schuyler, who wields a 30+ year repertoire, highlighted by songs like "Love Will Turn You Around" by Kenny Rogers, "I Fell in Love Again Last Night" by The Forester Sisters, "A Long Line of Love" by Paul Overstreet, and "16th Avenue" by Lacy J. Dalton; Even Stevens, who had an impressive run of hits with country icon Eddie Rabbitt including "Step by Step," "Drivin' My Life Away," and "I Love a Rainy Night"; and country newcomer Shane Stevens, co-writer of Lady Antebellum's mega-hit "American Honey." Also slated to perform are Aussie singer/songwriter Kylie Sackley the self-described "island-reggae-blues-gospel" artist Tony Roberts, Nashville indie favorite Courtney Jaye, and unique R&B songstress Mayeani. Jeff Cohen, co-writer of the Evan and Jaron pop hit "Crazy for This Girl" and Big & Rich's "Holy Water"; innovative vocalist Phil Darosa; the rapidly ascending Toby Lightman; soulful Arama Brown; and Laura Warshauer, recipient of the Songwriters Hall of Fame's first-ever Holly Prize, round out this year's festival.
The event is designed to introduce top BMI pop and country songwriters not only to a wider audience, but to one another as well. While attendees soak up performances from the composers behind the hits, the performers will take advantage of the retreat-like setting and establish new creative partnerships with unmitigated hit-making potential.
The second annual Martha's Vineyard Songwriters Festival is sponsored by BMI, Southwest Airlines, Mansion House, Key West Songwriters Festival, Fury Key West, ticketsMV.com, and Bose.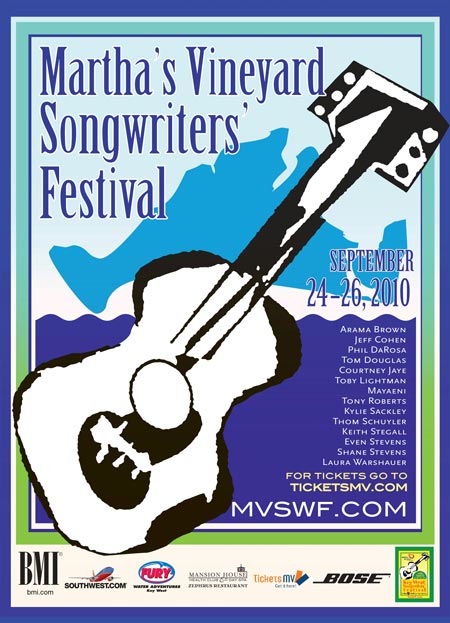 MARTHA'S VINEYARD SONGWRITERS FESTIVAL VENUE SCHEDULE
Friday, Sept. 24
Mansion House - Vineyard Haven, MA
5-7 p.m.; MVSWF Kick-Off Party
Hosted by Storme Warren
Tony Roberts
mindflowmusic.com
Phil DaRosa
phildarosa.com

Friday, Sept. 24
Union Chapel - Oak Bluffs, MA
Hosted by Storme Warren
8-9 p.m.
Arama Brown
songspub.com
Jeff Cohen
myspace.com/panchoslament
Toby Lightman
tobylightman.com

9:15-10:30 p.m.
Thom Schuyler
thomschuyler.com
Laura Warshauer
laurawarshauer.tumblr.com
Even Stevens

Saturday, Sept. 25
Union Chapel- Oak Bluffs, MA
Hosted by Storme Warren
8-9 p.m.
Mayaeni
mayaeni.com
Shane Stevens
myspace.com/shanestevensmusic
Courtney Jaye
courtneyjaye.com

9:15-10:30 p.m.
Tom Douglas
myspace.com/tomdouglassongs
Kylie Sackley
myspace.com/kyliesackley
Keith Stegall
keithstegall.com