Composer Rachel Portman to Receive Richard Kirk Award at BMI Film & Television Awards
Terence Blanchard to Receive Classic Contribution Award at Ceremony Slated for May 19 in Los Angeles
BMI will present the Richard Kirk Award for outstanding career achievement to Rachel Portman at the annual BMI Film & Television Awards, slated for Wednesday, May 19 in Los Angeles. Portman will make history as she becomes the first woman composer to receive the honor. Staged at the Beverly Wilshire Hotel, the black-tie, invitation-only dinner will salute the composers of the past year's top-grossing films, top-rated prime-time network television series and highest-ranking cable network programs. BMI President & CEO Del Bryant and BMI Vice President, Film/TV Relations Doreen Ringer Ross will host the event.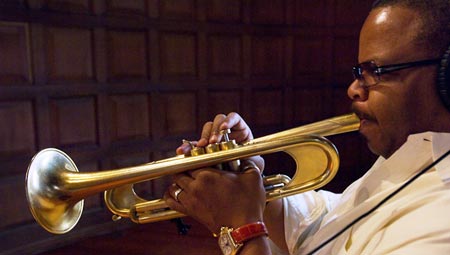 Terence Blanchard
The Richard Kirk Award is bestowed on composers who have made significant contributions to the realm of film and television music. As the 2010 honoree, Rachel Portman joins an elite list that includes David Newman, Thomas Newman, Christopher Young, George S. Clinton, Harry Gregson-Williams, Jerry Goldsmith, Michael Kamen, Mark Mothersbaugh, Danny Elfman, Alan Menken, Mike Post, Lalo Schifrin, John Barry and John Williams.
Rachel Portman composes music propelled by nuanced elegance and quirky wit. The first woman composer to win an Academy Award, she has created rich scores for films including the Oscar-winning Emma, Nicholas Nickleby, Grammy- and Oscar-nominated Cider House Rules, Oscar- and Golden Globe-nominated Chocolat, Roman Polanski's Oliver Twist, The Legend of Bagger Vance, Hart's War, Marvin's Room, Beloved, The Joy Luck Club, The Manchurian Candidate, Infamous, Lake House, The Duchess, Benny and Joon and the recently finished Never Let Me Go, among others. The Oxford University graduate has also contributed acclaimed original music for top-tier television projects, including HBO's Grey Gardens, Four Days in July, Jim Henson's Storyteller, Ethan Frome and the BAFTA-winning Oranges are not the Only Fruit.
BMI will also present the Classic Contribution Award to Grammy-winning musician and composer Terence Blanchard in recognition of his dedicated work in his hometown of New Orleans and with the Thelonious Monk Institute of Jazz, which named him Artistic Director in 2000. Blanchard has spearheaded the nonprofit education organization's missions to offer promising young musicians college-level training by America's jazz masters and to present free, public school-based jazz education programs around the world.