BMI to Sponsor 2014 Composing for the Screen Film Scoring Mentorship Program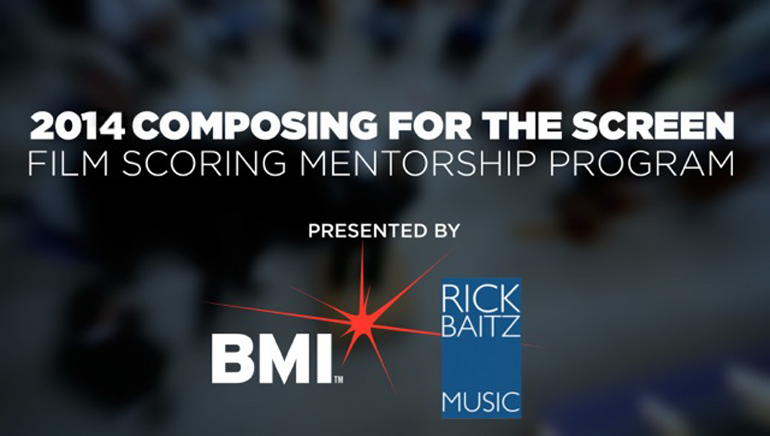 Broadcast Music, Inc. is proud to once again celebrate and sponsor the art of scoring via its 2014 Composing for the Screen Film Scoring Mentorship Program. Directed by renowned BMI composer Rick Baitz, this New York City-based program provides an opportunity for nine emerging film composers to participate in a high-level workshop where film music will be examined from many perspectives: historical, psychological, dramatic, stylistic and more.
Using the facilities of the BMI Media Room, participants will explore a wide range of film music excerpts – composing, recording, and sharing work in a supportive environment. Students will leave the workshop with greater confidence in their own voices as film composers, several strong cues for their reel, an increased understanding of the business of film music and greater sensitivity to the art of composing for the screen. During the year following the workshop, the group will meet on occasion to share work and discuss students' development as film composers.
The program will be open to the emerging film composer who has some experience in film and wants to learn more. Free to accepted participants, it will be limited to nine students.
Qualifications: Experience and credits as a composer; ability to read music; some experience composing for film preferred. Applicant should have access to professional music production equipment, such as a computer with composing software (such as Logic, Digital Performer or ProTools) and notation software (such as Sibelius or Finale); ability to create MIDI or hybrid scores.
To apply for the 2014 Composing for the Screen Film Scoring Mentorship Program, download the application and follow the application packet guidelines. All applications must be received by Friday, July 25, 2014.
All inquires should be addressed to Rick Baitz at filmmusic@rickbaitz.com

Schedule:
Six sessions, to be held at the BMI Media Room, 7 World Trade Center, 250 Greenwich St, NYC 10007 (except for Session 5, the final recording session, location TBA).
Thursday, Sept. 11, 2014, 4-7 PM

Thursday, Sept. 18, 4-7 PM

Thursday, Sept. 25, 4-7 PM

Thursday, October 2, 4-7 PM
(2 week break to prepare final project)

Thursday, October 16 – Recording session, time & location TBA

Thursday, October 23, 4-7 PM