BMI Songwriters Dominate Mojo's "100 Records That Changed The World"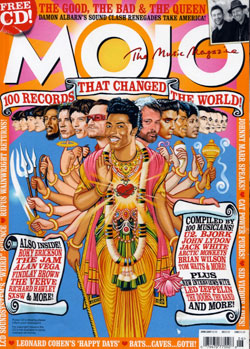 Mojo, the prominent and influential British music magazine, has selected a list of "100 Records That Changed The World" in their June issue.. The list is described as "The most influential and inspirational recordings ever made, they changed music – the way it was played, bought or even imagined." A group of prominent songwriters and performers – which include such BMI veterans as Chuck D, Dr. John, Pete Seeger and Brian Wilson – selected the list of remarkable 78s, singles and albums, which stretch in time from 1927 to 2006.
BMI songwriters dominate the selections, representing 58% of the individuals and groups. The variety and superiority of the material attests not only to the wide-ranging talents of BMI songwriters but also the consistency of BMI's involvement with all eralms of music throughout the course of its history. The diversity of styles and genres included is remarkable, ranging from folk (Woody Guthrie) to rap (Grandmaster Flash and the Furious Five), jazz (Miles Davis) to punk (Sex Pistols), blues (Howlin' Wolf) to country (Hank Williams), rhythm & blues (Sam Cooke) to soul (Aretha Franklin), disco (Chic) to folk-rock (Fairport Convention), the over-the-top (Velvet Underground & Nico) to the indefinable (Captain Beefheart and his Magic Band).
As with any list, arguments are invited and disagreements encouraged. The following are BMI's representatives in Mojo's decisions, including their number in the final grouping.
For the complete list, consult mojo4music.com or rocklistmusic.co.uk/mojo.html.
BMI Songwriters on the MOJO List:
Animals: "The House of the Rising Sun" [#86]
Anthology of American Folk Music [#8]
Beach Boys: Pet Sounds [#21]
The Beatles: "I Want To Hold Your Hand" [#2]
                       Revolver [#40]
                      Sgt. Pepper's Lonely Hearts Club Band [#16]
Captain Beefheart & His Magic Band: Trout Mask Replica [#51]
Chuck Berry: "Johnny B. Goode" [#12]
Big Youth: Screaming Target [#76]
David Bowie: The Rise and Fall Of Ziggy Stardust And the Spiders From Mars [#31]
                       Low [#64]
James Brown: "Papa's Got A Brand New Bag" [#15]
Jeff Buckley: Grace [#37]
The Byrds: Sweetheart of the Rodeo [#57]
Ray Charles: "What'd I Say" [#9]
Chic: "Good Times" [#54]
John Coltrane: My Favorite Things [#60]
Sam Cooke: "You Send Me" [#47]
Miles Davis: Kind of Blue [#43]
Lonnie Donegan: "Rock Island Line" [#38]
Nick Drake: Five Leaves Left [#78]
Brian Eno: Discreet Music [#68]
Fairport Convention: Liege & Lief [#58]
Aretha Franklin: "I Never Loved A Man The Way I Love You" [#18]
Gang Of Four: Entertainment [#77]
Gnarls Barkley: "Crazy" [#100]
Davy Graham with Alexis Korner: 3/4AD [#35]
Grandmaster Flash & the Furious Five: "The Message" [#29]
Woody Guthrie: Dust Bowl Ballads [#13]
Billie Holiday : "Strange Fruit" [#67]
Buddy Holly: "That'll Be The Day" [#52]
Howlin' Wolf: The Rocking Chair Album [#23]
Michael Jackson: Thriller [#33]
Carole King: Tapestry [#74]
John Lennon: Plastic Ono Band [#55]
The Libertines: Up The Bracket [#94]
Little Richard: "Tutti Frutti" [# 1]
Love [#66]
MC5: Kick Out The Jams [#69]
New York Dolls [#39]
Nirvana: "Smells Like Teen Spirit" [#27]
Nuggets [#42]
N.W.A.: Straight Outta Compton [#61]
Oasis: Definitely Maybe [#89]
Charlie Parker: "Koko" [#26]
Pixies: Surfer Rosa [#79]
Elvis Presley: "Heartbreak Hotel" {#3]
R.E.M.: Murmur [#75]
Rolling Stones: "(I Can't Get No) Satisfaction" [#19]
                          "Sympathy For The Devil:" [#48]
Ronettes: "Be My Baby" [#45]
Sex Pistols: "God Save the Queen" [#10]
The Shadows: "Apache" [#84]
The Smiths: This Charming Man [#80]
Sonic Youth: EVOL [#85]
The Stone Roses [#99]
The Stooges: Funhouse [#36]
Television: Marquee Moon [#97]
Upsetters: Blackboard Jungle Dub [#59]
The Velvet Underground & Nico [#7]
The Who: "My Generation" [#44]
Hank Williams: "Move It On Over" [#30]
Link Wray: "Rumble" [#41]