BMI Offers Bold Breakout Performers During Lollapalooza
BMI is proud to present the performers on its 2010 Lollapalooza stage. Running August 6, 7, and 8 at Grant Park's Hutchinson Field in Chicago, IL, BMI's stage will kick off performances at 11:15 a.m. each day, setting the pace at the mammoth music festival.
The BMI/Lollapalooza stage, a superstar forecaster, has launched performers such as Ke$ha, Lady Gaga, and Eric Church.
Providing a bucolic respite with Lake Michigan as a backdrop, the BMI stage will emit disco-dunked sounds, acoustic balladry, and pop-rock rhapsodies from a slew of singer/songwriting acts. Performers on the BMI Lollapalooza stage range from British ingénue Neon Hitch to the megaphone toting My Dear Disco; the explosiveness of Jukebox The Ghost; and Dan Black's mellifluous "Symphonies." The eclectic lineup will provide a blend of sounds, reflecting Lollapalooza's wide-ranging approach in offering festival-goers performances that are unique and remarkable.
BMI Lollapalooza Stage Schedule
Friday, August 6
11:15 a.m. – 12:00 p.m. – These United States: Lexington, Kentucky quintet These United States are—somehow, amidst an astounding number of tour dates—about to release their fourth studio album, entitled What Lasts. With positive press from Paste, Spin and The New York Times accompanying prior releases by TUS, it's safe to assume listeners are eager for the folk-pop ensemble's next rootsy installment.
myspace.com/theseunited
12:30 – 1:15 p.m. – The Ettes: Like many bands in the recent garage explosion, The Ettes have a commanding live presence and attitude to spare. Having supported sold-out tours by The Black Keys (2008), Kings Of Leon (2009) and The Dead Weather (2010), The Ettes continue to unleash raw tunes, like last year's "Crown of Age", featured in Drew Barrymore's movie Whip It.
myspace.com/theettes

Pictured, clockwise from left, are Neon Trees, The Ettes, These United States, Jukebox the Ghost, Semi Precious Weapons, and My Dear Disco.
1:45 – 2:30 p.m. – Jukebox The Ghost: Since their 2008 debut, Let Live and Let Ghosts, a sunny, piano-led explosion of pop exuberance, Jukebox The Ghost has logged hundreds of shows and thousands of hours on tour. The upbeat, diverse, often explosive, and always crowd-pleasing JTG are set to release their second album, produced by Peter Katis (Interpol, The National), in the fall.
myspace.com/jukeboxtheghost
3:00 – 3:45 p.m. – My Dear Disco: Given the name, the band's influences may seem obvious. But upon first listen—the singing through a megaphone in French, the Van Halen-inspired bagpipe shredding, the unorthodox time signatures—it's clear that My Dear Disco's music is hard to encapsulate. With their first album, DanceThink (2009), they give a name to the multifaceted sound they bring onstage.
myspace.com/mydeardisco
4:15 – 5:00 p.m. – Semi Precious Weapons: Fresh on the heels of releasing their sophomore album, You Love You, New York City's Semi Precious Weapons continue to unleash their unapologetic concoction of rock 'n' roll glitz and mayhem. Voted Best Band in NYC by the Village Voice, SPW just scored their first number one in New Zealand with their eponymous song "Semi Precious Weapons."
myspace.com/semipreciousweapons
5:30 – 6:15 p.m. - Neon Trees: Take hook-happy new wave, add classic-rock's story-telling humanity, then leaven with otherworldly charisma, and you begin to understand the palette Neon Trees are working from. The Utah-based rock band just released its major label debut titled In Our Youth, of which member Elaine Bradley notes: "Every song represents a different aspect of our sound. We don't stick to a single formula. And we have the goods to back it up live."
myspace.com/neontrees
Saturday, August 7
11:15 a.m. - 12:00 p.m. – MyNameIsJohnMichael: Full of vibrant energy, MyNameIsJohnMichael's live shows go unrivaled, featuring trumpets, trashcans and chains. Pronounced Best New Artist/Band out of The Big Easy by several publications, indie rockers MNIJM intertwine their brassy, New Orleans heritage with a mix of electric, up-tempo tunes, and what SPIN Magazine dubs "straight forward, plaintive acoustic balladry."
myspace.com/mynameisjohnmichael
12:30 – 1:15 p.m. – Skybox: Drawing favorable comparisons to MGMT, Chicago's Skybox crafts shifting, breezy pop tunes evocative of The Windy City itself. The band employed producer Sean O'Keefe (Fall Out Boy, Plain White Ts) for its second album, Morning After Cuts (2010), which features the single "In A Dream."
myspace.com/skybox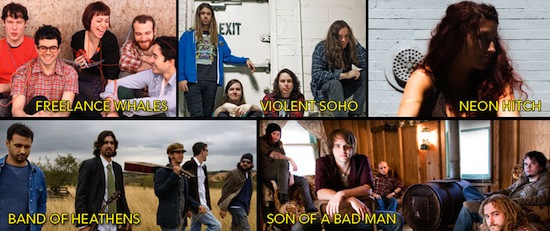 Pictured, clockwise from top left, are Freelance Whales, Violent Soho, Neon Hitch, Son of a Bad Man, and Band of Heathens.
1:45 – 2:30 p.m. – Dragonette: Having topped club charts in the UK, France and Australia, Canadian synth-pop outfit Dragonette sits poised to test its underground status here in the states. Bringing catchy, buoyant hooks and driving, dance-floor grooves, Dragonette has sold out shows on four continents, achieved Top 10 singles in both France and Canada, and collaborated with artists such as Basement Jaxx and Kaskade.
myspace.com/dragonette
3:00 - 3:45 p.m. – Dan Black: Dan Black first caught recognition back in 2008 with "HYPNTZ", the Notorious BIG cover that brought Black from unsigned obscurity to being lauded by critics and bloggers as one of 2010's most promising breakthroughs. Black's debut, ((UN)) (2009), offers his kaleidoscopic future-pop that invokes Sigur Ros as much as it does Flying Lotus or Timbaland.
myspace.com/danblacksound
4:15-5:00 p.m. – Royal Bangs: Picked up by drummer/producer Patrick Carney (The Black Keys), Royal Bangs have spent the better part of the past two years recording and on the road. The Knoxville, TN three-piece has a third album in the works following last September's Let It Beep (2009) and continues its extensive touring, during which Royal Bangs continues to push its garage and electronic-infused rock in new directions.
myspace.com/royalbangs
Sunday, August 8
11:15 -12:00 p.m. – Son of a Bad Man: It's at shows that Son of a Bad Man is truly in its element, all thanks to constant touring. Spearheaded by the gritty, ambitious (and 21 year old) singer-songwriter Shawn Fisher, Son of a Bad Man packs volatile, galvanizing rock into every performance.
myspace.com/sonofabadmanmusic
12:30 – 1:15 p.m. – Neon Hitch: From rough beginnings in London, to the slick production of current executive producer Benny Blanco (Ke$ha, Katy Perry), Neon Hitch's evolving assemblage of soulful pop and hip-hop beats has reflected changes on a personal level. For Hitch, it's the connection with the audience that counts—and her collaboration with 3OH!3 on "Follow Me Down" has connected with many.
myspace.com/neonhitch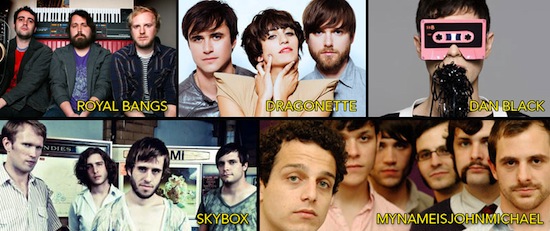 Pictured, clockwise from top left, are Royal Bangs, Dragonette, Dan Black, MyNameIsJohnMichael, and Skybox.
1:45 - 2:30 p.m. – The Band of Heathens: Comparisons to the Black Crowes, Little Feat and the Band fit just fine, but it's their soulful originality that earned The Band of Heathens a taping for Austin City Limits' 35th-anniversary season and a 2009 Americana Music Honors & Awards nomination as New & Emerging Artist of the Year. The Heathens' harmony-drenched, roots rock makes for a live show that's not to be missed.
myspace.com/thebandofheathens
3:00 - 3:45 p.m. – Freelance Whales: To call them multi-instrumentalists might be a little overdone. The kids in Freelance whales are really just collectors, at heart. They don't really fancy buffalo nickels or Victorian furniture, but over the past two years, they've been collecting instruments, ghost stories, and dream-logs. Somehow, from this strange compost heap of little sounds and quiet thoughts, songs started to rise up like steam from the ground.
myspace.com/freelancewhales
4:15 - 5:00 p.m. – Violent Soho: Australia's Violent Soho recalls the rugged grunge sounds of the '90s to create what vocalist and guitarist Luke Boerdam describes as "stoner pop". The band's catchy single, "Jesus Stole My Girlfriend," from their self-titled U.S debut has earned some praise, and appeared in the top 40 on both Billboard's Alternative Songs and Rock Songs charts.
violentsoho.com
BMI is proud to present and sponsor a stage at C3 music festivals Lollapalooza and Austin City Limits Music Festival (October 8-10). BMI's partnership with these elite festivals is designed to offer more prime showcasing opportunities to its songwriters, a distinct priority of the organization. For more information on Lollapalooza, please visit lollapalooza.com; for information on the Austin City Limits Music Festival, visit aclfestival.com.