BMI Foundation Announces 18th Annual Pete Carpenter Film Composing Fellows
Composers John Kaefer and James Woodward have been named the winners of the 18th Annual Pete Carpenter Fellowships, it was announced by BMI Foundation President Ralph N. Jackson. The Fellowship, open to aspiring film and television composers under the age of 35, was established by the BMI Foundation and Carpenter's family, colleagues and friends to honor the late composer whose credits include such television themes and scores as The A-Team, Magnum P.I., The Rockford Files, Hardcastle and McCormick, Hunter and Riptide.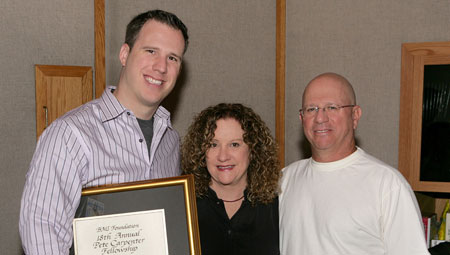 Pete Carpenter Fellowship winner John Kaefer (l) is pictured with BMI's Linda Livingston and BMI composer Mike Post in Post's Burbank studio.
Fellowship winners are given the opportunity to intern with renowned BMI composer Mike Post in his Los Angeles studio and meet with other distinguished theatrical, film and TV composers. A stipend for travel and living expenses is also part of the award. Post, Carpenter's longtime writing partner, has penned some of the most memorable theme songs in television history, including Hill Street Blues, The A-Team, Magnum P.I., NYPD Blue, Law and Order, L.A. Law, The Rockford Files, Quantum Leap and City of Angels.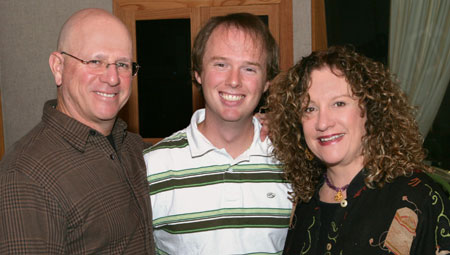 Pete Carpenter Fellowship winner James Woodward (c) is congratulated by Post and Livingston.
John Kaefer has been hailed by critics and audiences for his imaginative scores for film and television, as well as for his creativity as a composer of chamber, choral and orchestral concert works. He has composed, produced and orchestrated music for numerous film and network/cable television projects, including Room Service (starring Howie Mandel and debuting at Sundance), To Kill A Bore (shown at Cannes) and Dance School (documentary), among others. He recently worked with legendary BMI television composer W.G. "Snuffy" Walden (West Wing, Studio 60, Friday Night Lights) in his Calabasas studio. Additionally, Kaefer serves as the Creative Director and a principal composer for DreamArtists Studios, a film/television music production house based in New York.
California native James Woodward began writing music in Wisconsin. A string bassist and pianist, he studied composition with Stephen Hartke, Ronald Foster and John Downey. His music has been performed by the Milwaukee Youth Symphony Orchestra, the USC Symphony Orchestra, the United States Army Orchestra, and many other ensembles across the United States and Europe. Woodward recently completed writing the music for a short film by Gentry Smith, is performing for various films and projects in the Los Angeles area, and finds any available moment away from writing and performing to surf off the Southern California coast.
The BMI Foundation, Inc. is a not-for-profit corporation founded in 1985 to support the creation, performance, and study of music through awards, scholarships, commissions and grants. Tax-deductible donations to the Foundation come primarily from songwriters, composers and publishers, BMI employees and members of the public with a special interest in music. Because both the Foundation staff and the distinguished members of the Advisory Panel serve without compensation, over 97% of all donations and income are used for charitable grants.