BMI Doubles Down with Eric Church for Celebration Of No. 1 Songs "Round Here Buzz" & "Some Of It"
Taking note from his critically-acclaimed Double Down tour, Eric Church chose to "double down" with BMI on September 24 at an aircraft hangar on the outskirts of Nashville for a No. 1 celebration recognizing both of his most recent chart-toppers. This time around, it was "Some Of It," written by Church, Clint Daniels, Jeff Hyde and Bobby Pinson, and the Platinum-certified hit "Round Here Buzz," written by Church, Hyde, and Luke Dick.
Flanked by two jets, the BMI co-writers were applauded by their respective publishers as well as Universal Music Group Nashville's label-head Mike Dungan and BMI Nashville's VP Creative, Jody Williams. The celebration also featured a touching video compilation of Nashville artists thanking Church for inspiring them. The list included Kenny Chesney, Tim McGraw, Maren Morris, Thomas Rhett, Luke Combs, Ray Wylie Hubbard, and others.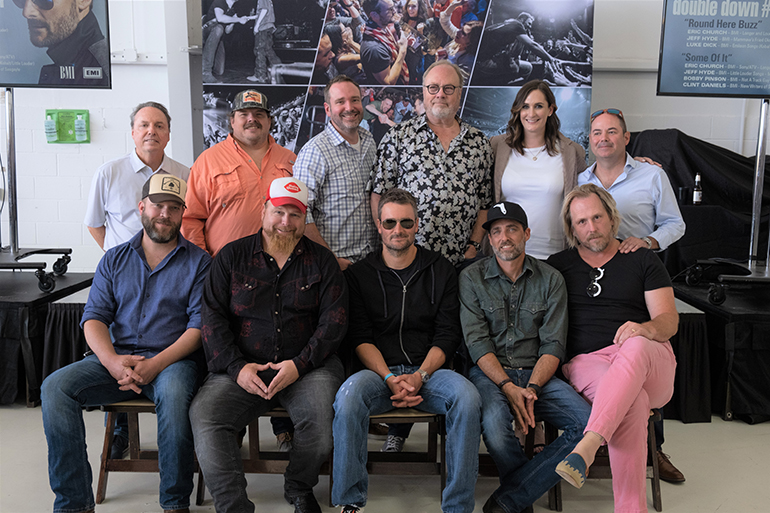 (L-R, back row): BMI's Jody Williams, Sea Gayle Music's JD Groover, Sony/ATV's Josh Van Valkenburg, UMG Nashville's Mike Dungan, BMI's MaryAnn Keen, Little Louder Music's Arturo Buenahora; (L-R, front row): BMI co-writers Jeff Hyde, Bobby Pinson, Eric Church, Clint Daniels and Luke Dick. (Photo: Steve Lowry)