BMI and White Bear PR Present "Composer Stories: The Evolution Of Music In Video Games"
Panelists Ilan Eshkeri, Nami Melumad, Bobby Tahouri, Christopher Tin and Inon Zur discuss video game scores Friday, March 26, during WonderCon @ Home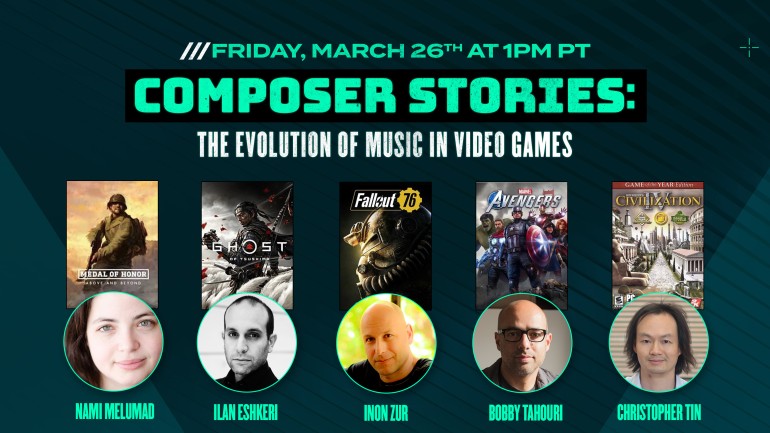 BMI and White Bear PR are excited to present the "Composer Stories: The Evolution of Music in Video Games" panel during this year's special edition of WonderCon @ Home. The virtual discussion will feature composers Christopher Tin, Ilan Eshkeri, Nami Melumad, Inon Zur (courtesy of Top Dollar PR) and Bobby Tahouri, whose award-winning music is behind some of the most popular video games today, including Civilization IV, VI, Ghost of Tsushima, Medal of Honor: Above and Beyond, Fallout and Marvel's Avengers.
Panelists will give viewers insight into scoring award-winning gaming soundtracks and the challenges that come with recording live instruments for video games. They will also discuss how music in video gaming has come a long way from the days of 8-bit MIDI to full sweeping orchestral scores, and will elaborate on the music creation process noting the differences between scoring for film/TV and video games.
The panel, which will go live Friday, March 26 from 1 - 2PM PST, will be moderated by BMI's VP, Creative, Film, TV & Visual Media Natalie Baartz and White Bear PR's Chandler Poling. Watch here.
ABOUT THE PANELISTS:
Ilan Eshkeri (@IlanEshkeri)
Ilan Eshkeri is an award-winning composer, artist, songwriter and producer. Amongst his extensive catalogue of film and television works are multiple Oscar and BAFTA-winning films such as Still Alice, Stardust and Shaun The Sheep. Eshkeri's video game works include music for The Sims and Ghost of Tsushima. He has been nominated for an Ivor Novello for The Young Victoria, as well as a BAFTA for The Snowman & The Snowdog.
Nami Melumad (@NamiComposer)
Nami Melumad is an Israeli-Dutch film and video game composer, known for her work on the video game Medal of Honor: Above and Beyond, HBO Max's An American Pickle and the Amazon thriller-drama series Absentia. She also scored the Oscar-nominated documentary short, Colette, and landed an upcoming Star Trek series, making her the first female composer for the franchise. Melumad won the International Film Music Critics Association (IFMCA) for Best Original Score for a Video Game for Medal of Honor: Above and Beyond in 2020, earned a Jerry Goldsmith Award nomination for her work on Over the Wall in 2019, and won the Hollywood Music in Media Award for Passage in 2018.
Bobby Tahouri (@BobbyTahouri)
Bobby Tahouri is known for his bold and dramatic scores ranging across a variety of genres and multimedia. His video game soundtracks include the superheroic score to 2020's Marvel's Avengers and the critically-acclaimed Rise of the Tomb Raider, as well as contributing additional music for Medal of Honor: Warfighter, Transformers: Revenge of the Fallen, and Shrek the Third. Tahouri has also scored Nickelodeon's highly rated animated series Shimmer and Shine, composed the main title theme for the Biography Channel/LMN show The Haunting Of and Netflix's Girlfriend's Day, as well as award-winning documentaries Best Worst Movie and The American Scream.
Christopher Tin (@ChristopherTinMusic)
Christopher Tin is a two-time GRAMMY-winning composer of concert and media music. His song "Baba Yetu," originally written for the video game Civilization IV, is the first piece of music written for a video game ever to win a GRAMMY Award. His debut album, the multi-lingual song cycle Calling All Dawns, earned him a second GRAMMY in 2011 for Best Classical Crossover Album, and his follow-up release, The Drop That Contained the Sea, debuted at number one on Billboard's classical charts, and premiered to a sold-out audience at Carnegie Hall's Stern Auditorium. His third album, To Shiver the Sky, also debuted at number one on Billboard's Classical Crossover Albums chart.
Inon Zur (@InonZurOfficial)
Inon Zur is an Emmy-winner and three-time BAFTA-nominated composer, internationally renowned for his original music scores for film, television and video game franchises, including Fallout, Dragon Age, Prince of Persia, Syberia and The Elder Scrolls. Zur's award-winning scores have generated numerous best-selling soundtracks, including his original scores for the video games Fallout 3 and Fallout 4, which earned him two BAFTA nominations for "Best Original Music," as well as nods from The Game Awards and Spike TV.