Award-Winning Hitmaker Dean Dillon Entertains Media Executives
BMI award-winning country songwriter Dean Dillon provided the entertainment at Federated Media's Annual Achievement Awards, held January 23 in Angola, Indiana. Dillon, who was inducted into the Nashville Songwriters Hall of Fame in 2002, has written 13 number one songs for George Strait and dozens of other hits for artists such as Kenny Chesney, Brooks & Dunn, Lee Ann Womack and George Jones.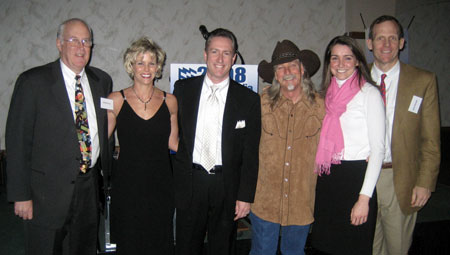 Picture after the performance are (l-r): Federated Media President & CEO John Dille, Federated Media's Leann Didier, Federated Media's COO Tony Richards, Dillon, and BMI's Kathleen Smyth and Dan Spears.