February 28, 2023
BMI Acoustic Lounge: New York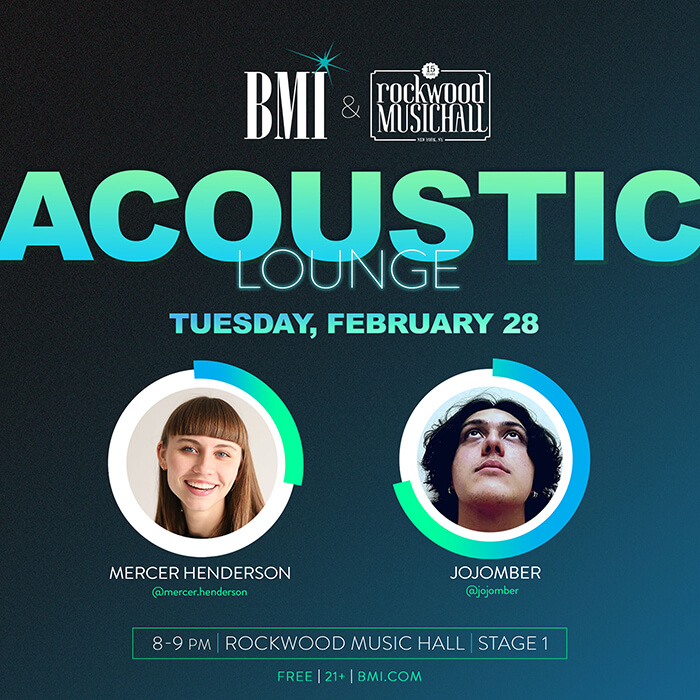 BMI Acoustic Lounge at Rockwood Music Hall, Stage 1 (196 Allen St. in the Lower East Side of Manhattan), 8:00-9:00 PM. Admission is FREE!.
Performances by:
Mercer Henderson: ( @mercer.henderson )
Jojomber: (@jojomber)
For more information, visit www.rockwoodmusichall.com.
Mercer Henderson
Singer-songwriter Mercer Henderson aims to build community and bring people together through relatable and honest writing. Born and raised in San Francisco, Mercer has been involved in music since a young age. Growing up listening to iconic female artists such as Lady Gaga, Dolly Parton, and Amy Winehouse, she started in musical theater and moved to writing her own music at the age of 13. She released her first single, 'Bittersweet,' at the age of 14. Now, she is 20 years old and attends the Clive Davis Institute at NYU, which has opened a lot of doors for collaboration with her peers. She has been making her rounds playing shows in NYC, including School Night's Showcase. Using social media, Mercer has cultivated an enthusiastic and dedicated fanbase, garnering over 1.5 million streams for her 2nd single, 'Strangers.' Influenced by artists such as Tate McRae, Lizzy Mcalpine, and Gracie Abrams - Mercer strives to find the perfect balance between catchy upbeat hooks and genuine storytelling that has everyone playing her songs on repeat!

Jojomber
Joseph Minde-Berman, also known as Jojomber, is a singer-songwriter from Yellow Springs, Ohio. He draws inspiration from pop, rock, and folk in his own genre he calls "easy pop" which aims to explore complicated feelings surrounding love, angst, uncertainty, and heartbreak through the least pretentious and most accessible delivery. At the center of most of his compositions is a ukulele, paired with honest lyrics and catchy melodies. Signed at 17 with Athens Ohio's own Brick City Records, he is the youngest person contracted to create an EP through their label. Since graduating high school in 2021, Minde-Berman has moved to New York City to major in Recorded Music at NYU's Clive Davis Institute.
Subscribe to BMI's The Weekly
Each week, Learn, Listen, Watch, Discover and Share with BMI! From must-see videos, to creative inspiration and dynamic playlists we're excited about, BMI's The Weekly is dedicated to delivering specially curated content designed for music creators and music fans alike!