November 2, 2022
Songwriters for Southwest Florida: NASHVILLE
BMI and iHeartMedia Fort Myers are proud to present Songwriters for Southwest Florida, an Island Hopper Songwriter Fest relief concert benefiting hospitality workers in Lee County after the devastating aftermath of Hurricane Ian. The event will be held at 3rd & Lindsley (818 3rd Ave. S, Nashville, TN) at 7:00pm.
Performances by: Aaron Barker, Kristian Bush (of Sugarland), Brooke Eden, Kendell Marvel, Maggie Rose, Paul McDonald, Frank Myers, Danny Myrick, Sheena Brook, Tim James, Stephanie Quayle, Maia Sharp, Texas Hill & more!
For tickets, click here.
Learn more about Songwriters for Southwest Florida on BMI.com.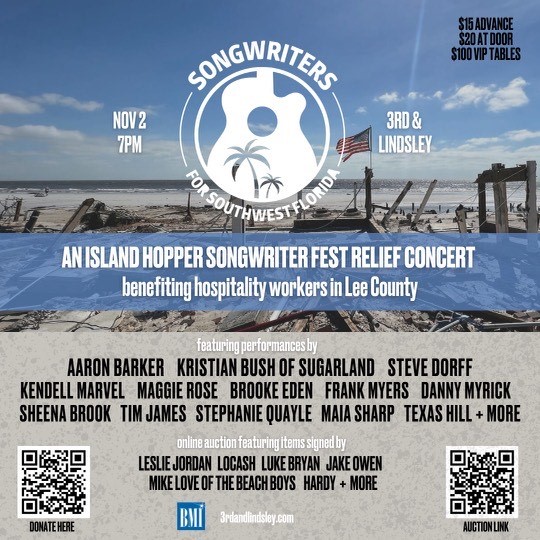 Subscribe to BMI's The Weekly
Each week, Learn, Listen, Watch, Discover and Share with BMI! From must-see videos, to creative inspiration and dynamic playlists we're excited about, BMI's The Weekly is dedicated to delivering specially curated content designed for music creators and music fans alike!