July 1, 2019
BMI Acoustic Lounge - Los Angeles
Singer/songwriter showcase series featuring acoustic performances in an intimate setting as well as networking opportunities with other songwriters and BMI representatives.
This month's BMI Acoustic Lounge is being held at Hotel Café (1623 N Cahuenga Blvd., Los Angeles, CA) - Doors Open @ 6:45 PM.
Open to the public; admission is always FREE!
Performances by:
Jack Fruit (@iamjackfruit)
Jose Madrid (www.soundcloud.com/josemadridmusic)
Merōn (lnkfi.re/JULx1mWQ)
Rob Mayes (www.rob-mayes.com)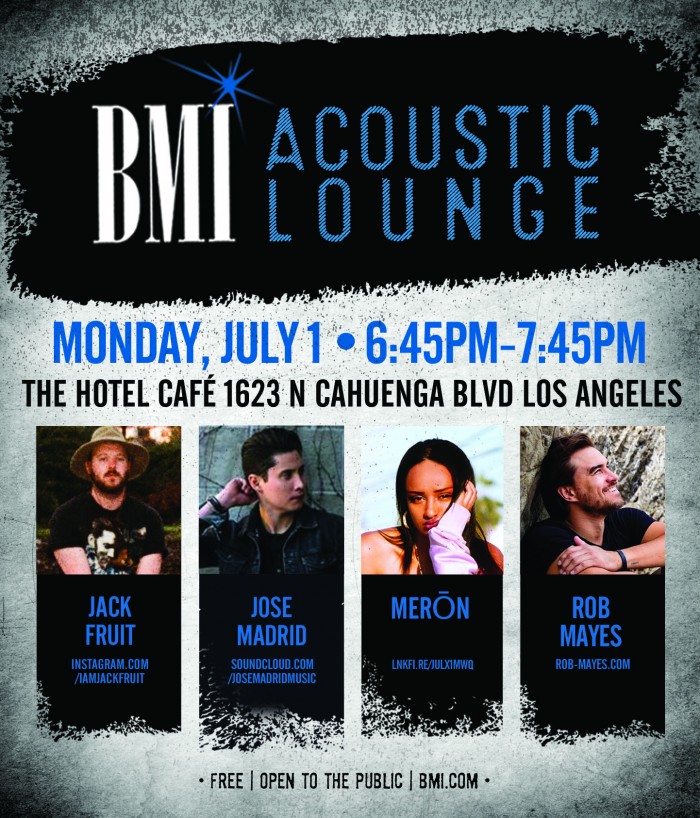 Subscribe to BMI's The Weekly
Each week, Learn, Listen, Watch, Discover and Share with BMI! From must-see videos, to creative inspiration and dynamic playlists we're excited about, BMI's The Weekly is dedicated to delivering specially curated content designed for music creators and music fans alike!