March 29, 2019
BMI Presents @ Wondercon: Anaheim, CA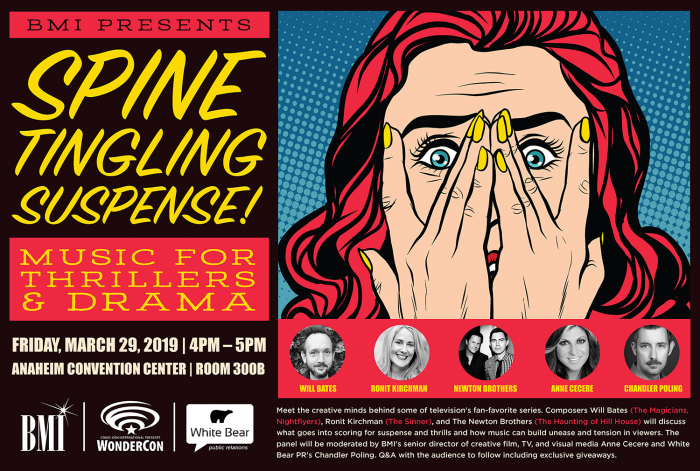 BMI, along with White Bear PR, presents "Spine-Tingling Suspense: Music For Thrillers & Drama" at the Anaheim Convention Center (800 W Katella Avenue, Anaheim, CA 92802), Room 300B; 4:00-5:00PM. Come meet the creative minds behind some of television's fan-favorite series and hear about what goes into scoring for suspense and thrills.
This panel is open to WonderCon badgeholders only.
Anne Cecere, BMI Senior Director, Film, TV & Visual Media Relations, and Chandler Poling, President of White Bear PR, will moderate this intriguing panel, followed by a Q&A with the audience and a chance to receive exciting giveaways.
Panelists:
Will Bates (The Magicians, Nightflyers)
Ronit Kirchman (The Sinner)
The Newton Brothers (The Haunting of Hill House)
Subscribe to BMI's The Weekly
Each week, Learn, Listen, Watch, Discover and Share with BMI! From must-see videos, to creative inspiration and dynamic playlists we're excited about, BMI's The Weekly is dedicated to delivering specially curated content designed for music creators and music fans alike!