Wammies Honor D.C. Area's Best
The State Theatre in Falls Church, Va., was packed to the gills and rockin' — despite the ice and snow outside — as attendees celebrated the 21st Annual Washington Area Music Awards (WAMA) Feb. 18.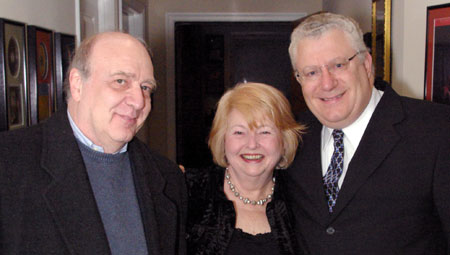 WAMA Director Mike Shreibman, Falls Church Vice Mayor M.R. Lindy Hockenberry and BMI's Fred Cannon
The D.C. music scene awards have long been a deep-winter occasion for members of the music community to bestow honors on their talented colleagues in all genres of music, from bluegrass and pop to Washington's own funk style, go-go.
There were dozens of prizes awarded in the genre categories, and BMI writers came up big winners in the general awards.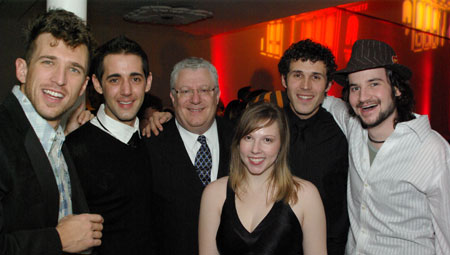 BMI's Fred Cannon with members of Celtic band Scythian
Veteran roots rocker David Kitchen picked up the award for Songwriter of the Year, as WAMA members were impressed with tunes on his The Thrillbillys Live!! at the Sunset Grill CD, which was also nominated for Album of the Year.
Geffry King got the Wammie for Song of the Year, an alt-country waltz entitled "Who Gets the Fruitcake This Year?", the title song from a nominated album by Honky Tonk Confidential.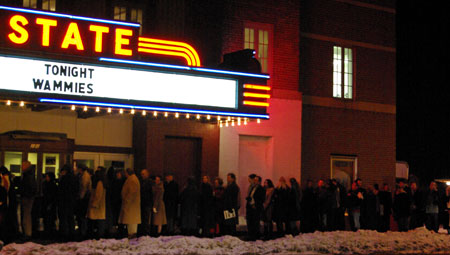 WAMA Awards attendees wait in line at the State Theatre
BMI's Fred Cannon, president of the Recording Academy's Washington chapter, gave the keynote address. As Senior Vice President of Government Relations, Cannon has strong ties to the D.C. music community and represents songwriter interests on Capitol Hill.
Cannon told WAMA members that the age of the independent label has arrived, and to make an effort take control of their own destiny when it comes to the business side of the music life.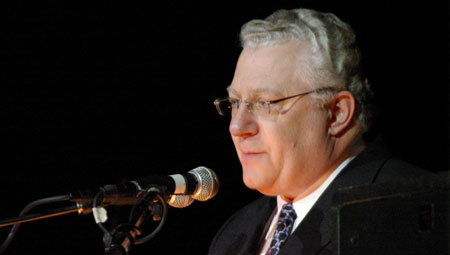 BMI's Fred Cannon delivers his keynote speech
"We are in the era of digital excellence, crafted by the past, aimed for the future," he said. "Music creators have never been better positioned in the marketplace." With home recording technology innovations, he added, "the opportunity for creativity is without limits."
Cannon said D.C.-area musicians and songwriters must engage their elected officials. "Make a point to know the issues that pertain to your future. Meet your congressmen. Walk the halls. Voice your concerns."
Also joining the WAMA festivities this year as master of ceremonies was a new member of the D.C. music community (and a new BMI member), Bob Schieffer, who's had day gigs such as White House correspondent and "Evening News" anchor for CBS.
Schieffer, it turns out, got to know the members of Honky Tonk Confidential because one of them has a day job at CBS, too. He ended up writing four tunes for their upcoming album, Roadkill Stew and Other News, and singing one.
Fred Cannon's Keynote Speech:
First of all, let me thank the Wammies and all the members for giving me the opportunity here today to share with you some of my thoughts as a true lover of music. Secondly, I would like to congratulate all the nominees and award winners. Well done to all.
Let me start by saying that we are living in an important chapter in the world of creativity. Today is an amazing day! This year is an amazing year! We are in the era of digital excellence, crafted by the past, aimed for the future.
This is the Age of the Independents.
On June 1, 1978, I personally started as head of an independent label. I had left my job as Commercial Director of A&R at EMI Records in London and I started Carrere Records U.K. As Managing Director, I finally could do my own thing. I was a lucky man: the first single release on Carrere U.K. went to No. 1 in the United Kingdom and six other European countries. The group was a South African all-girl band named Clout and the song was "Substitute."
In January 1980, I gave an interview to Music Week, the Billboard of England, where I stated that the future of great music lay in the independent labels and the major labels would have to buy out the independents to continue to stay alive. It took a while, but that insight has proven true. Now, I feel that the Age of the Independents has finally arrived.
Thanks to the advent of the digital world, music creators have never been better positioned in the marketplace. I remember miking up bathtubs to get good echo for guitar and vocals. Today with a click of a mouse you have in an instant what to us in the 60s took hours, maybe days to achieve and often at great expense. Today the opportunity for creativity is without limits.
The opportunities are endless!
It is hard to believe how long it took to get a record made, released, promoted, marketed and distributed. Today, promotion, marketing and distribution are at your fingertips. With today's technology available to you, you can do everything yourself. Record label executives like me and artists lived through the 60s, 70s, 80s and 90s without this luxury. I urge you to take full advantage of this opportunity.
We all face the challenge of earning money while maintaining a fair value in the music we create. Living in the D.C. area gives you an added responsibility. You have the opportunity to help us protect the value of music. Your access to Congress puts you in a unique position to make a difference for all the creators in America. Make it a point to know the issues that pertain to your future. Meet your congressmen. Walk the halls. Voice your concerns.
All of you here know how much hard work and commitment it takes to produce and create music. Protect the value! If you truly believe in your talent, write your own songs. As Frances Preston used to say, it is all about the song. Your songs will make or break your career. Produce your own music. Promote, market and distribute your music yourself. It is extremely important for you to do everything in your power to control your destiny. You have this choice; take it. This is coming from someone who would have loved to have had this choice.
The Washington, D.C.-area music scene is extremely exciting and flourishing. The wonderful group of nominees here at the Wammies is evidence of the great music this community is making. The local music scene is full of highly talented artists: Rich Harrison, Marcus Johnson, Stephen Hurd, Deanna Bogart, Cathy Fink, and thousands more. I love the work of professionals who generate the development of the local music scene.
Michael Jaworek at the Birchmere comes to mind, who calls me excited about a group or an artist. I think of Billy Zero, discovering new unsigned talent, promoting them on XM Radio. It is the genius of Greg Lukens that helps new talent get great sounds and dynamics. Richard Burgess, one of the U.K.'s top producers who worked alongside me years ago, is now producing new acts locally. It is people like Gemma Puglisi, Professor at the American University, who turned me on to Scythian. I think of Jennifer Cutting and her incredible energy and her passion for folk and Irish music. My friend Janine Wilson comes to mind, who is following her dream in music, always promoting, always playing. Charlie Pilzer is one of the legendary producer/artist/executive from the D.C. area. These are some of the colorful folks who help generate a vibrant and incredible spirit that helps propel the local music scene.
Look at the large group of local artists nominated for Grammys including our big Grammy winner John Mayer! Let me stress this point: The D.C.-area music scene is world class and second to none. This music area is hot! I just heard the new album from D.C. legend Chuck Brown. Wow! We are surrounded by great talent. The future of the D.C. music scene has never been stronger.
A couple of final thoughts: As President of the D.C. Chapter of the Recording Academy, let me say that if you are not yet a member of the Academy, you should join this wonderful organization. Finally, if you are a songwriter or a publisher, join BMI. Make sure you are paid on your performing right and help us protect the value of your creative works.
Remember: the world is at your fingertips. Be original, be creative, and most of all love the music you make.
Thank you and God bless!
Photos by Cindy L. Kunst/CLicKs Photography