Two Times Better: BMI Toasts Sugarland
Platinum-selling Sugarland has quickly grown used to enjoying the spotlight. BMI helped throw the duo a bash last week at CMT's headquarters to celebrate not only the platinum-certification of their latest album Enjoy the Ride, but the pair's No. 1 single "Want To" as well.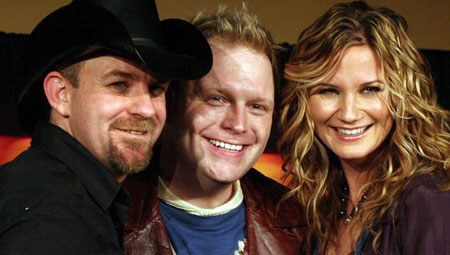 The co-writers get together for a photo. Pictured are (l to r): Sugarland's Kristian Bush, co-writer Bobby Pinson and Sugarland's Jennifer Nettles
Written with top-shelf BMI songwriter Bobby Pinson, "Want To" is not Sugarland's first trip to the top of the charts, but it is the first No. 1 BMI songwriter Kristian Bush and partner Jennifer Nettles' have co-written.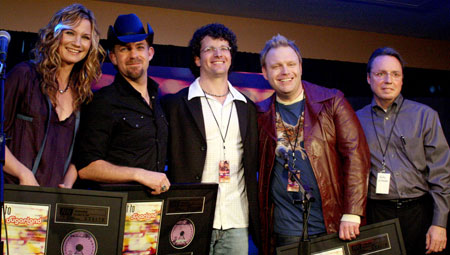 Pictured are (l to r): Sugarland's Kristian Bush and Jennifer Nettles, Stage Three Music, Inc.'s Tim Hunze, co-writer Bobby Pinson and BMI's Jody Williams
Photos courtesy of Brian Tipton / CMT.com