Tom T. Hall and The Statler Brothers Join the Country Music Hall of Fame
Longtime BMI songwriters Tom T. Hall and the Statler Brothers joined the paramount ranks of the Country Music Hall of Fame Sunday, June 29 during the intimate Medallion Ceremony at the Country Music Hall of Fame and Museum in Nashville. Flanked by friends, peers and family, the unparalleled storyteller and innovative quartet listened as others shared poignant and often humorous anecdotal reflections on their lives and careers.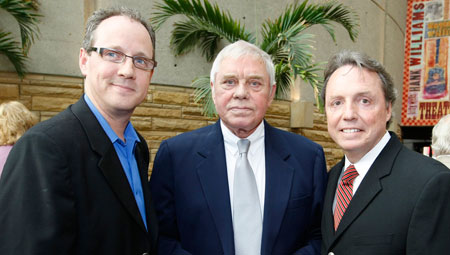 Pictured at the Medallion Ceremony are (l-r): Shelby Kennedy, Tom T. Hall and BMI's Jody Williams. (Photo Courtesy of Donn Jones)
Hall's literate tales, full of incisive detail and bold narrative gambits, helped change the content and construction of popular country songs. Such #1 hits as "A Week in a Country Jail," "The Year That Clayton Delaney Died," and "(Old Dogs, Children and) Watermelon Wine"—as well as hits he wrote for others, including Jeannie C. Riley's "Harper Valley P.T.A." and Bobby Bare's "Margie's at the Lincoln Park Inn"—prodded Nashville into a new era. His sophisticated songwriting reflected his time's changing values and rendered modern life from a fresh perspective.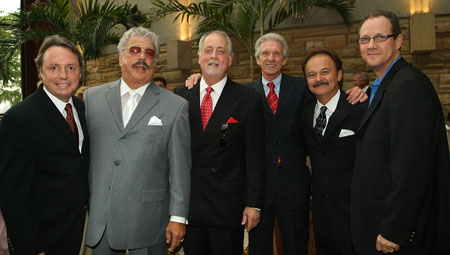 Newly inducted Hall of Fame members paused for a photo. Pictured are (l-r): BMI's Jody Williams, The Statler Brothers' Harold Reid, Don Reid, Phil Balsley and Jimmy Fortune, with Shelby Kennedy. (Photo Courtesy of Paul Wharton Photography)
The Statler Brothers—Harold Reid, Don Reid, Phil Balsley, the late Lew DeWitt, and his replacement, Jimmy Fortune—brought the four-part vocal harmonies of gospel quartets into the country music charts. Like Hall, their contemporary and Mercury Records labelmate, the Statlers also moved beyond conventional country music topics, as illustrated in the urban imagery of their debut 1965 hit, "Flowers on the Wall," and in the warm, "Happy Days"-era nostalgia of "Do You Remember These?" and "The Class of '57."
Live performances by legendary troubadour Bobby Bare, North Carolina folk-music duo Heather Berry and Tony Mabe and bluegrass singer Michelle Nixon honored the legacy of Tom T. Hall, who later got up and performed himself. His dear friend and fellow Hall of Fame member Ralph Emery presented Hall with his medallion.
Reba McEntire was joined by Vince Gill for a performance of the Statler Brothers' signature song "Flowers on the Wall," while bluegrass up-and-comers Dailey & Vincent and duo Grandstaff, featuring cousins Wil and Langdon Reid, sons of Harold and Don Reid, respectively, also provided musical tributes. Country and pop superstar Brenda Lee, who toured with the Statler Brothers for two years, presented the vocal group with their medallions.
Accredited by the American Association of Museums, the Country Music Hall of Fame® and Museum is operated by the Country Music Foundation, a not-for-profit 501(c)(3) educational organization chartered by the state of Tennessee in 1964. The Museum's mission is the preservation of the history of country and related vernacular music rooted in southern culture. With the same educational mission, the Foundation also operates CMF Records, the Museum's Frist Library and Archive, CMF Press, Historic RCA Studio B, and Hatch Show Print.
More information about the Country Music Hall of Fame® and Museum is available at www.countrymusichalloffame.com.