Thelonious Monk Composer's Prize Awarded to Petros Sakelliou
BMI has awarded the 2007 Thelonious Monk International Jazz Composer's Competition grand prize of $10,000 to Petros Sakelliou of Athens, Greece. The award was presented during the Thelonious Monk International Jazz Competition, held October 28 at the Kodak Theatre. Sakelliou's winning work, entitled "Swing Along," was performed by his Boston-based band during the celebration.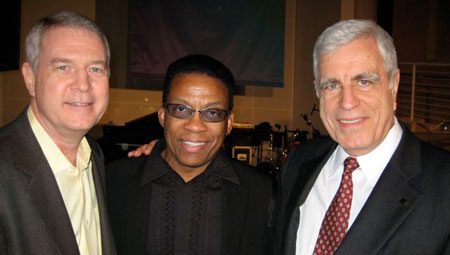 Pictured (l-r): Monk Institute Executive Director Tom Carter, Chairman
Herbie Hancock
and BMI's Robbin Ahrold
The Thelonious Monk International Jazz Competition is the most prestigious jazz competition in the world, attracting the brightest young jazz talent in the world to compete for a series of scholarships. 2007 marks BMI's 15-year anniversary of collaboration with the Thelonious Monk Institute of Jazz, lauding young composers who best demonstrate originality, creativity and excellence in jazz composition. The composer award is in direct association with the jazz institute's annual competition of highlighting a featured instrument.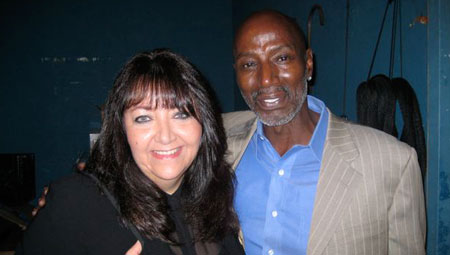 BMI's Doreen Ringer Ross and Institute Board Chairman T.S. Monk
This year's competition was followed by a gala tribute to legendary ten-time Grammy winning BMI jazz composer Herbie Hancock for his incomparable contribution to the music industry. Hancock was treated to an all-star homage with performances by Joni Mitchell, Sting, Chaka Khan, Al Jarreau, and Nancy Wilson, among others.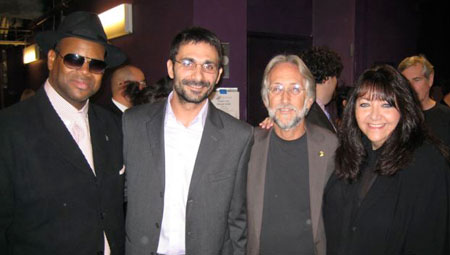 Recording Academy Chairman Jimmy Jam, BMI Monk Composer's Competition winner Petros Sakelliou, Academy Chief Executive Neil Portnow and BMI's Doreen Ringer Ross.