The Spotlight is on Bobby Brackins
BMI singer/songwriter Bobby Brackins is finally coming into his own and will be releasing more of his own singles after writing for a litany of artists, including Chris Brown, Nicki Minaj, Zendaya, Trey Songz, Dev, Jeremih, and Tinashe. Originally from Oakland, California, he's had two top 40 Hot 100 records, both of which went #1 on the rhythmic radio chart: "Loyal," recorded by Chris Brown, and "2 on," by Tinashe.
Now a successful part of the L.A. music scene, Brackins recently stopped by BMI's L.A. office and had this to say about the two projects that helped ignite his career: "Working on "Loyal" was interesting because when TY$ and I made it we were making it to be my next single. Nic Nac's production on the beat was amazing; then eventually Chris's manager Bu heard what we had started and suggested it for Chris. All in all, it was a good move that Chris did the record because Chris, his team, and his fans took it to the top." "Working on "2 on" was cool because I've already worked on music with Tinashe in the past (i.e. "Chainless" and "Cake"). "I'm glad the "2 on" record is reaching the masses. I still turn it up when it comes on the radio. My friend Red Wine that made the "2 on" beat is the producer of my next single "Hot Box" ft. Mila J."
Keep an eye out for him, the viral world already is.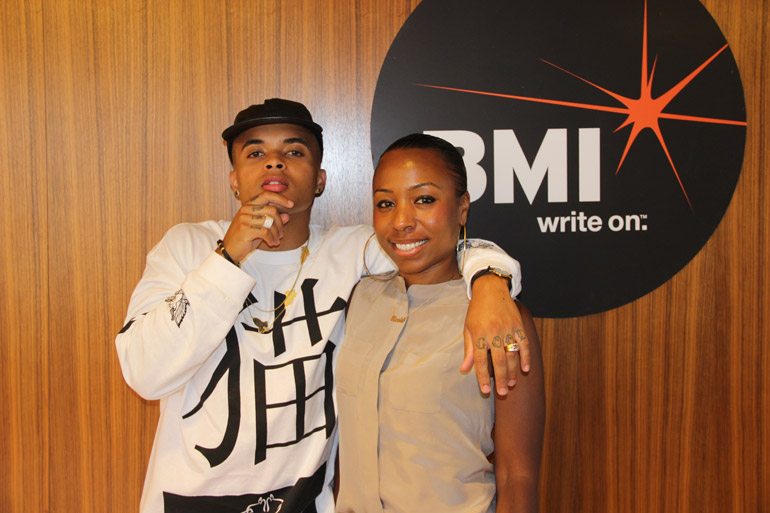 Bobby Brackins with BMI's Nicole Plantin at the Company's L.A. office.