The Genius of Billy Sherrill
The word genius is bandied about far too often. Sometimes flippant but often rooted in the depths of fervent, if over-eager, admiration, the label has lost some of its luster. "She's a genius" just doesn't sparkle like it used to.
But listen: Billy Sherrill is a genius.
Listen to Tammy Wynette's "'Til I Can Make It on My Own." The song seems to tremble as it begins, even as the band and vocals Sherrill produced flawlessly deliver the words and music he wrote. As Wynette digs deeper down, further into pain and the anticipation of only more aching before the aching can stop, her voice is cradled by a sympathetic orchestra. As the instruments commiserate with Wynette, a crescendo builds, capturing the intertwined hurt and hope she's enduring.
"He started with a song," 70-year-old Lou Bradley says. "The singer was singing the song. And Billy was going to do everything he could to make it come off." Sherrill was a producer, an engineer, a musician, a songwriter, and label executive, and throughout his career, he used each distinct skill set to create songs that are more than classics: they are experiences.
Bradley explains that Sherrill's approach is often misunderstood: The sweeping sound of his recordings that has often earned Sherrill comparisons to Phil Spector and others was all in the service of the singer, who, in turn, was in the service of the song. The oft-praised dynamics did not exist for the sake of themselves. "He would make the music and recording come to the singer," Bradley says.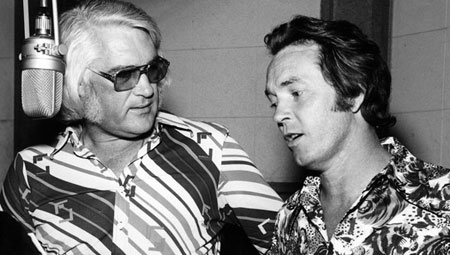 Charlie Rich in the studio with Billy Sherrill.
Bradley ought to know. For 13 years, he was Sherrill's trusted sound engineer. A Grammy-winning architect of countrypolitan, Sherrill spearheaded Nashville's 1970's revolution of sound, producing standards including Charlie Rich's "Behind Closed Doors," Tammy Wynette's "Stand By Your Man" and George Jones' "He Stopped Loving Her Today."
"Some producers would be so dogmatic that they couldn't see the band had given them something one hundred times better [than what they had originally planned]," Bradley says. "Sherrill was not a fool." He would trust the instinct of the musicians he had assembled, and he would change course, if necessary, Bradley says. He was versatile, comfortable and confident enough to embrace a better idea.
He carried that song-man sensibility with him as a label executive. Bradley recalls one situation in which Sherrill's intuition saved a giant from obscurity. Ray Price had just finished recording a new record. "Billy said, 'It's a hit—ship it,'" Bradley remembers. "And so they did, and it came back. They told him, 'They won't play it,' and he said, 'Ship it again.' And they did, and it came back. And he told them to ship it again."
The back-and-forth transpired nine times. "And finally," Bradley says, "'For the Good Times' was a hit." He chuckles warmly before emphasizing, "Yeah. He was a song guy."
As the early waves of that Nashville sound washed over more and more of the country and then the entire world, BMI responded in kind. Former President & CEO Frances Preston opened the company's Nashville outpost in 1958—the same year Sherrill joined BMI as a songwriter.
And as a songwriter, Sherrill was prolific. Ballads capturing heartbreak or proclaiming the sexiness of fidelity emerged as his forte. He co-wrote "The Most Beautiful Girl," "Stand By Your Man," "'Til I Can Make It on My Own," "My Elusive Dreams," "I Don't Wanna Play House," "Almost Persuaded," "Every Time You Touch Me (I Get High)," "11 Months and 29 Days," and others, somehow always knowing just what a strong composition needed in order to become a mighty one."He took a great song and made it a monster," Bradley says.
Sherrill has received more BMI Country Awards than any other songwriter in history, and was named BMI Country Songwriter of the 20th Century in 1999. He was inducted into the Nashville Songwriters Hall of Fame in 1984, while the Country Music Hall of Fame welcomed Sherrill earlier this year.
As a BMI Icon, Billy Sherrill joins Kris Kristofferson, John Fogerty, Isaac Hayes, Willie Nelson, the Bee Gees, Van Morrison, James Brown, Little Richard, Chuck Berry, Paul Simon, Merle Haggard, Peter Gabriel, Gamble & Huff, Brian Wilson, Donovan, Holland-Dozier-Holland, Bo Diddley, Gloria Estefan, Dolly Parton, Steve Winwood, Loretta Lynn, and more. It is official recognition of Mr. Sherrill's irrefutable place in the short list of original artistic rebels and provocateurs, each of whom became heroes and human blue prints for their chosen art form. Indeed, it is impossible to imagine country music without Billy Sherrill.
But you wouldn't even want to try.