Big Machine singer/songwriter Taylor Swift ushered in 2007 by the RIAA certifying her self-titled debut album Gold. On Wednesday, Feb. 21, BMI hosted a party to celebrate just that, and the 17-year-old wunderkind attracted a novel hodgepodge of Music Row insiders, Hendersonville students and high school teachers.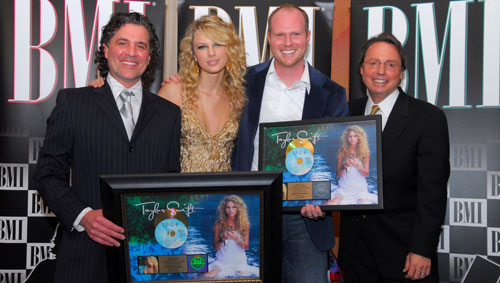 Big Machine's Scott Borchetta, BMI songwriter Taylor Swift, producer Nathan Chapman and BMI's Jody Williams.
Taylor Swift is the first Gold album for Big Machine Records and producer Nathan Chapman.
"All of us at BMI are so very proud that Taylor is a BMI writer," BMI's Jody Williams told the cheering crowd. "She is a sho-nuf, bonafide hit songwriter. So congratulations, Taylor. Today is your day."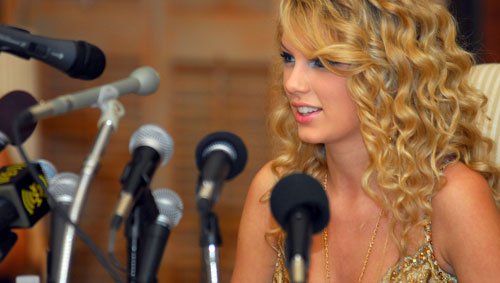 Taylor fielded questions from a slew of journalists prior to the party.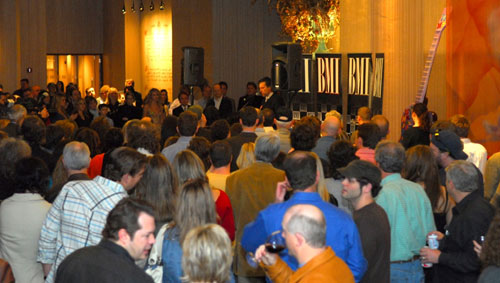 The packed house enjoyed sushi and stir-fry in lime green take-out boxes while sipping on crayola colored sno-cone martinis.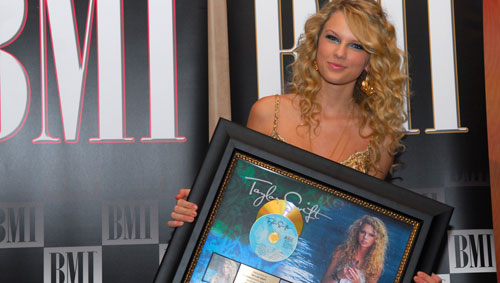 Taylor shows off her very first gold plaque.
Photos by Steve Lowry