Taylor Swift Breaks Rules and Records
Consider the speech patterns of the average 14-year-old: They rapidly toss out idea fragments, stringing them together with nothing more substantial than "like" or "um," and expect listeners to decode. It's understandable, then, that nobody saw Taylor Swift coming. At 14 she was an anomaly: already a focused, expressive and, above all, capable country-pop songwriter.
Just ask Scott Borchetta, the head of Swift's independent label, Big Machine Records, who signed her after her previous label wouldn't let her record her own songs. He recalls, "I met her when she was 14 and immediately the thing that just knocked me down [was] her songs."
Most of the rules of teen musical stardom don't apply to Swift. She wasn't a Disney discovery. She isn't fed material from adult songwriters. She's yet to be sidetracked by rebellious impulses. Even among country music's earlier teen stars, she's one of a kind. LeAnn Rimes' mid-'90s success at age 13 is often cited as a point of comparison. Brenda Lee and Tanya Tucker also turned heads at tender ages in the early '60s and '70s. But there's a big difference between Swift and them: None of them were writing their own material.
Writing and co-writing were the catalysts of Swift's career — not image-enhancing fluff — which is made even more clear by the way Swift describes her co-writing process. "It's a very involved experience for me to co-write with someone," she says, "because I have to fill them in on exactly what I'm going through and exactly who this character is that I'm writing about, exactly how he makes me feel, what this whole situation is. And it's like a therapy session that lasts, like, an hour before we actually start writing anything. Which is why it's been great writing with Liz Rose, because we got to know each other when I was 14."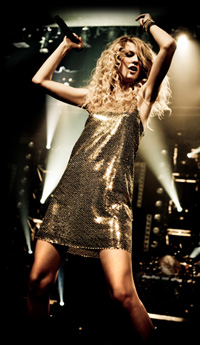 When discussing her collaborations with Swift, Rose — who has a daughter Swift's age — emphasizes not only Swift's individuality, but her creative independence as well. Reflecting on their early writing sessions, she says, "I just tried to pay attention, help her get out what she wanted to say and stay out of her way." After Swift released her self-titled debut in 2006, Rose found herself deflecting a lot of co-writing requests from starry-eyed young girls and their moms. "I had to spend a lot of time saying, 'You know, there is just one Taylor Swift'."
Considering that Swift released Fearless — her second, millions-selling album — last November, wrote more of the songs on it solo than she had for Taylor Swift (seven as opposed to three) and co-wrote all the rest, it ought to be plenty clear by now that she's the one behind the songwriting.
"I think that writing by myself has been something that just started happening naturally because I would be in my bedroom late at night and I'd get an idea and I just couldn't wait to write it with someone," Swift muses. "And it's become something that I've been increasingly more proud of."
No doubt, the personal, confessional nature of her songs is one of the reasons young female listeners are so tuned-in. They imagine all their favorite singers are speaking candidly, directly to them, but in Swift's case they're actually right. She's daring enough to name names when bearing her soul about one-sided crushes ("Hey Stephen"), or to unapologetically confess how much her family means to her ("The Best Day").
"I think the fans, whether they really acknowledge that she's writing those by herself or not, the little girls understand," ventures Borchetta. "And they know that when she's singing to them — to all of her audience — that it's coming from her."
You get the sense that Swift is becoming more like a cool-yet-kind older sister to her youngest fans than a peer. She's 19 now, but Fearless features her song "Fifteen," a mandolin-sweetened anthem that narrates the first moments of high school with the wisdom of experience. She performed it during the Grammy Awards with Miley Cyrus, who's only just beyond 15 herself.
"I think that the song 'Fifteen' is definitely advice to my former self, but it could also be advice to any girl going into ninth grade and feeling like you're the smallest person on the planet," Swift says. At the end of the year, Swift will no longer have "teen" tacked onto her age. That might seem like a significant juncture for a singer and songwriter who's known for achieving the impossible: drawing a massive young listenership to country and topping the pop charts, as a teenager. But Swift — who's been writing for almost half her life — seems unfazed.
"I don't think that turning 20 is going to have any impact at all on my songwriting," she says. "It's kind of just another birthday for me. I remember when people used to say, 'You're 16, 17 — what happens when you grow up?' 'Well, I'm going to get another year older.' I think when you write about your life and your life is constantly changing, so is your music."
Swift does, however, mention a song she says tackles deeper romantic feelings than anything's she's put out to date, that may or may not make the next album (she wrote it at 15): "You never know what I'll put on my albums now. But I feel like as you grow older there's more tolerance for your subject material." Already, she's imagined the progression from young playmates to elderly couple during "Mary's Song (Oh My My My)" and touched on the social and political hopes of her generation during Fearless album closer "Change."
"Even if [Taylor] jokes in interviews, 'Well, I just still write about boys and write about love,' you listen to 'Change' on the new record," Borchetta says. "It's one of the few non-love songs that she's recorded so far. Live, it's becoming this tour de force. It's almost like a U2 moment now. So the maturation process is amazing, because she's found a different place where the songs are getting even more important. But it's still her."
Since Swift will be 20 in a matter of months, it's worth pondering the relationship between her age, what she writes about and her audience, especially in a genre like country, which prides itself on addressing adult concerns and sticking by artists for the long haul.
"You don't sell what she's selling and connect like she's connecting if you're just talking to young girls," Borchetta reasons. "They may be the loudest, they might be the most vocal, but she already has mass appeal. So if she feels any pressure at all, it should only be to continue to do what she's doing. And what she does is she writes about her life in real time. She has this thing that I call 'natural nostalgia' about the way she writes. She's talking right to her core base, but if you're older, the pictures are so clear that you go, 'I remember that'."
Swift's recent concert experiences back that up. ("I looked out into a crowd of 73,000 people at the Houston rodeo the other night, and teenage girls were not the only kind of people I was seeing.")
"Yes, she's gorgeous," says Borchetta. "Yes, she's got a great personality. But what closes the deal and why she will probably be around for a long time is that final piece: that the songs are really that good."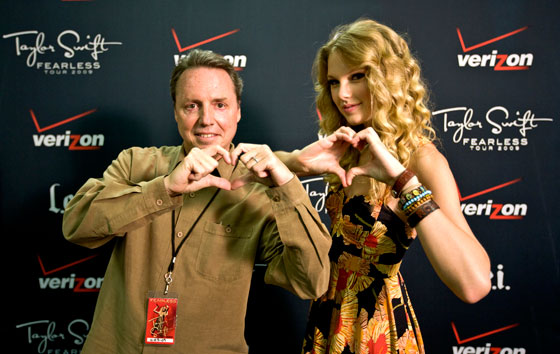 On the road for the first night of her Fearless Tour 2009, Taylor and BMI's Jody Williams demonstrate her signature "love" symbol.