SXSW Picks: 12 Bands to Catch in Austin
In the promotional flurry of booze, BBQ, and celebrity attractions that fuel the South By Southwest Music Festival (March 13-18), it's far too easy to lose track of the hometown talent that helps make Austin the so-called "Live Music Capital of the World" the other 51 weeks of the year—especially with nearly 2,000 artists scheduled to perform. Here's a list of 12 can't miss BMI acts from Austin to add to your schedule.
TUESDAY, 3/13
Heartless Bastards
9:30 p.m., Club 606
While firmly established on the concert circuit even before relocating to Austin a couple years back, Heartless Bastards' fierce leader Erika Wennerstrom seems to have finally come into their own with latest, Arrow (Partisan). It's a restless and rugged rock record, full of desert contemplation and barbed blues. (Also: Thur., 11 p.m., IFC Crossroads House at Vice; Fri., Radio Day Stage at Austin Convention Center, 5 p.m.)
Listen: "Arrow"
Not in the Face
11 p.m., Buffalo Billiards
Originally formed as cover band, putting a modern-punk blues spin on golden oldies, Not in the Face has quickly become one of the best live bands in two. The power duo kicks out jams like MC5 but with a heartland appeal that owes more to Tom Petty & the Heartbreakers. (Also: Wed., 1 a.m., The Main)
Try: "Downtown Girl"
Nakia
1 a.m., The Parish
A heavyweight of Texas soul, Nakia was last seen in prime time being coached by Cee Lo Green to the quarterfinals on NBC's The Voice, belting out convincing versions of Top 40 hits like Kings of Leon's "Sex on Fire." But his work behind the piano with the Blues Grifters is even more visceral. Just check his heavy-psych rendition of Otis Rush's "Double Trouble" on YouTube.
Listen: "Water to Wine"
WEDNESDAY, 3/14
Quiet Company
7:10 p.m., Austin Music Hall
Quiet Company has cornered the radio market in Austin, working into rotation on the city's adult contemporary (KGSR), alternative (101X), and NPR-affiliate (KUT) stations. The local quintet obviously has crossover appeal, but last year's Where Are All Where We Belong exceeded expectation, mixing sincere piano pop with secular angst. (Also: Sat., Chevrolet Sound Garage, 10:45 p.m.)
Listen: "How Do You Do It"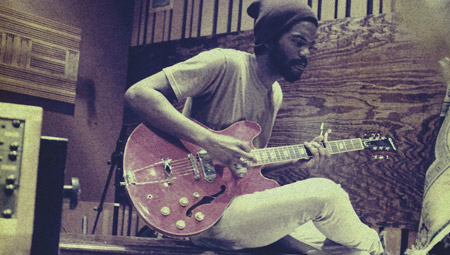 Gary Clark, Jr.
Gary Clark, Jr.
12:45 a.m., La Zona Rosa
Gary Clark, Jr. first joined Hubert Sumlin on stage at Antone's at the age of 15. Late last month, the Austin guitarist paid his final respects to the late blues legend at the Apollo Theater for Howlin' for Hubert—alongside B.B. King, Eric Clapton, and Keith Richards no less. That's perhaps the best way to illustrate just how far Clark has come recently. He's collaborated with the Roots and Alicia Keys, all on the strength of his debut EP for Warner Bros, last year's Bright Lights. (Also: Friday, 12 p.m., Radio Day Stage at the Austin Convention Center)
Listen: "Bright Lights"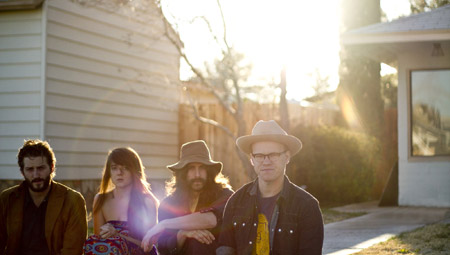 Cowboy & Indian
Cowboy & Indian
1 a.m., The Bat Bar
Remember Crucifictorious from Friday Night Lights? Cowboy & Indian stars two members of the cast (Jesse Plemons, Jazz Mills) alongside LA folkie Daniel James of Leopold & His Fiction. Together the roots outfit wavers from alternative folk to minimalist country-blues with the communal zeal of Edward Sharpe & the Magnetic Zeros.
Listen: "Hand Me Down"
FRIDAY, 3/16
Speak
12 a.m., Maggie Mae's Gibson Guitar Room
Awarded Best New Band honors at the 2010 Austin Music Awards by members of the Talking Heads, Speak made good on its early promise last year with its major label debut, I Believe in Everything (Modern Art). The ecstatic electro-pop melodies, quirky spunk, and danceable beats have earned favorable comparisons to Cut Cupy.
Listen: "Carrie"
Ola Podrida
12:15 a.m., Lamberts
Better known as a soundtrack composer that's worked with David Gordon Green, among others, David Wingo takes a similar, narrative approach with Old Podrida, his compelling and increasingly electric indie folk project. Expect a new album on Western Vinyl later this year.
Listen: "This One World"
Mike & the Moonpies
1 a.m., The White Horse
Led by local ringer Mike Harmeier, the Moonpies serve up indie outlaw country and heartache by the bottle. So much so, in fact, that the band has its own drink special in town: a shot of well whiskey and a PBR. (Ask for it at the Mohawk.) But as the Moonpies' recent four-song EP proves, the band's hard country goes down as well at the bar stool as on the dance floor.
Listen: "Tape Machine"
Whiskey Shivers
1 a.m., Maggie Mae's Gibson Room
The barefoot bandits of the Austin's roots scene, the Whiskey Shivers stomp and holler through fiery neo-traditionals, often without the use of demon electricity. The quintet looks and sounds like something out a Coen Brothers film, which is fitting since they're currently working on a new album with producer Matt Adams, best known for his work on the O Brother Where Art Thou soundtrack.
Listen: "Gimme All Your Lovin'"
The Wheeler Brothers
1 a.m., Skinny's Ballroom
Somewhere between the Gourds and the Band of Heathens, the Wheeler Brothers stakes its claim. Led by actual brothers Nolan, Tyler, and Patrick Wheeler, the family band specializes in harmony-soaked Americana. The Brothers' impressive debut, Portraits, was released by Ray Benson's Bismeaux Records.
Listen: "Home for the Holidays"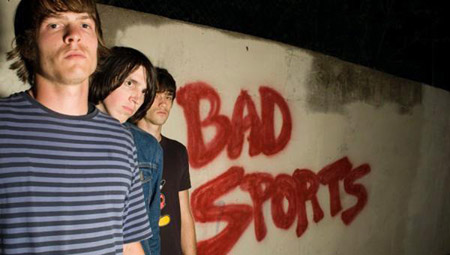 Bad Sports
SATURDAY, 3/17
Bad Sports
12 a.m., Valhalla
Looking for something with more of a punk edge at SXSW? Try Bad Sports. This Denton/Austin trio more than lives up to the title of their excellent second LP, Kings of the Weekend (Dirtnap), with bopping garage-rock bravado and cocksure stoner cools. You'll be singing along by the end of the first song.
Listen: "Teenage Girls"