Soul Singer Curtis Mayfield Honored on RockWalk
At a recent ceremony, legendary BMI singer/songwriter Curtis Mayfield was posthumously inducted into Hollywood's RockWalk. Mayfield's widow Altheida paid tribute to her husband's substantial achievements, which include songs "People Get Ready "and "Keep On Pushing" - dubbed the unofficial anthems of the civil rights movement by Dr. Martin Luther King, Jr.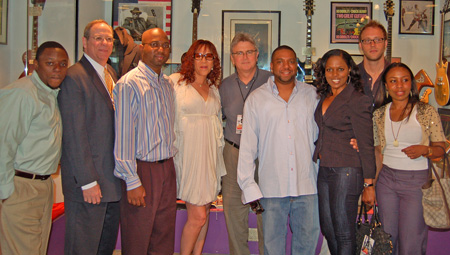 Shown are (l to r): BMI's Malik Levy and Charlie Feldman, son Cheaa Mayfield, Altheida Mayfield, BMI's Phil Graham and son Kirk Mayfield, with BMI's Catherine Brewton, David Claassen and Nicole Plantin.
Founded in 1985, Hollywood's RockWalk at the Guitar Center on Sunset Boulevard is the only sidewalk gallery dedicated to honoring those artists who have made a significant impact and lasting contribution to the growth and evolution of rock and roll, blues and r&b. The handprints and signatures of inductees will reside in bronze alongside other equally accomplished musicians and innovators including Isaac Hayes, Holland-Dozier-Holland, Eric Clapton, Carlos Santana, Brian Wilson, Aerosmith, Herbie Hancock, Elvis Presley, Queen, the Black Crowes, Dick Clark, Willie Dixon, Buddy Guy, Jimi Hendrix, KISS, Les Paul, John Lee Hooker and Smokey Robinson.
Altheida Mayfield, flanked by sons Cheaa (left) and Kirk (right), praises her late husband's achievements.
Photos by Marlene Meraz