Songwriters Hall of Fame to Induct Leonard Cohen and David Foster
BMI legends Leonard Cohen (SOCAN) and David Foster will become members of the elite Songwriters Hall of Fame during the organization's 41st annual induction ceremony, slated for Thursday, June 17 at the Marriott Marquis Hotel in New York City.
Leonard Cohen has long-since defied easy categorization. After receiving considerable recognition and, ultimately, surpassing even the grandest expectations prompted by his eccentric brilliance, he currently reigns as one of the country's preeminent musical creators. Already an established poet and novelist when he turned to music, Cohen has crafted unvarnished classics "Suzanne," "Bird on a Wire," "Sisters of Mercy," "Famous Blue Raincoat," "So Long, Marianne," "Hallelujah," and many, many more. His songs have been recorded by artists including R.E.M., Bob Dylan, Elton John, Judy Collins, Willie Nelson and most recently, Justin Timberlake, many of whom are no songwriting slouches themselves. A recipient of the 2010 Grammy Lifetime Achievement Award, Cohen was inducted into the Canadian Songwriters Hall of Fame (2006) and the Rock and Roll Hall of Fame (2008), while his world tour, launched in May 2008, is still drawing sold-out crowds.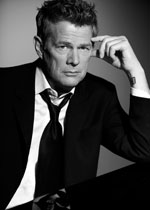 Fifteen-time Grammy-winner David Foster is a songwriting giant. With unparalleled instinct and bottomless talent, he has garnered an unprecedented 46 Grammy nominations. Foster's profound legacy of song includes an extraordinary chain of #1 singles from the 80s, including Chicago's "Hard To Say I'm Sorry," Peter Cetera's "The Glory of Love," and John Parr's "Man in Motion" (St. Elmo's Fire soundtrack), as well as later hits "After The Love Is Gone," "I Have Nothing," "Look What You've Done To Me," "The Prayer" and "You're The Inspiration." His list of collaborators is no less impressive, and includes Celine Dion, Josh Groban, Andrea Bocelli, Barbra Streisand, Michael Bublé, Seal, Earth, Wind & Fire, Madonna, Michael Jackson, Barbra Streisand, Whitney Houston and many more. In 2007, Foster was inducted into the Canadian Music Hall of Fame, while recently, he produced two top ten albums on the Billboard Top 200 Chart: Michael Bublé's Crazy Love and Andrea Bocelli's My Christmas.
Tickets for the Songwriters Hall of Fame event begin at $1000 each, and are available through Buckley Hall Events, (212) 573-6933. Net proceeds from the event will go towards the Songwriters Hall of Fame programs.
The Songwriters Hall of Fame was founded in 1969 by songwriter Johnny Mercer and publishers Abe Olman and Howie Richmond. The mission of the Songwriters Hall of Fame is to remember and honor our great songwriters while building our musical future through workshops, showcases and scholarships, along with giving members the opportunity to vote for the next slate of inductees. Joining online is quick and easy: songhall.org.
Full biographies and a complete list of inductees are also available at the Songwriters Hall of Fame's Virtual Museum. Please visit songwritershalloffame.org.