Smoking Hot Songs Presented at Lehman Engel Musical Theatre Showcase
The BMI Lehman Engel Musical Theatre Workshop held its fall Smoker November 20 at BMI's New York office. A semi-annual showcase for new songs from Workshop writers, the Smoker, now in its 11th season, is modeled after informal social gatherings at Cambridge University, where the Workshop's two time Tony® Award-winning writer Maury Yeston performed his songs during his undergraduate days.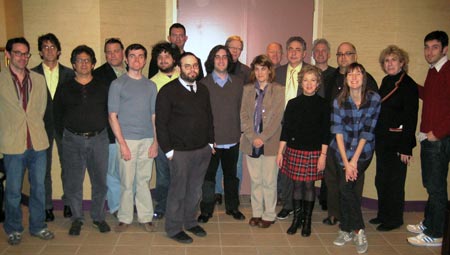 Shown (l-r): Matthew Hardy, Sean Hartley, Randy Klein, Ron Barnett, Greg Edwards, Eric March, jeff Ward, Matt Schatz, Phillip Chernyak, Patrick Cook, , Mary Liz McNamara, Richard Engquist, Frank Evans, Alison Hubbard, Kim oler, Ray Bokhour, Phoebe Kreutz, BMI's Jean Banks, and Daniel Israel. Not pictured: Simon Gray
The new musicals showcased included The Suicide by Raymond Bokhour and Simon Gray; The Thing About Joe by Randy Klein and Matthew Hardy; Saloon Songs by Richard Engquist; and The Dirty Hippie Jam Band by Dan Israel and Phoebe Kreutz. Other writers included Mary Liz McNamara, Sean Hartley, Greg Edwards, Eric March, Jeff Ward, Matt Schatz, Phillip Chernyak, Alison Hubbard and Kim Oler. Previous smoker participants include Best Musical Tony Award-winners Robert Lopez and Jeff Marx (Avenue Q); Nancy Ford and Gretchen Cryer (I'm Getting My Act Together…); Eric Rockwell and Joann Bogart (The Musical of Musicals, The Musical); and Amanda Green and Tom Kitt (High Fidelity). The event was produced by the Workshop's Artistic Coordinator Patrick Cook and Special Events Coordinator Frank Evans. The BMI Lehman Engel Musical Theatre Workshop, a 2006 Tony Honor recipient, Drama Desk Award and Drama League Award winner for Excellence in Musical Theatre, was founded in 1961 by the late Lehman Engel, dean of American musical theatre, to create a setting where new writers could learn their craft.