Singer/Songwriter John Stewart Dies at 68
John Stewart, a singer/songwriter known for his classic album California Bloodlines, passed away Saturday, January 19 in San Diego. He was 68. The cause of death was a stroke.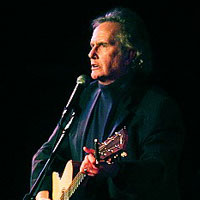 Stewart was born Sept. 5, 1939 in San Diego, where he later performed and recorded three albums with folk group Cumberland Three. In 1961, he joined Kingston Trio, replacing original member Dave Guard. He left the group in 1967 to pursue a solo career, where he became the driving force behind the genre now known as Americana. In that same year, he joined Senator Robert F. Kennedy on his campaign trail for the Democratic presidential nomination, which had a profound effect on his songwriting. California Bloodlines, released early in his solo career, was included in Rolling Stone magazine's list of the 200 best albums of all time
Stewart enjoyed songwriting success, penning such hits as "Daydream Believer," a No.1 record for the Monkees, and "Runaway Train" for Rosanne Cash. In 1979, Stewart's Top 10 album, Bombs Away Dream Babies, spawned his biggest hit, the Top 5 "Gold," which featured collaborations with Fleetwood Mac's Lindsey Buckingham and Stevie Nicks. Stewart remained a fixture on the folk circuit, and in 2000 he teamed up with former Kingston Trio bandmate Nick Reynolds, to create the Trio Fantasy Camp in Scottsdale, Arizona. At the time of his death, Stewart was in San Diego completing work on a new album.
Stewart is survived by his wife, Buffy, and four children: sons Luke, Mikael and Jeremy and daughter Amy.