Secrets From The Shaman: An Exclusive Conversation with BMI Icon Donovan
Donovan is a songwriter for the ages. Releasing his first single, "Catch the Wind," in 1965, the aspiring, 18-year-old Scottish folk troubadour swiftly defined himself as a prolific writer, welding elements of traditional acoustic folk music with groundbreaking elements of pop, rock, jazz, classical and the burgeoning psychedelia of the Sixties. Along the way, he crafted a string of canonical songs such as "Colours," "Hurdy Gurdy Man," "Atlantis," "Jennifer Juniper," "Laléna," "Season of the Witch," "Sunshine Superman," "Mellow Yellow" and countless others.
A contemporary of The Beatles, The Rolling Stones and Bob Dylan, Donovan joined John Lennon, Paul McCartney, Ringo Starr and George Harrison on their famed trip to India in 1968, where he taught John, Paul and George the guitar picking style and chord patterns that would appear on the Beatles' White Album, notably on the Lennon songs "Dear Prudence" and "Julia," McCartney's "Blackbird" and Harrison's "While My Guitar Gently Weeps," and Harrison's "Something," (which appeared on a later Beatles' album Abbey Road). George Harrison was quoted in the Beatles Anthology as saying "Donovan is all over The White Album."
Donovan's songs have transcended genre and become part of the fabric of popular music. Always forward-thinking, he is known to have initiated the Flower Power movement with his groundbreaking album Sunshine Superman and with this album was at the forefront of the birth of World Music, fusing elements of Indian, Gaelic, Arabic and Caribbean music with jazz, classical, folk and rock into his eclectic palette. He also introduced, alongside the Beatles, Transcendental Meditation and Eastern philosophy into popular songwriting and was an early pioneer in eco-conscious songwriting.
In his sessions, Donovan has recorded with everyone from Jimmy Page and John Paul Jones of Led Zeppelin to Alice Cooper and Rick Rubin. His music has appeared in acclaimed films by David Fincher, Gus Van Sant and Martin Scorsese, among many others, and the distinguished roster of artists who have covered Donovan's classic songs includes luminaries as diverse as Marianne Faithful and Buck Owens through King Crimson and the Butthole Surfers. Peer Music has counted 300 covers of his works in the first five years of his songwriting.
Donovan received the Ivor Novello award in 1965 for his first release, "Catch the Wind," was inducted into the Rock & Roll Hall of Fame in 2012 and the Songwriters Hall of Fame in 2014. Prior to those accolades, BMI recognized his exceptional musical impact and influence with the BMI Icon Award at the 2009 BMI London Awards. BMI further celebrated Donovan in 2012 with a Special Citation of Appreciation for his enduring contributions to popular music and culture.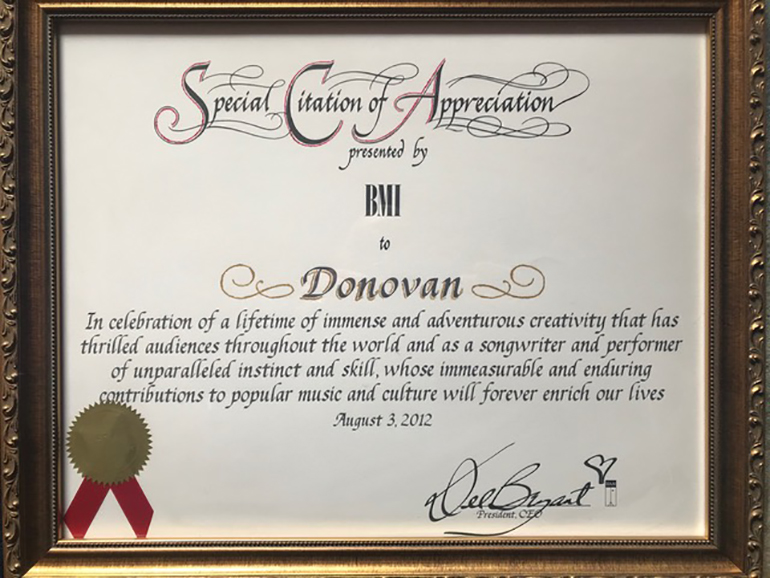 Photo: courtesy of Donovan
Throughout his extraordinary journey, Donovan has remained first and foremost a songwriter, with 26 studio albums to his name. Just this past May, he released a new single, "I Am the Shaman," produced by the comparably iconic David Lynch, who also directed the ensuing video, which has accrued 305,000 views and counting. In addition, Donovan released four albums in the last two years, including Eco-Song: A Tribute to Greta Thunberg, Jump In The Line: A Tribute to Harry Belafonte, Joolz Juke: A Blues Tribute to Brian Jones by his grandson Joolz Jones, and Luna Love, a companion album to Donovan's muse, wife Linda Lawrence's book Luna Love. Also in 2021, Donovan and Linda announced Tales of Aluna, an animated series for 6-12 year-olds with a green theme, produced by Geoff Watkins of Threes-A-Company, Sydney, Australia. More about Donavan's projects can be found here.
Also this year, Donovan created a master class songwriting video exclusively for BMI, below. A very personal glimpse into his own creative process, the video features master tips in the fundamentals of songwriting, including how to "create the circumstances for songs to appear." BMI also spoke with Donovan about his music and his mission. Here is what he had to say.
You've just celebrated your 75th year, and you're still writing and releasing vital new music. What has been the secret to your longevity?
I am of the ancient Gaelic Order of Bards of Ireland, Scotland and Wales, and I express the four skills of the tradition: poetry, music, theatre and radical thought. It is not a whimsy when I name myself on my new video and single, "I Am The Shaman." Just as thespians know they are providing an essential service to humanity with their art, so it is with me, from the first day on television at 18 years young, I knew my role is to return poetry to popular culture on the wings of song in avant-garde musical productions. The audiences today call it entertainment, yet it is a time-honored service that art provides and, simply said, my audiences always know I can release the obscure emotions of the heart. Hence, my longevity as a bard.
How did your latest collaboration with David Lynch come about? What brought you two together and what was it like working with him? Can we expect more music?
David and I knew, at one point, we would meet. I was initiated into Transcendental Meditation by Maharishi [Mahesh Yogi] in 1967, and I announced Transcendental Meditation to the world that year on my Gift From a Flower to a Garden double-box set. So began the worldwide promotion of this great gift of meditation for a world under severe stress and danger. It is not a religious conversion to wish to meditate, it is the birthright of humanity to transcend the material, outer world and develop a composure from within. Transcendental Meditation is great for songwriting.
The Western forms of meditation had all been forced underground. David was attracted to Transcendental Meditation, and he created The David Lynch Foundation. Transcendental Meditation needed a boost again, and Linda and I demonstrated the way to meditate on national TV to millions. David called us to ask if we would join him on a world tour to present Transcendental Meditation again. We agreed. After some serious promotion around the world together, I visited David in his studio in L.A. He said, "Sit in front of the mic, Don, with your guitar." The results are "I Am The Shaman."
You were gracious enough to share your comprehensive songwriting instructional video with BMI. What would you impart as the single more important bit of advice for aspiring songwriters looking to emulate your impact?
The motive should never be to emulate another's impact. As the audience will tell you if you are headed to be of such important service to the human journey, millions will find in your work the release of the obscure emotions of the heart. And they will also tell you if they are encouraged to go on in times of difficulty. Such is the true healing power of music.
My advice is simple. Choose three songwriters you are drawn to. Learn every song structure they wrote, and sing, at least once, every one of their songs. Then choose three songs of each of them that most impress you. Then choose only one of the songs of each. You have then studied the making of songs, and perhaps discovered the genre you best work in. This is how Renaissance painting studios worked. You followed and learned techniques, after which you may have found your way ahead and now can express your own journey.
What role has BMI played in your journey through the music business all these years?
The answer to this is simple. Imagine a time when a songwriter sold his song for a one-off payment, to pay for his immediate needs – food, shelter and clothing for himself or his family. My music publisher, Peer Music, pioneered with others that this can never happen again, and then BMI made sure that whenever the writer or another performs the song, BMI collects a payment. Thanks, BMI!!!
For more, be sure to visit Donovan's official website at www.donovan.ie