Second Annual Sandestin Music Festival Slated for August 12 and 13
Jeffrey Steele, Lari White and More to Perform at Songwriter-Fueled Fest
Blue ribbon songwriters, tomorrow's stars and a country songbird turned Broadway star compose the lineup of the 2nd annual Sandestin Music Festival, slated for the weekend of August 12-13 in the Sandestin Golf and Beach Resort.
Co-sponsored by BMI, the free, open-to-the-public event will feature BMI contemporary country trendsetters Jeffrey Steele and James Slater; powerhouse country vocalist and Broadway star Lari White; and promising up-and-comers Kree Harrison, Thomas Rhett, Joanna Cotten, Jon Pardi, and the Pernikoff Brothers.
"We are building on the huge success of last year's event where people of all ages enjoyed free concerts amid our wonderful resort setting and white sand beaches," said Sandestin resort president John Russell. "We invite everyone to come see what all the fun is about and cap their summer season with us!"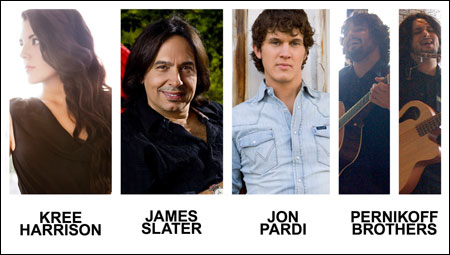 Entry to the Sandestin Music Festival is FREE for the public with a printed ticket via www.sandestinmusicfestival.com. While there is no charge for admittance, guests are invited to stay overnight just steps from the action with discounted rates including a free night with the purchase of two, and special military discounts for active members of the military. With an overnight stay, guests will have preferred seating for Saturday evening's performance.
Festival organizers are encouraging attendees to consider donations to benefit the Wounded Warrior Foundation, whose mission is "to foster the most successful, well-adjusted generation of wounded warriors in this nation's history." Donate here or text WWP to 90999 to give $10 now.
BMI's involvement underscores the organization's dedication to elevating songwriting by connecting music's fans with its creators. In addition to BMI, the Sandestin Music Festival is sponsored by TrustCore, Sandestin Golf and Beach Resort and Southwest Airlines.
The festival kicks off Friday, August 12 at 6:00 p.m. in The Village of Baytowne Wharf. The schedule includes:
Friday, August 12 at 6:00 p.m.
Hammerhead's Bar & Grill: Kree Harrison & Joanna Cotton

Kree Harrison
By age six, Kree Harrison performed a weekly gig at the Broken Spoke Saloon in Texas. By age 10, she'd landed a deal with Lyric Street Records. And by age 12, she had already appeared on The Rosie O'Donnell Show four times. Soon after, Kree sang a Christmas duet of "Do You Hear What I Hear" on a compilation alongside Rascal Flatts, SheDaisy and Sonya Isaacs. However, as her career launched, her world was rocked by news that her dad had been killed in a plane crash. She did what no aspiring pre-teen singer with a deal would do: leave Nashville behind to go home and heal. Two years later, a well-seasoned 14-year-old girded by a new inner strength returned to Nashville. Now, Harrison's music is a high-def reflection of what came to conquer those many years ago.
Joanna Cotten
Born in Memphis and raised in Forrest City, Arkansas, Joanna Cotten rose from local talent shows and the Memphis Grand Youth Opry, to Rhodes College and Nashville's nightclubs, and eventually all the way to New York City – where she attended the prestigious Juilliard School – and then all the way back again. Something in her heart told her that a life spent in New York was not truly where she belonged, so she packed her bags and moved back to Nashville where she inked a deal with EMI Music Publishing. She calls her music "funkabilly," and the appellation fits just right, serving as a dead-on description of Cotten's undeniable artistry – a heart-stopping mix of God-given talent, flawless technique, and deep-down Southern soul.
Friday, August 12 at 7:00 p.m.
Hammerhead's Bar & Grill: Thomas Rhett and Jon Pardi

Thomas Rhett
Thomas Rhett hails from Valdosta, Georgia, and has been around music his whole life. Although the 19-year-old has been through several musical phases, playing in rock bands in middle and high school, then transitioning into writing and playing country music his senior year. Currently a sophomore at Lipscomb University in Nashville, Thomas Rhett recently signed his first publishing deal with EMI. "Everything that I want to accomplish in the music business will be pointed towards Him and what he wants for me," he says. "I have no idea what will happen tomorrow, next week, or next year, but I have complete faith that wherever that may be will be the right spot. This is such an exciting time in my life, and I can't wait to see what happens."
Jon Pardi
From a small town in Northern California, Jon Pardi sampled his first taste of country music stardom in his grandmother's house, where he sang to her at the age of 3. The singer/songwriter spent his youth perfecting his craft – by 8 years old, he was playing the guitar, and at 12, he was writing his own songs. Pardi formed his first band at age 14, performing a mixture of classic rock and country, all the while polishing his live performance skills. Determined to make his dream of country music fame a reality, Pardi moved to Nashville at 22 years old, where his unique musical style gained the attention of Song Factory, which led to a publishing contract, and later a record deal. Earlier this year, Pardi signed with the legendary EMI, home to recording artists as varied and successful as Frank Sinatra, Garth Brooks, and Keith Urban. Pardi has already shared the stage with Eric Church, Pat Green, Dierks Bentley and recently opened for Luke Bryan's "Spring Break" Tour. He is currently working on songs for his debut album.
Friday, August 12 at 8:00 p.m.
Rum Runners sports bar: James Slater and Lari White

James Slater
A Grammy-nominated, piano-playing, bilingual singer-songwriter of Bolivian American descent, James Slater was born in Durham, North Carolina to a mandolin-loving psychiatrist and a Spanish-speaking mother and raised in the tropics of the Panama Canal Zone in Central America. James was nominated for a Grammy for Jamey Johnson's 2008 hit "The High Cost of Living" and he penned Rascal Flatt's single "Unstoppable." His songs have been recorded by Tim McGraw, Kenny Chesney, Martina McBride, Rodney Atkins, Reba McEntire, John Michael Montgomery, Lorrie Morgan, Jessica Andrews, and Mark Wills, among others. Martina's recording of "In My Daughter's Eyes" has become a modern day standard, garnering James a BMI Country Award as well as a BMI Pop Award in 2006. James's latest solo release, "Key West Address" is a love letter to the island that reminds him of his tropical upbringing, so much so that the mayor of Key West has awarded James the "keys to the city" and proclaimed the song "Key West Address" the island's official theme.
Lari White
A singer and a piano player since her early childhood, Lari White packed up her possessions and drove 12 hours non-stop to Nashville where she instantly threw herself into the underground artistic community, studying acting and performing with several troupes while all the time working on her own material, which she would play at every chance within the city's teeming live circuit. She was soon snapped up by a major label, and in the ensuing years earned a Gold record, multiple awards, huge live acclaim and several Grammy nominations. The culmination of all this was actually winning a Grammy for Best Gospel Album, with her stunning version of "Amazing Grace" on The Apostle soundtrack, after which Lari stepped back from live work and took time to reconsider her future. Still based in Nashville, Lari built her own studio, The Holler, and assembled a team of top musicians she had come to know over the years to record the songs which make up her album Green Eyed Soul, which blends classic soul/R&B sensibilities with modern technology to tackle subjects such as love and the loss of innocence, conjuring up heady images of languorous, sultry Southern nights.
Friday, August 12 at 10:00 p.m.
Funky Blues Shack: The Pernikoff Brothers

Pernikoff Brothers
In September of 2009, Tom and Rick Pernikoff quit their Silicon Valley day jobs, drove home to the Midwest, closed the door to their childhood practice room and emerged with their debut album one year later. The Pernikoff Brothers' On My Way sounds like a seasoned effort but exudes a fearlessness only achievable by a new group with something to prove. The guys, with help from their longtime friend and drummer Dan Germain, finished their debut album in 2010 at Ocean Way Studios in Nashville with the help of famed producer/engineer Ben Fowler.
Saturday, August 13 from 7:00-10:00 p.m.
Village Events Plaza: Jeffrey Steele and the Pernikoff Brothers
From 7-10 p.m. the Village Events Plaza in The Village of Baytowne Wharf will showcase the weekend's headliner Jeffrey Steele. The Pernikoff Brothers will open the show.
Pernikoff Brothers
see bio, above
Jeffrey Steele
Jeffrey Steele emerged as a first-rate songwriter in the 1990s. Among his many accolades over the past few years, Steele has been named BMI Songwriter of the Year (2003 and 2007), and the Nashville Songwriters Association International (NSAI) Songwriter of the Year (2003, 2005 and 2006). His country and A/C mega-hits include a string of chart toppers for Rascal Flatts: "Every Day," "My Wish," "Me and the Gang," "These Days," "Here," and the groundbreaking "What Hurts The Most"; as well as Tim McGraw's "The Cowboy in Me;" Diamond Rio's "Unbelievable"; Faith Hill's "When the Lights Go Down;" Trace Adkins' "Chrome;" LeAnn Rimes' "Big Deal"; and Montgomery Gentry's "Speed," "Hell Yeah" and "My Town."
About Sandestin Golf and Beach Resort
Located on the Northwest Florida Gulf Coast in Destin, Florida, Sandestin® Golf and Beach Resort is a 2,400-acre premier destination resort located between Pensacola and Panama City. Sandestin invites guests to enter its world of 30 charming village neighborhoods featuring rental condominiums, villas, town homes and a wide variety of luxury beach hotel accommodations. The Sandestin Beach Resort boasts more than seven miles of sugar-white sand beach and bayfront property, four championship golf courses, 15 world-class tennis courts, 19 swimming pools, a 98-slip marina, marina dockage facilities, water sports, children's programs, a fitness center and spa, 65,000 square feet of meeting space for weddings, family reunions, corporate meetings, retreats and more, and a pedestrian village complete with shopping, restaurants, ice skating, zip lining, and vibrant nightlife. For overnight rates, visit www.sandestin.com or call 877.423.7557.
About the Sandestin Music Festival
Tucked in one of the country's most inviting stretches of white sandy beaches, the second annual Sandestin Music Festival takes over Destin, Florida's unparalleled Sandestin Golf and Beach Resort August 12-13, 2011. During the festival, live music from a collection of top-tier country and pop hit-makers complements the resort's already bustling activity menu, which ranges from golfing, tennis and biking to gourmet eats and sunny lounging. The Sandestin Music Festival is sponsored by BMI, TrustCore, Sandestin Golf and Beach Resort and Southwest Airlines.
For more information, visit www.sandestinmusicfestival.com.