Prominent Publisher Al Gallico Dies at 88
Influential independent publisher Al Gallico passed away last month in Los Angeles. He was 88.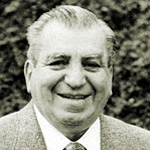 Al Gallico began his career in the late 30's in New York City, running errands for classical music publishing corporation G. Schirmer. After many years with Leeds Music and Shapiro-Bernstein, Mr. Gallico opened independent publishing venture, Al Gallico Music Corporation. One of his first staff writers was the now legendary Billy Sherrill.
Mr. Gallico's impact straddled traditionally disparate music business spheres, from British rock to classic country: He published country standards including "Stand by Your Man," "Almost Persuaded," "The Most Beautiful Girl" and "Let Me Be There," while his catalog also contains "House of the Rising Sun" and the Zombies' "Time of the Season," "Hold Your Head Up" and "Liar."
A name frequently mentioned alongside Nashville icons including Chet Atkins, Owen Bradley, Jerry Kennedy and Shelby Singleton, Mr. Gallico earned a formidable status as a behind-the-scenes power player. In addition to the numerous hits he published, Mr. Gallico discovered popular 70s country artist Donna Fargo, whose career song "The Happiest Girl in the Whole USA" was also published by Gallico. His success firmly stemmed from his overwhelming passion for music and its creators: The Songwriters Hall of Fame honored him with the prestigious Abe Olman Publishers Award in 1995.
Del Bryant, BMI President & CEO, noted, "I had the pleasure of knowing and working with Al since I was a youngster of 23, just starting my career at BMI. Al and his lovely wife Grace were at home in every music community — New York, Los Angeles, Nashville and London. Al was involved with the dynamic success of artists as diverse as The Pretenders, Tammy Wynette and The Zombies. He inspired and taught generations of independent publishers the true path to success — and how to have fun all along the way!"
Mr. Gallico is survived by his wife of 62 years, Grace, two daughters Gail and Linda, and many grandchildren and great-grandchildren. Services were held last month in Los Angeles, while a special Nashville memorial will be staged at a later date.