Pleasure P Fans, Meet Marcus Cooper
In his past life, Marcus Cooper was better known as Pleasure P, lead singer of Pretty Ricky. Natives of Florida, the hybrid rap/R&B group's libido-drenched shows made the Chippendales dancers look like Eagle Scouts.
When Pleasure P left Pretty Ricky in 2007, he wasn't leaving because the group wasn't successful; with the foursome, Pleasure P helped such songs as "Grind with Me" hit the # 2 spot on the rap chart and their second album Late Night Special peak at #1 on both the Billboard 200 and the Top R&B/Hip-Hop Albums charts.
So yes, when Pleasure P left Pretty Ricky—a group that descends from a sexed-up R&B boy-band lineage that includes Jodeci and Bell Biv DeVoe—fans were a bit stunned. The change seemed sudden. Pretty Ricky was making girls scream and God knows what else all the way to record shops and iTunes. So why the abrupt departure?
"This time," he told the website blackvibes.com, "I'm in my own lane musically." A legal issue with a production company hastened the issue. "I'm grown up now. I'm talking about things that average R&B guys don't talk about but that average people can relate to. My music is classier."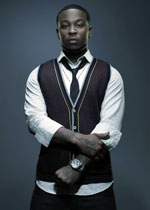 Pleasure P tested the waters of his solo career in June of 2008 with "Did You Wrong," a mid-tempo ballad about mutual respect in relationships that did indeed add an element of sensitivity to P's heretofore oiled-up discography. Pleasure P's debut also proved he had what it takes to make solo success a realistic goal, with "Did You Wrong" earning significant urban airplay and cracking the Hot 100. An EP and a cameo on Flo-Rida's "Shone" kept P's name hot, and he was the only R&B artist to appear on the Hypnotize Tour, alongside rap stars including Plies, Lil' Boosie and Rick Ross.
Pleasure P had successfully broken free and begun a new musical chapter of his own. So that's how, in 2009, onetime teen heartthrob Pleasure P came to re-introduce himself as 24-year-old Marcus Cooper.
The Introduction of Marcus Cooper, Pleasure P's solo debut, was released on Atlantic Records in June. As he alluded to in his breakout single, Pleasure P scaled the emphasis on, well, pleasure back a bit in favor of matters of the heart for his well-received album. But not entirely of course. "Introduction," includes the song "Boyfriend #2," the year's unexpected summer hit that was among the songs Pleasure P included in his performance at BMI's showcase July 21. "Boyfriend #2" explains P's precarious position of being a woman's pinch-hitting boyfriend when #1 isn't cutting it—a situation that apparently resonated with enough women and men that they made the song Pleasure P's highest charting song—#2 on the Hot R&B/Hip-Hop Songs roundup. Critics have also approved, and the album peaked at # 2 on the Top R&B/Hip-Hop chart.
Not a bad metamorphosis for P, who grew up in a single-parent home in the mostly low income Carver Ranches section of Florida. Pleasure P once said that songwriting offered him an escape from the doldrums of his surroundings, an environment that contributed to his becoming a father at 19 years old. Now, music has given Pleasure P an opportunity to evolve as a man, and show the world just who Marcus Cooper really is.