Perseverance Rewarded: Pop Stoneman Enters Country Music Hall of Fame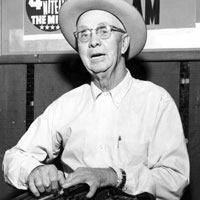 BMI singer, songwriter and musician Ernest "Pop" Stoneman officially entered the Country Music Hall of Fame's hallowed ranks Sunday, April 27, during the traditional medallion ceremony. Family, friends and admirers were on hand to reminisce and toast the musical innovator, who passed away in 1968. In addition to Stoneman, esteemed singer/songwriter Emmylou Harris was also ushered into the Hall of Fame, while BMI legends the Statler Brothers and Tom T. Hall will be inducted on June 29.
In fitting tribute, an elite slew of artists contributed performances of Pop Stoneman-popularized songs: Cowboy Jack Clement delivered "Blue Ridge Mountain Blues," Jim Lauderdale, along with help from the Jordanaires, sang "Are You Washed in the Blood," Old Crow Medicine Show provided "Tell Mother I Will Meet Her" and a group featuring Clement and Stoneman's three surviving daughters Donna Stoneman, Patsy Stoneman Murphy and Roni Stoneman performed Stoneman's influential classic, "The Titanic."
Former BMI President & CEO and Country Music Hall of Fame member Frances Preston presented Stoneman's Hall of Fame medallion to his family. Before draping the award around the neck of his eldest daughter Patsy, Preston said, "Ernest Stoneman had a lifelong motto, 'Don't quit.' And he didn't. Tonight, Pop Stoneman's perseverance is being rewarded."
From his earliest days as a roaring 20's crossover sensation to his leadership of the award-winning Stoneman Family ensemble, Ernest "Pop" Stoneman embodies the term "pioneer." In the early 1920s, his performance of self-penned "The Titanic" charted at No. 3 on both the Billboard and Variety charts and remained there for 10 weeks. One of the first country records to sell more than one million copies, the song became one of the biggest hits of the decade. Stoneman's keen eye for talent in Bristol, Tennessee, led to the landmark Bristol recording sessions. Considered one of the most seminal events in country music by many historians, the Bristol recording sessions introduced artists including Jimmie Rodgers and the Carter Family to the nation. Throughout the 40s, 50s and 60s, Pop Stoneman focused on the popular bluegrass, bucolic musical concoction of The Stoneman Family band. Made up of his wife Hattie and many of their 13 adult children, the group debuted on the Grand Ole Opry in 1962, and in 1967, The Stoneman Family earned the first ever CMA Vocal Group of the Year award. Ernest "Pop" Stoneman recorded, composed and performed well into his mid 70s.
For more on Pop Stoneman's remarkable life, click here.
Photo Courtesy of the Country Music Hall of Fame ® & Museum