'New Music Nights' Showcase Rocks New York
BMI New York presented a New Music Nights showcase that featured performances by Phil Benson, A Love Like Pi, Stab the Matador and Throne. The free concert was held Jan. 31 at Arlene's Grocery on Manhattan's Lower East Side.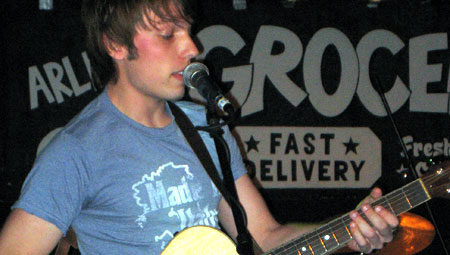 Phil Bensen
New Jersey native Phil Bensen mixes originals with classics from Marvin Gaye and The Temptations, creating quite a stir with a booming, Motown-influenced voice. "People have come up to me and said, 'I can't believe you pulled it off'," says Bensen. When people see him live they are bound to remember that voice. It's got the timeless quality that the best Motown songs have; hearing it just seems to take you back to memories long since forgotten. Bensen recognizes that his voice will be what takes him places, but wants to make sure he's viewed as a complete songwriter as well. "Vocally, I've always loved Marvin Gaye and Stevie Wonder, and newer guys like Gavin DeGraw and Jason Mraz. I just want to always get that smooth but powerful… and believability when I sing."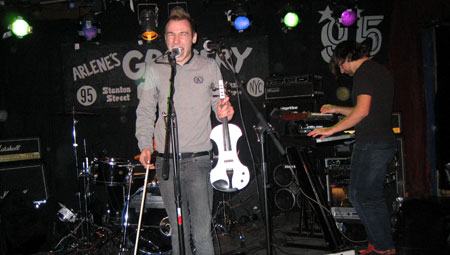 A Love Like Pi
A quartet featuring bass, drums, guitar/vocals and a keyboardist who uses several different synths, Red Bank, N.J.-based A Love Like Pi plays extremely danceable electronic pop with the energy and attack of punk rock. Lead singer Lief explodes all over the stage with a contagious emotive force, and their self-titled three song EP does a commendable job of capturing that energy. It's a fantastic progressive, electronic-tinged emo debut that will undoubtedly turn many heads; they'll soon be giving the Yeah Yeah Yeahs a run for their money.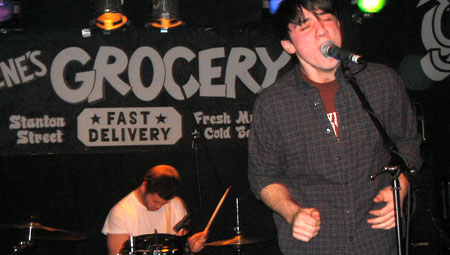 Stab the Matador
Stab the Matador was formed in 2005 during their high school senior year by Luke Brandfon (guitar), Graham Watson (drums), Corey Cavagnolo (vocals, keyboard), and James DeVito (bass). Jumpstarted with a clear ambition to create energetic rock with an affinity for infectious dance beats, the Westchester, N.Y., quartet dedicated all their time to writing, rehearsing and performing. They are described as a band that "clutches that human desire to just go crazy and dance." Since debuting at the Knitting Factory in NYC in early 2006, the band has performed with such groups as Snowden, Under the Influence of Giants, ImaRobot and Matchbook Romance, and have been compared to pioneering artists such as Gang of Four and Joy Division, as well as contemporary bands such as The Rapture and Les Savy Fav.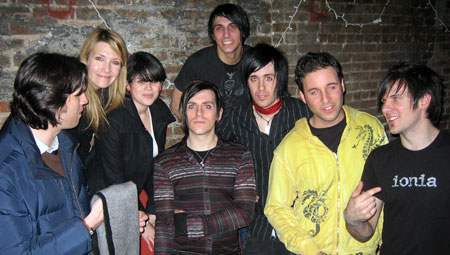 BMI's Ben Tischker, Samantha Cox and June Neira get caught on camera with Derek, Justin, Casey and Aaron from Throne, and attorney Jeremy Rosen
Indie rock trio Throne features 18-year-old singer/songwriter and bassist Derek Trafton, his brother, 15-year-old drummer Casey Trafton, and their cousin, 18-year-old guitarist/keyboardist Justin Millar. For the last five years, the band has been drawing large crowds to their shows, opening for such heavy-hitters as Green Day, Good Charlotte, Blink 182 and Sum 41. Voted "Best New Band" by the Hartford (Conn.) Advocate in 2001, Throne spent most of 2006 writing and recording in the studio with Billy Martin of Good Charlotte, who co-produced a few songs.