NARM/CMA Entertainment Law Conference Panel Features Insight from BMI
During the NARM/CMA Entertainment Law Conference held earlier this month in Nashville, Fred Cannon, BMI Senior Vice President of Government Relations, was invited to speak as part of a panel of experts who discussed myriad ways in which recent changes will dramatically alter the way Congress addresses entertainment industry issues such as Performance Right Act legislation, net neutrality, and arts funding. Cannon also specifically discussed the ramifications of the extreme swing in the composition of the State Legislatures leadership that will play an important role in redistricting of Congressional boundaries after February 2011.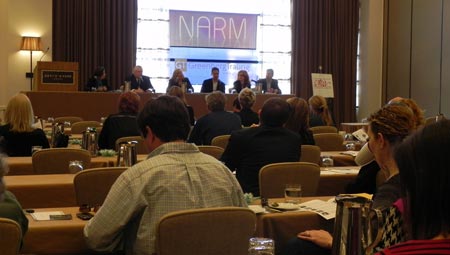 Panelists discuss hot-button issues during the NARM/CMA Entertainment Law Conference held in Nashville. (Photo courtesy of NARM)
Cannon was joined on the panel by RIAA Senior Vice President Mitch Glazier; consultant Victoria Bassetti, who previously worked for senior Democratic senators and was a senior vice president with EMI; and consultant Elizabeth Frazee, who previously worked with the likely new IP Subcommittee chairman Bob Goodlatte (R-VA), as well as AOL and Disney.