Musician and Actor Jerry Reed Dies at 71
Songwriter, vocal stylist, beloved actor and profoundly influential guitarist Jerry Reed has died after a long bout with emphysema. He was 71 years-old.
Born Jerry Reed Hubbard on March 20, 1937, in Atlanta, Georgia, Reed first learned to play the guitar on a used model his mother purchased for him when he was still a young child. He developed his proclivity for funk-infused picking early, following his intuition instead of established musical techniques. Reed performed in roadhouses as a teenager and at 16, he began working with Atlanta publisher and radio host Bill Lowery. Lowery introduced Reed to Capitol Records, who signed the promising young musician to his first deal when he was only 17 years-old.
Chart domination temporarily evaded Reed, and after leaving Capitol and a stint in the U.S. Army, he moved to Nashville to establish himself as a songwriter and session player. Substantial successes soon followed: Elvis Presley's "Guitar Man" and "U.S. Male," both written by Reed, also feature his signature "claw"-style guitar playing. Legends and luminaries including Brenda Lee, Nat King Cole, Dean Martin, Porter Waggoner, Gene Vincent and Tom Jones would also go on to record hits penned by Reed, while his guitar licks also colored recordings by Waylon Jennings, Bobby Bare, and many more.
Guitar king and RCA chief Chet Atkins had also sensed Reed's immense potential, signing him to the label with a determination to embrace and encourage Reed's uniqueness. The hits that followed made Reed a star: "Alabama Wild Man," "Amos Moses," "When You're Hot, You're Hot" and "Good Lord, Mr. Ford" ruled country charts and crossed into the pop mainstream. "Amos Moses" generated a 1971 Grammy nomination for best male country performance, while Reed and Atkins' instrumental collaboration earned the Grammy for best country instrumental performance the same year. "When You're Hot, You're Hot" underscored Reed's streak, earning the Grammy for best male country performance the following year.
Reed's unyielding sense of humor and disarming country charm attracted Hollywood, who tapped him most notably to star in the Smokey and the Bandit trilogy as Burt Reynolds' sidekick, "The Snowman." He also contributed heavily to the films' soundtracks, co-penning the theme "East Bound and Down."
A multiple BMI Country, Pop and Million-Air Award winner, Mr. Reed's most enduring legacy is undoubtedly his musical prowess. His guitar-picking innovation, innate humor, inimitable vocals and wry songwriting forged multiple inroads for future entertainers. He will be greatly missed.
Click here to read music journalist Peter Cooper's comprehensive look at the life of Jerry Reed.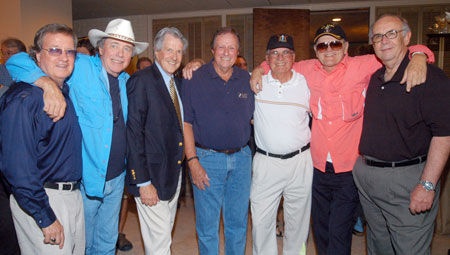 Pictured at BMI in Nashville for Jerry Reed's 2005 album release party are (l-r): Buzz Cason, Bobby Bare, former BMI Assistant Vice President, Writer/Publisher Relations Harry Warner, Chip Young, Bob Beckham, Jerry Reed and Jerry Kennedy. (Photo by Alan Mayor)