Morgan Freeman Receives Star on Mississippi Arts and Entertainment Center Walk of Fame
BMI Senior Vice President, Government Relations Fred Cannon proudly helped celebrate living legend and fellow Mississippi native Morgan Freeman with a new bronze star on the Mississippi Arts and Entertainment Center's Walk of Fame at a recent ceremony in downtown Meridian, Mississippi. Cannon is a member of the Mississippi Arts and Entertainment Center (MAEC) board.
The Meridian Star quotes Cannon as saying, "I had this dream that I shared with [MAEC board member] Paul Ott and Marty Gamblin about doing a Walk of Fame in front of the Riley Center, and now it's a reality. And today we are here to honor Morgan Freeman, one of the most talented people to come from Mississippi.
"Morgan Freeman and James Earl Jones have the most incredible voices and are recognized throughout the world, and they are both from Mississippi," Cannon continued. "We're glad we have the chance to honor Morgan and his contributions to the arts and to this state."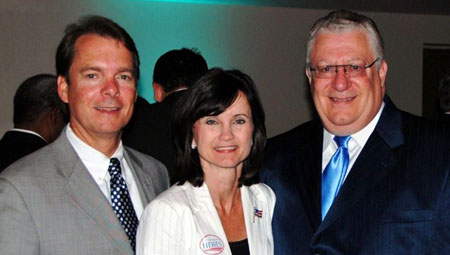 Billy and Paula Hewes join BMI's Fred Cannon at the unveiling of Morgan Freeman's new star on the MAEC Walk of Fame.
Watch local ABC affiliate WTOK's coverage of the MAEC Walk of Fame event.
Freeman joins an elite list of past honorees, including writers William Faulkner, Eudora Welty, and Tennessee Williams, musicians B.B. King, Jimmie Rodgers, and Marty Stuart, and actress Sela Ward, reflecting the profoundly deep pool of Mississippi-bred legends. For more information on the Walk of Fame and other MAEC activities and events, visit www.msarts.org.